There are several elements that help create the overall design of your bathroom, with the shower and vanity being the most prominent features. You may love the substantial look of dark vanities but are uncertain if you should choose a painted or stained finish. Normandy Designer Jackie Jensen says, "You can create a timeless yet current look with dark vanities in either stained or painted, but if you're focused on livability, you may want to choose a stained finish."
The inherent characteristics of stained finishes, such as the ability to hide scratches more easily in the woodgrain, make them an excellent choice for a vanity, especially if you're prone to dropping things that may cause dings and dents. Dramatic changes in humidity in the bathroom also give stained finishes the edge. Painted finishes may expose cracks due to the natural expansion and contraction of the wood, where a stained finish camouflages this fluctuation in the wood.
"Some people are wary about selecting a stained finish for their cabinetry with visions of old honey oak or red cherry cabinets dominating their thoughts," notes Jackie. "But with the right selection of wood species and stain, you can manage those issues and create a vanity that will look modern and fresh."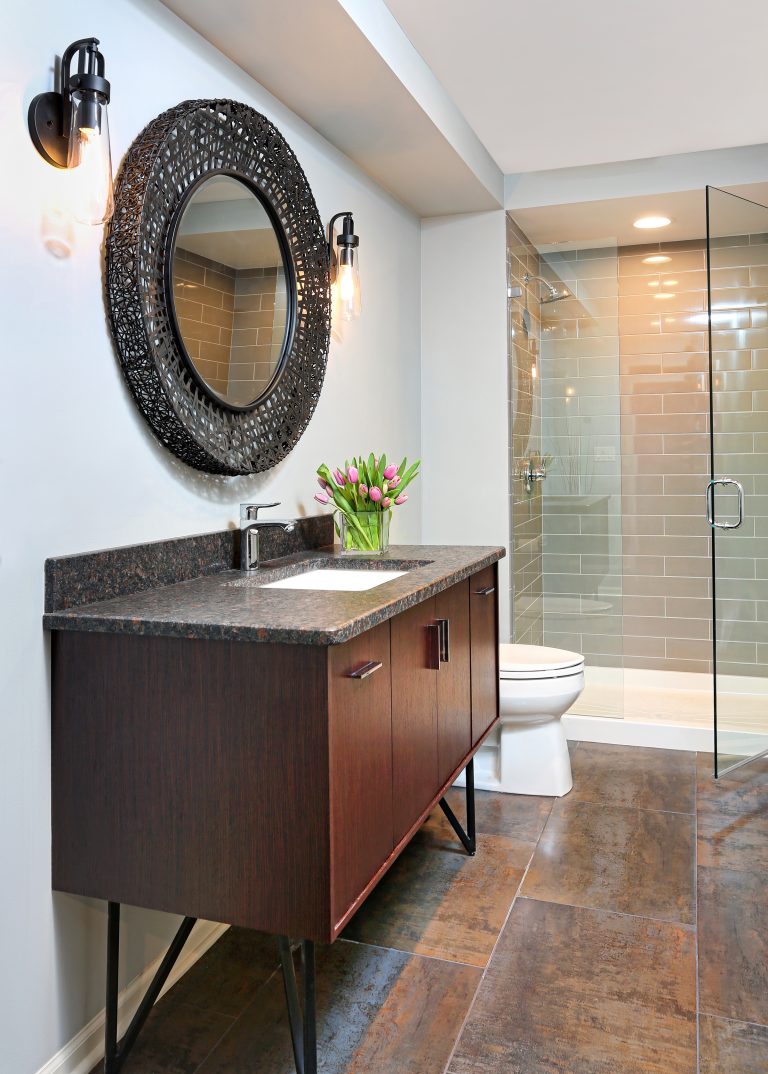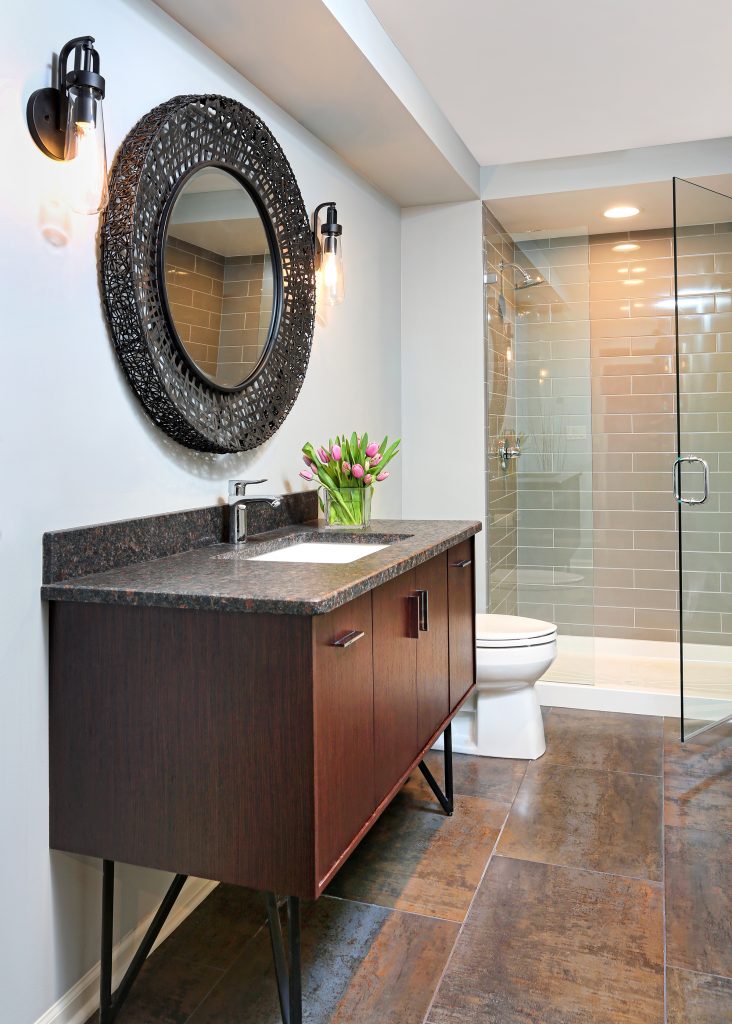 Balancing Red Tones:
Cherry or wood species with red tones can lend a sense of warmth and richness to the bathroom. However, Jackie says to avoid an outdated look reminiscent of the late 1990s, it is important to balance these red tones with cooler hues. Choose a color scheme that incorporates cool tones such as blues, grays, or greens. "This will help the dark wood vanity feel more current and harmonize with the overall design of the bathroom," Jackie says.
Lighter Stains for a Contemporary Feel:
For those seeking a stained wood vanity but are apprehensive about going too dark and bold, consider selecting a vanity made from maple. "Maple wood will pick up a stain better, giving you a more current and on-trend appearance," says Jackie. The cabinet stain highlights the natural beauty and movement of the wood grain keeping the look current in your bathroom.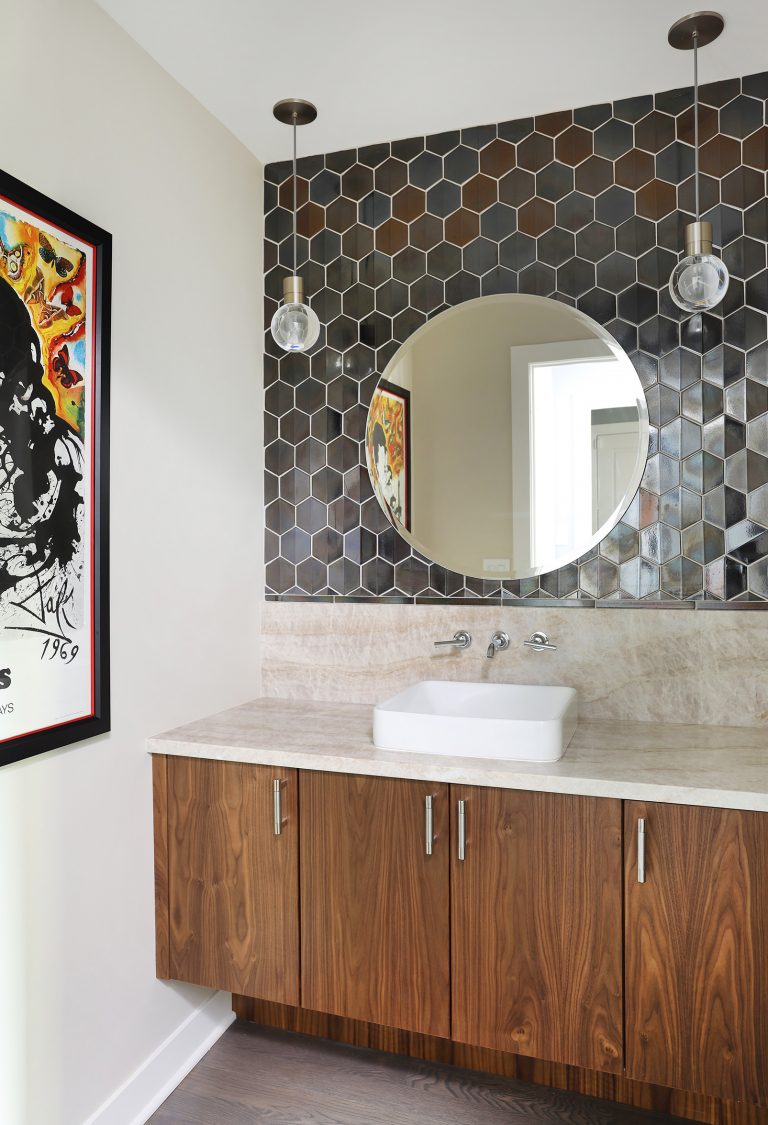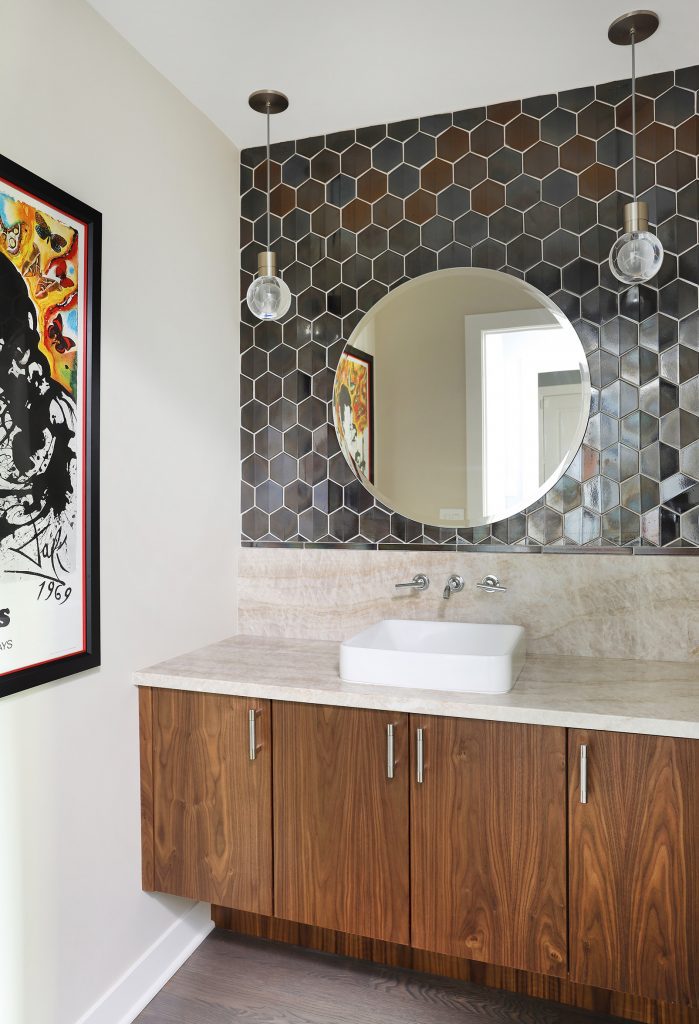 Embracing the Beauty of Wood Species:
Several wood species such as hickory or walnut often exhibit unique variations in color shades and grain patterns. Leverage the movement and natural beauty of these woods to complement your chosen color scheme. "Consider selecting bathroom accessories, such as hardware, lighting, and fixtures that incorporate shades from the wood to create a cohesive and visually appealing design," Jackie says.
Stained wood vanities in the bathroom have an enduring appeal that can elevate the overall aesthetic of your space. If you're looking to update your bathroom call Jackie to discuss your ideas and concerns. We have an array of bathroom, kitchen, and home remodeling projects on our Facebook and Instagram pages to help you find inspiration.