Light Up The Vanity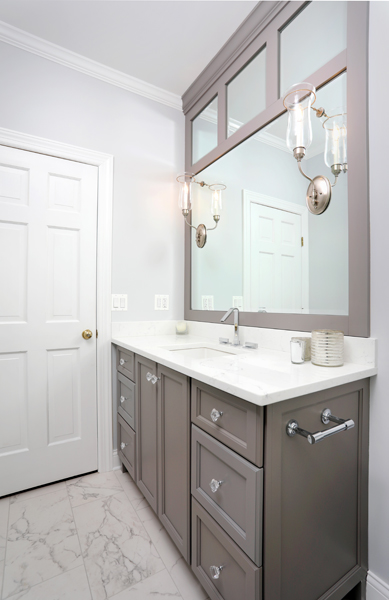 When it comes to putting your best face forward, there's a little secret designers want you to know. Place your bathroom lighting on or right next to the mirror at eye level to give yourself the most flattering light in which to brush, floss, put on makeup, shave or use that jade roller you suddenly can't live without.
"Lighting placed at eye level right in front of you will always bring better, more natural light to your face," says Normandy Designer Becca Ruggiero. Becca adds, "Can lights are a great place to start for your bathroom lighting but to prevent shadows and give yourself the best light, you'll want to add fixtures directly to a larger mirror or on the sides of a smaller mirror."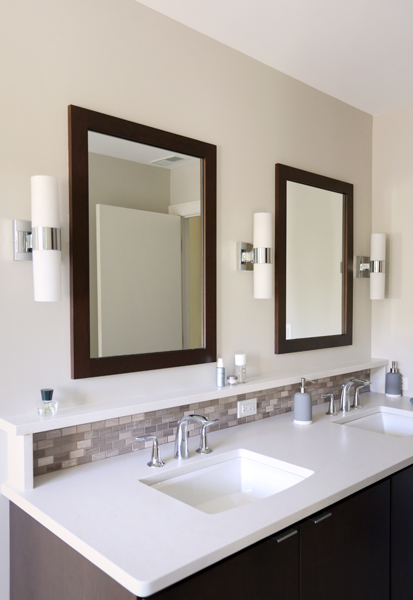 Becca gives examples of both scenarios. "A customer's bathroom had a really large vanity and after looking at the proportions, we decided a smaller mirror with sconces on the sides was the best solution." For another customer, "The vanity is in the dressing room with less space so it made sense to place the lights right there on the mirror. It was really important to her to have good light because that's where she gets ready for the day or to go out at night."
With the placement agreed to, the real fun begins. "People are finding such interesting lighting fixtures, which add so much to the overall design," Becca says. She adds, "Whether your vibe is Edison bulbs, styles without shades, farmhouse vintage or glamorous, there are really great choices out there and all of them add something extra to your bathroom design."
If you're thinking of remodeling your bathroom, why not set up a time to talk with Becca about all the possibilities. You can also join us for a workshop to learn more about remodeling. Looking for inspiration? You can browse the Normandy Remodeling photo galleries for ideas. We share photos and tips on Instagram, Facebook and Pinterest and welcome you to follow along with us there.