Vanity Table Tricks to Put Your Best Face Forward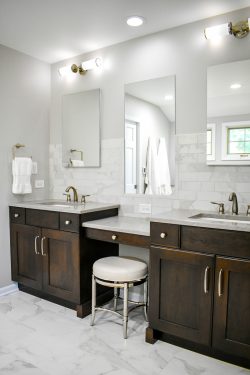 Think about your morning beauty routine…
Are makeup and hair products cluttering your bathroom countertops? Are you leaning over the sink to apply your mascara? Do you wish you had better lighting?  If you answered 'yes' to any of these questions, we know just what you need… a vanity table. And, according to Normandy Designer Laura Barber, AKBD, there are five things your vanity table needs in order to be luxurious, well-organized, and durable.
1. Strategically Placed Mirrors – When you think of a vanity table, the first thing that usually comes to mind is a big, beautiful mirror – but I have to stress that the placement of this mirror is what's really important. You want to make sure you are at a comfortable height. If you go too high, it won't be useful. A second, magnifying mirror is also a must. It will help with applying makeup.
2. Specialty Pull-Outs – Many associate pull-outs with kitchen spice racks. But in actuality, there are tons of ways that pull-outs and organizers can be applied to a vanity table. Rev-A-Shelf is a great place to start to gather ideas. They have everything including drawer organizers for cosmetics and pull-outs with adjustable shelving to accommodate taller bottles (think hair spray and lotions). There are also bins for hairdryers and metal bins for curling and flat irons. The beauty of these bins is that they also let you keep everything plugged in.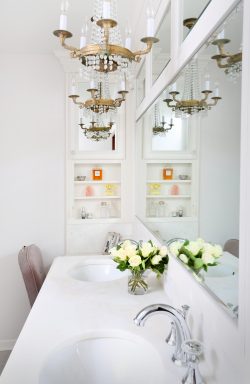 3. Layers of Lighting – Good lighting is critical for a vanity table. You need to see what you are doing! The best lighting for makeup application is sconces at eye level. It puts just the right amount of light on the side of your face, closely mimicking natural light. You also want can light for overall illumination. Together, these light fixtures will keep things bright and avoid casting any shadows. Lighted mirrors are also great in this kind of setting too.
4. Comfortable Seating – No vanity table is complete without a comfortable, attractive stool or chair. It enhances the look of your space and is enjoyable to spend time in. You can vary the look and color of it to fit in with your bathroom design.
5. Engineered Stone Countertop – Makeup, oils, hair sprays… Many of these products can potentially stain natural stone. That's why I like to recommend going with an engineered stone, like quartz. It requires little to no maintenance and won't scratch or stain. It's also more heat resistant than natural stone – great for appliances like flat irons and curling irons. You won't have to worry about burning or leaving a mark.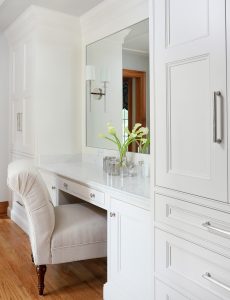 Set up a time with Laura to discuss your primary bathroom remodel, including designing a beautiful and functional makeup table. Or, learn more about the overall remodeling process by registering to attend an upcoming workshop. You can also follow Normandy Remodeling on Facebook and Instagram or visit the Normandy photo gallery for more ideas and inspiration.