The Dramatic Beauty of Black Bathrooms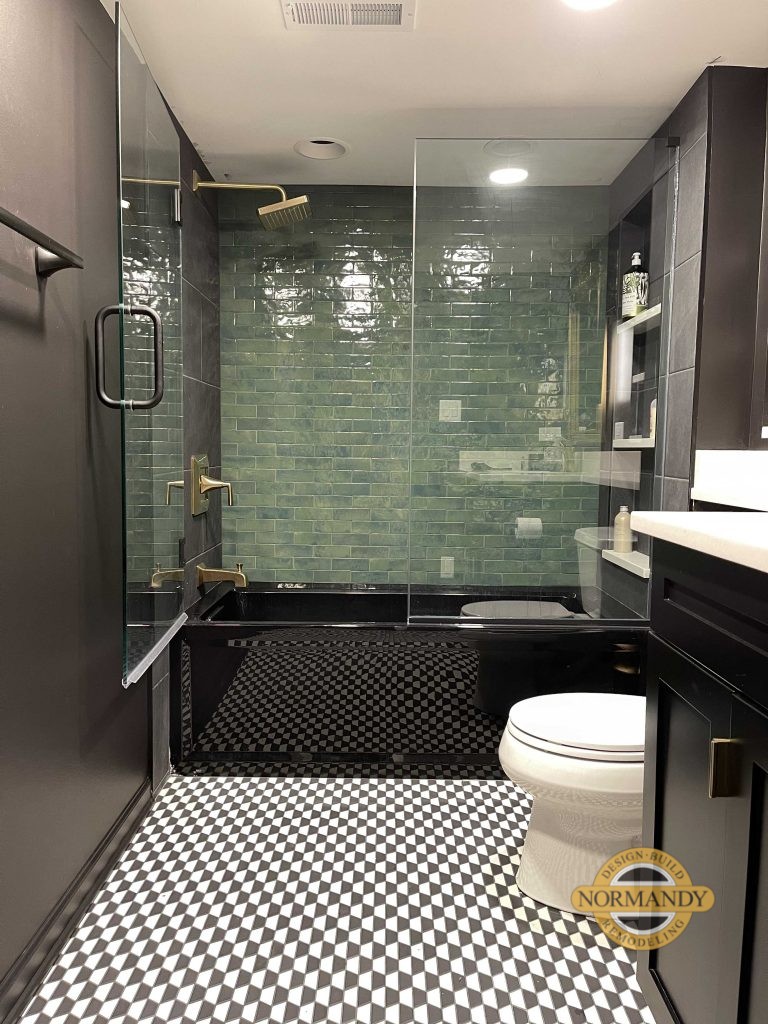 If dramatic glamour is your vibe, turn to the dark side when designing your bathroom. "You're definitely going for drama when you use black in the bathroom," says Normandy Designer Ashley Noethe. Ashley has designed black bathrooms for happy homeowners and her own home. "I love black in the bathroom. Because it's usually a smaller space you can really go for it," says Ashley.
Ashley explains that black works well because, "Black doesn't fight anything. With black, your other choices are either going to stand out or disappear." Examples of this design principle are a gold mirror that stands out against black paint and black sconces that seem to float above the black while casting a beautiful glow. With this in mind, Ashley advises curating your bathroom accents. "Pick and choose carefully or it winds up looking like chaos floating in the abyss," she says.
When it comes to accent colors, Ashley recommends white for high contrast. Metallic colors like gold and silver add to the glamour. Other colors can also work. A Burr Ridge couple chose elegant green tile for their otherwise all-black bathroom with beautiful results. "Black is a neutral that goes with everything. It goes with blue. It goes with brown. Those old ideas about what black goes with don't hold true anymore," says Ashley.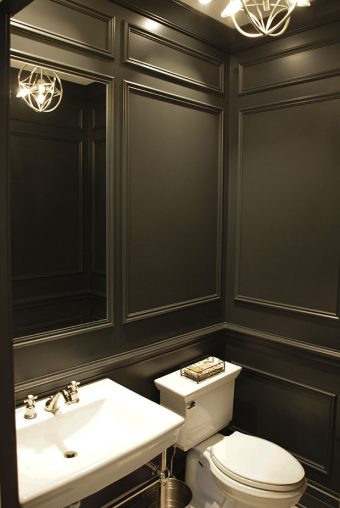 Lighting is always important in a bathroom and especially so with a black bathroom. "The darker you go, the more lights you need," Ashley says. If it's a primary bathroom where you get ready for the day, add in can lights and task lighting. In a powder room where no one will be applying a full face of makeup, lights on dimmers can enhance the moody feeling.
When you decide on a black bathroom, you will need to commit to cleaning more often. "Remember to specify kitchen and bath paint, which is not only easy to clean but also protects from moisture and steam," says Ashley.
If you are intrigued by the idea of a glamorous and dramatic black bathroom, you can set up a time to talk to Ashley about the possibilities. The Normandy Remodeling photo galleries include beautiful bathrooms in nearly every neutral color if you're looking for other ideas. We share projects and ideas on Instagram, Facebook and Pinterest. You are always welcome to follow along for the latest.