Normandy Powder Rooms Get a New Look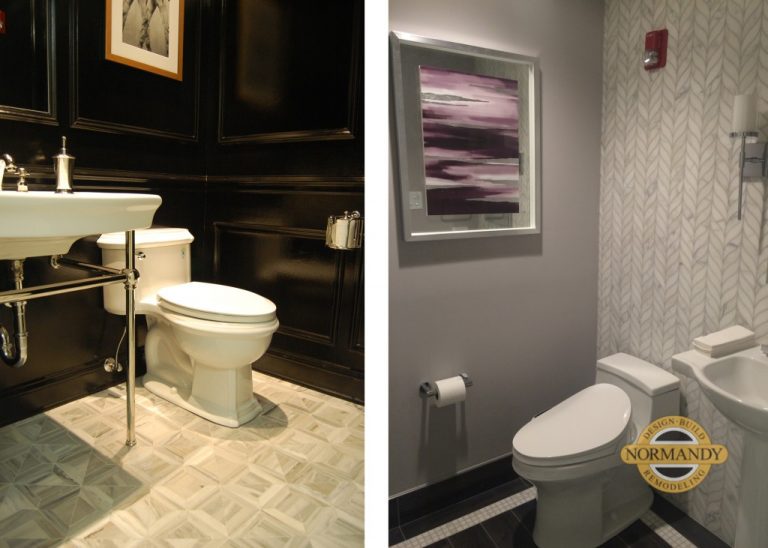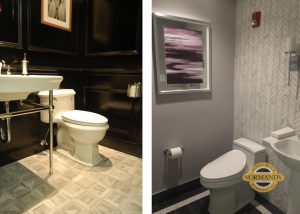 If you've stopped by our showroom lately, you might have noticed that we've freshened up our powder rooms.
The first powder room has a soft yet glamorous aesthetic. It features an elegant, stone mosaic accent wall that is paired with shiny chrome sconces and plumbing fixtures. If you so happen to use this restroom, there is one high-tech amenity that will most likely stand out – the toilet. Manufactured by Kohler, this loo features a side panel that controls a heated bidet seat.
The second powder room, designed by Normandy Designer Ann Stockard, makes quite the statement with black, high-gloss walls and a hand-rubbed, antique brass light fixture. A stone mosaic flooring and polished nickel plumbing fixtures also pull this sleek and stylish look together.
Come on out to our 8,000 square foot showroom to see our array of vignettes and product samples. Or, learn more about the remodeling process by registering to attend one of our upcoming seminars. You can also follow Normandy Remodeling on Facebook, Twitter, and Instagram for design inspiration and ideas.