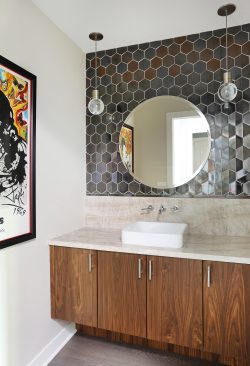 One of the most exciting parts of a kitchen or bath remodel is selecting your finishes, and that includes floor and backsplash tile. If you're familiar with the enormous assortment of geometric shapes in tile, choosing the right look for your floor and walls can be a design project in and of itself. Normandy Designer Abby Osborn says you should consider how you picture the end result of your room when deciding on a geometric shaped tile for your project.
"Ask yourself if you want an attention-grabbing focal point," says Abby. Going outside the standard square or rectangular shapes of tile can create interest. "A fun hexagon tile on your bathroom wall will give it a pop or a small, circular penny tile on a powder room floor can add just a touch of vintage flair."
Maybe you're not drawn to any geometric shape in particular. "If a certain geometric shape tile isn't speaking to you, you can still add personality using standard shaped tiles that have a raised texture," suggests Abby.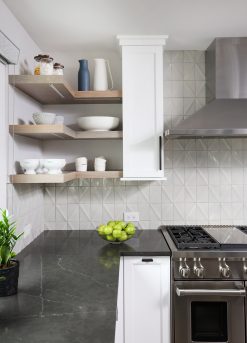 When arranged together these textured tiles can create their own geometric patterns, regardless of the shape of the actual tile. "In a crisp, white kitchen where the slab island countertop was the star, we chose a white square wall tile that had a raised texture. This added another shape," says Abby. Arranging these textured tiles in the right composition created subdued diamond effect on the backsplash.
"There are so many geometric tiles out there right now and most relate to modern style rooms," says Abby. "Scale has a lot to do with how the tile shapes lend to different design styles. Bigger, exaggerated tile shapes lean more modern, where smaller tiles can create a traditional or transitional feel."
When it comes to mixing and matching different tile shapes in one room, Abby cautions against using too many varying shapes in one area.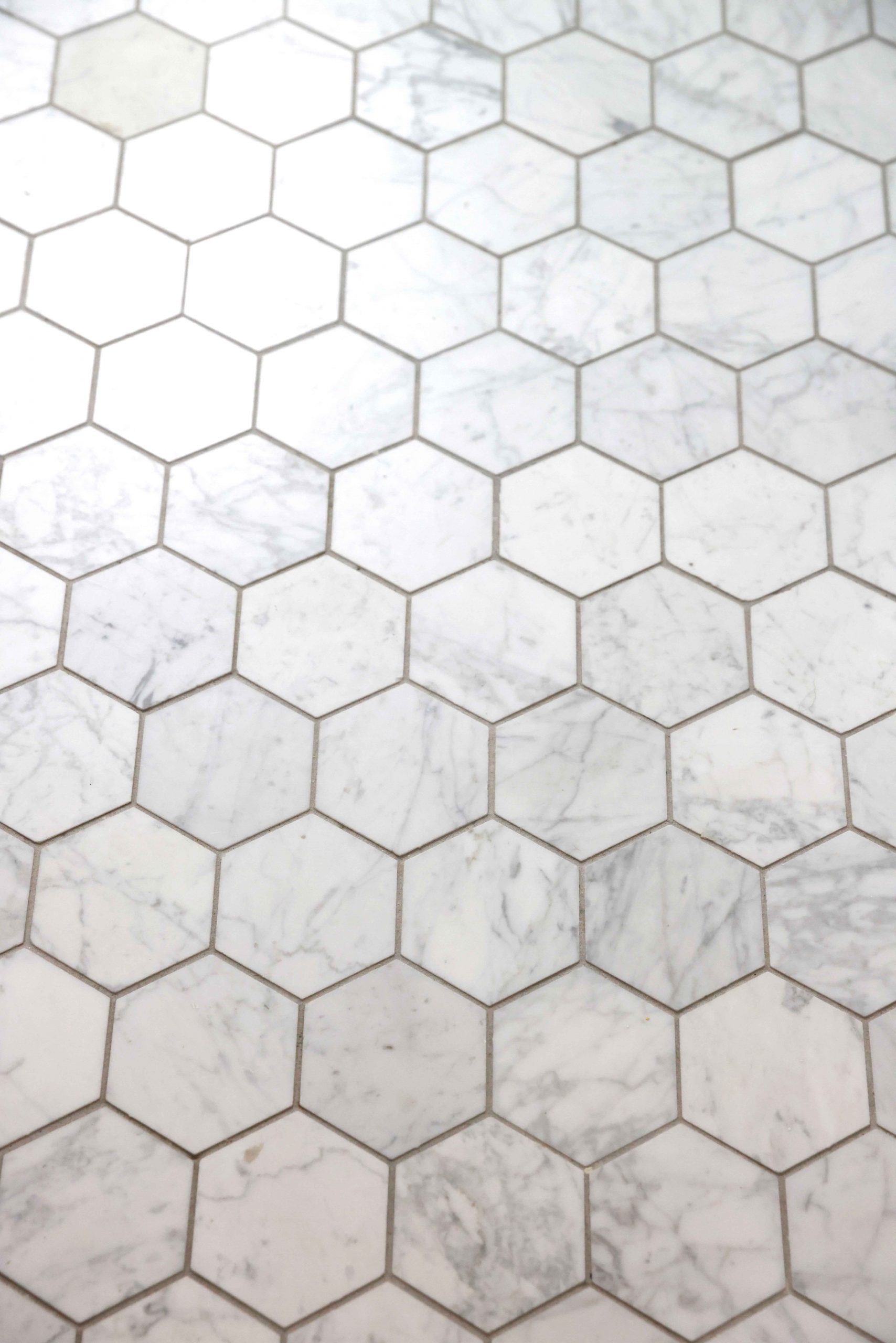 "Different, simple geometric shapes, like squares and rectangles can work together," Abby says. "Though you can get away with combining multiple shapes of tile in one area if they're all in a similar, neutral color palette. You should watch for colored veining in the tile, which creates movement, and therefore, can compete with other patterns or shapes. Too many shapes in one area will look busy and can be overwhelming."
Bold or subdued, standard shapes, or something taken from your geometry class of yesterday, there are many options when selecting your tiles. Fortunately, you don't have to go it alone. Reach out to discuss your upcoming home remodeling project with Abby, and you can get guidance on everything for your remodel, including your tile. We have an array of projects highlighted on our Instagram and Facebook feeds. Take a peek and you're bound to find the right finishing touches for your home remodel.