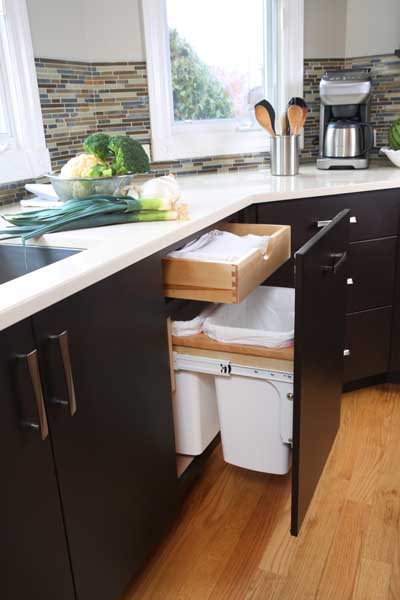 Just because we know it's there, doesn't mean the trash can needs to be a visible component of today's kitchens.  Now, there are creative ways you can incorporate the trash can into the kitchen, without taking any visual interest away from the space. "The trash can seem like an unpleasant fixture of the kitchen, but it is a necessity," says Normandy Designer Leslie Molloy, CKBD. "There are ways to integrate this essential element of the kitchen without taking away from the overall look of your newly remodeled space." Here are 3 useful tips to mask the trash in the kitchen:
Blend with cabinetry:  Storing the trash container in designated cabinetry can create a cohesive look within the kitchen and won't diminish the overall aesthetic of the home.  Concealing the trash can with built-in cabinetry is becoming a more popular solution for homeowners, in order to keep kitchens fresh and garbage out of sight.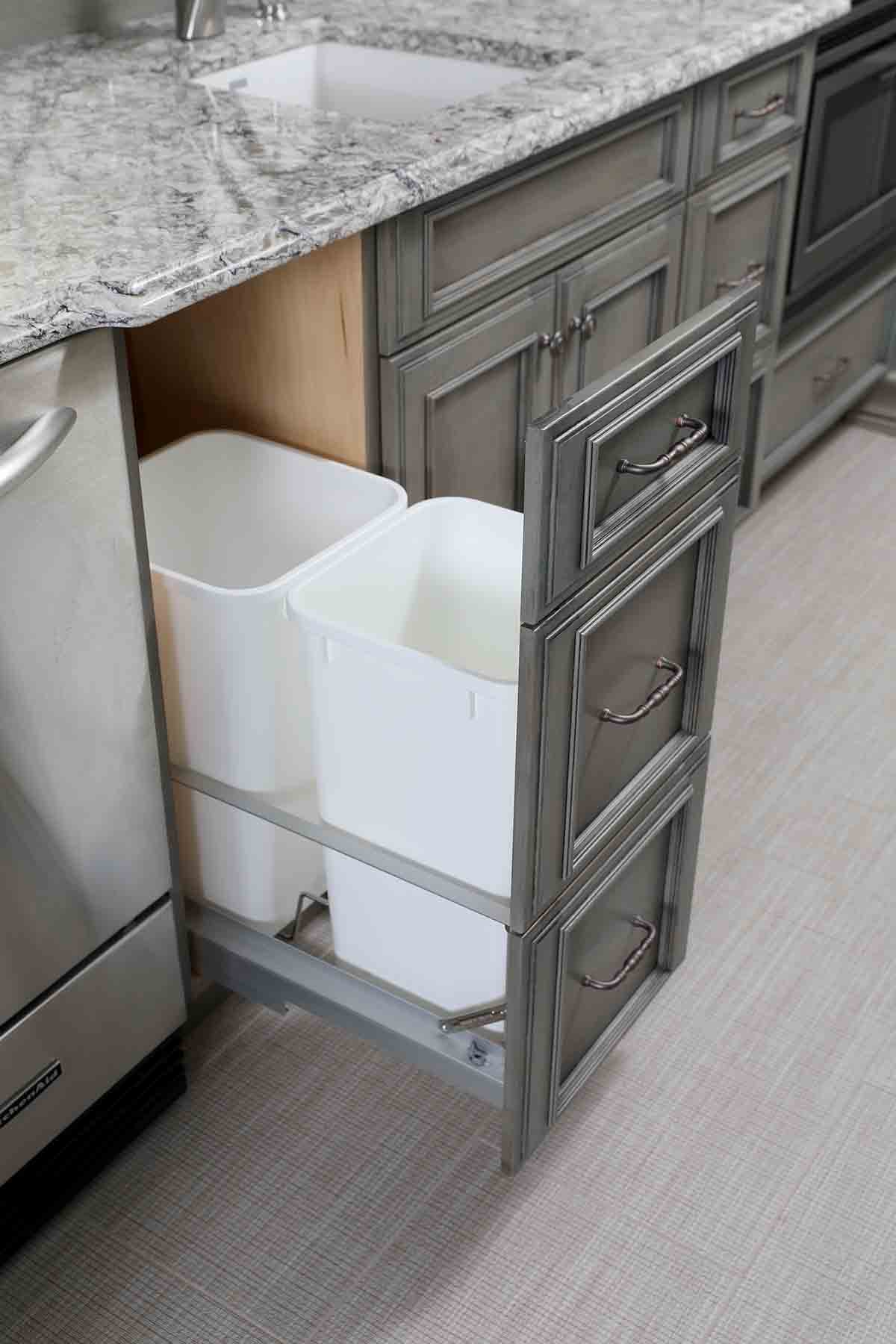 Separate compartments:  "Rather than having multiple cabinets concealing the trash components, some homeowners choose to separate their recyclables and trash within the same pull-out cabinet," added Leslie. "As you see in this image, the homeowners of this transitional kitchen wanted to have one convenient drawer for their trash storage, so we were able to come up with this solution, which is complete with an extra drawer for towels and trash bags."
Customize:  Like any room in the house, meeting the homeowner's needs is a crucial part of its functionality.  "Depending on the cabinet line, you can customize cabinetry to fit your individual project and taste," added Leslie.  "If homeowners prefer the look of drawers over doors, it is possible to create the synthetic look of drawers on a single cabinet door."  Depending on the homeowner's needs and the size of the kitchen, smaller trash units can be placed under the sink or installed on the back of existing doors as well.
Finding the right spot for refuse is just one of the many elements to consider when designing a kitchen that's just right for you. Schedule a time to talk with a designer about all the little details you want to incorporate into your new kitchen. You can also register for an upcoming educational webinar, or follow Normandy on Instagram or Facebook for even more inspiration.