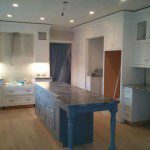 The end is drawing near as Normandy Designer Leslie Lee shares the progress of her kitchen renovation, step by step as she experiences it.  This steady renovation progress is due in large part to our amazing project superintendent, Rick Ruh.  Rick has kept a close eye on the schedule and all the details for Leslie's project to ensure everything moves along quickly and smoothly.You can always click here to find the first story in the series which includes some amazing "before" photos and see all the wondrous progress that's been made so far.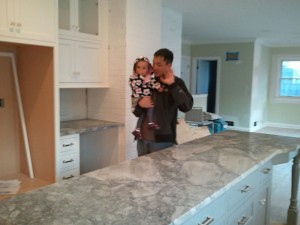 "The countertops are now installed, and although Sophie doesn't look too impressed (there she is looking tired and bored – but what do 14-month-olds know anyway) – Gary and I are psyched.  I was able to work with the fabricator to be sure my favorite part of the stone, the big white and gray blobs, were located in a prominent spot, right on the island.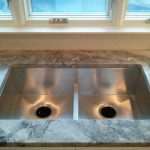 The kitchen sink is in place now too.  I choose a great Kohler stainless steel model with the smart divide feature.  You can see that the middle divider is lowered so that it's much easier to clean big pots and pans.  Love that feature.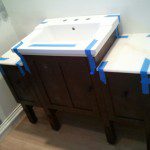 In the powder room, the new vanity has been set up too.  It looks like a little piece of furniture, rather than a built-in piece.  I like this look for a small bathroom space.  It seems a bit lighter."