Master Suite Makeover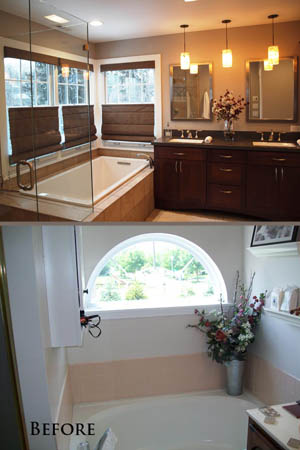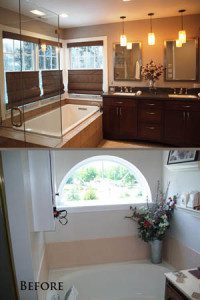 These homeowners had a master bathroom adjoining their master bedroom, but something wasn't quite as it should be…it wasn't quite ready to be called a "master suite". A "master suite" evokes ideas of tranquility and personal sanctuary where you can recharge your batteries and soothe your mind. But what if your current master bedroom/master bathroom combination isn't quite hitting the mark? Maybe it's time to give your space a second look, and as these Bartlett homeowners discovered, you may even discover that your very own spa-inspired retreat is just a few steps away.
The first step toward creating their ideal space was meeting with Normandy Designer Jennifer Runner, AKBD, and talking about the project. When assessing the challenges of the existing space, Jennifer worked closely with the homeowner to find out what they did and did not like about their existing master bedroom and master bathroom. They talked about a small shower, a bathtub that was too tiny to use and leaked into their dining room below, very little natural light, and a lack of storage in their vanity. Additionally, the first thing you saw when you entered the master bedroom was the walk-in closet door, which didn't do much to enhance your sense of entering a "master suite".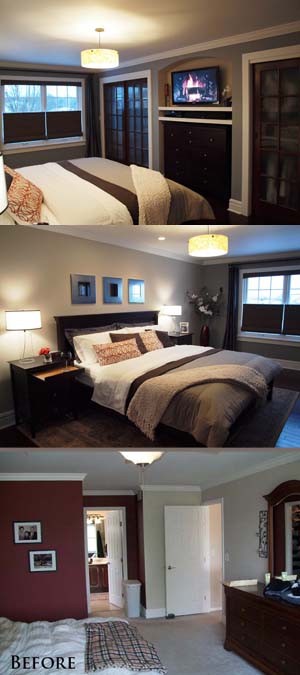 Jennifer went to work redesigning the space, and together they settled on a design that would meet all their wants and needs. Two reach-in closets were added to the master bedroom, along with a custom-designed niche for their TV and furniture piece.
This created a new focal point for the room and gave them functional his and hers closet space. This change from a single walk-in closet to two reach-in closets allowed the bathroom to be enlarged to accommodate a much bigger soaking tub and larger shower. More windows were added and all corners of the bathroom are now flooded with natural light.
The floor now offers radiant heat to eliminate the chill of the tile as you get ready for the day. The countertops and porcelain tiles feature recycled materials, and the master bedroom carpeting was replaced with hardwood floors.
These Bartlett homeowners now have a serene oasis in their home where they can prepare to face the day, or unwind before heading to bed. They were so inspired by their master bedroom suite transformation, that they even wrote us a little poem.
Do you have any questions about this project we can answer for you?  Put them in the comment section below!