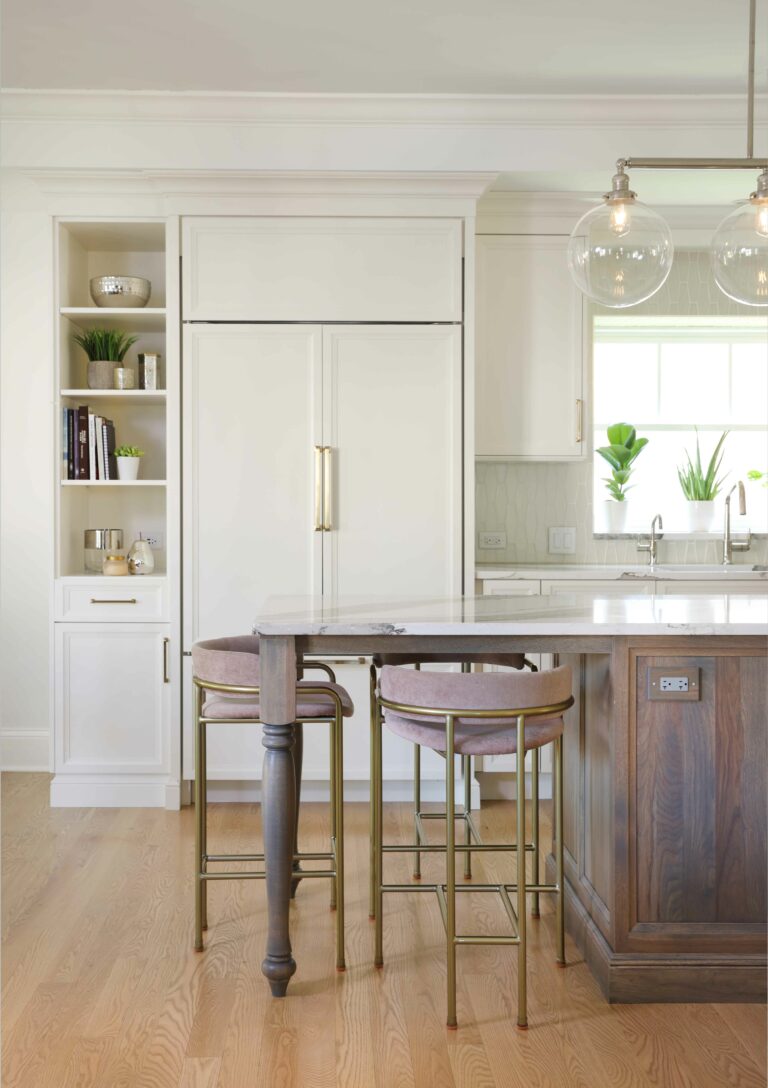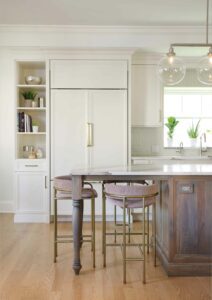 It's finally here. This is the year you're actually going to remodel your kitchen. You've got your Pin boards, your Instagram favorites and even a Houzz ideabook. Then the reality hits you: there are so many choices, so many options, it's hard to know which direction to choose for your kitchen design. Thankfully, we've got a few experts here at Normandy who have their fingers on the pulse of what's in, what's out, and what's up-and-coming.
We asked the Normandy Designers for their take on the trends and possibilities for kitchens this year. Here is their insight for what you should be considering as you prepare to remodel your kitchen in 2023:
Whites are Warming Up
The grays and cool tones that dominated for years are starting to take a step back. We're seeing a shift to warmer color palettes, and it's showing up everywhere, including in whites. These warmer white tones pair beautifully with the earthy shades of natural wood hoods, stone countertops, and warm metals. The classic all-white kitchen becomes a bit softer and more inviting when you temper it with a touch of warmth, while keeping that timeless appeal that will make it look fresh for years.
Celebrating wood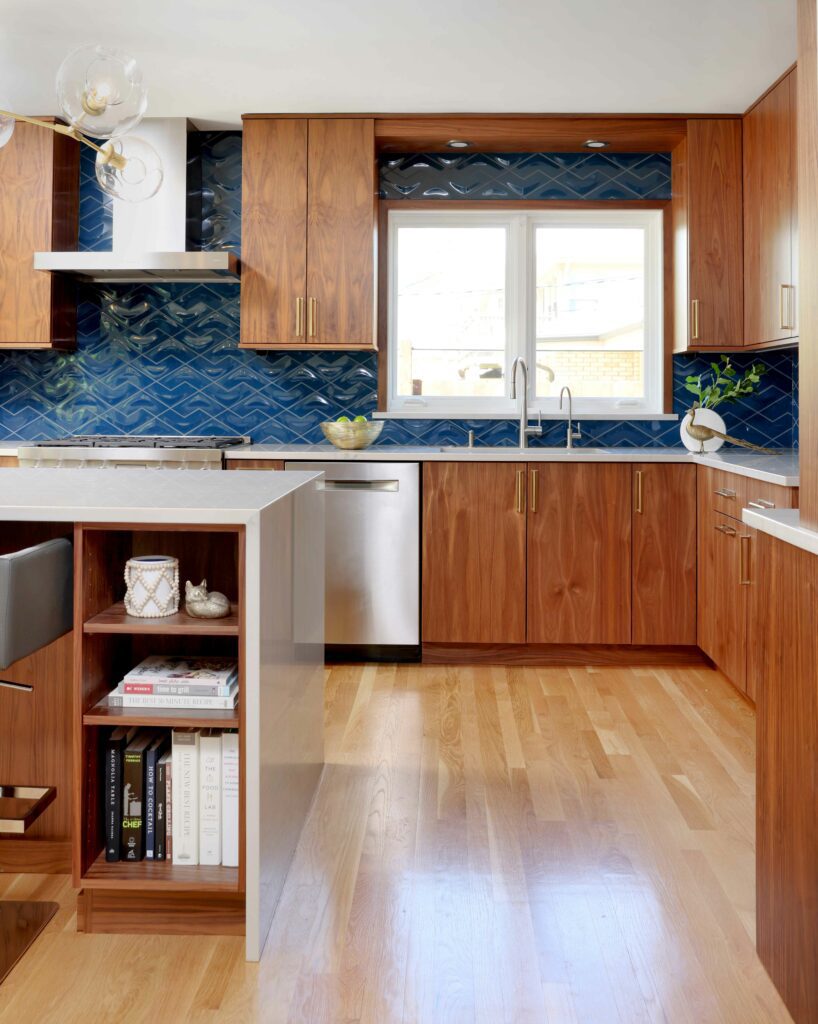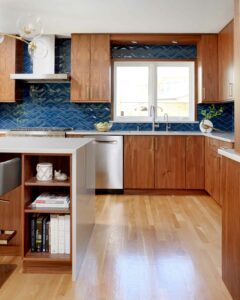 As kitchen colors continue to warm up, it's no surprise that the natural beauty of gorgeous wood species are taking space front and center. Wood elements in today's kitchens are rich and textured, and truer to their natural state. Incorporating wood into your kitchen is a celebration of its native coloring and graining, so you may find yourself drawn to a Hickory, Walnut or even Oak. Whether it's a subtle accent on your hood, a statement island, or the entirety of your kitchen cabinetry, woods bring a rich color, texture, and warmth to your kitchen design that can't be beat.
Color is king
You're not relegated to whites and wood tones for your kitchen, color is making an impact in rich hues found on backsplashes and kitchen cabinets alike. Cooler colors like the blues that dominated previous years are being paired with warm woods, while rich greens and earth tones are becoming more popular for kitchen cabinetry. The invitation to bring color into your kitchen will let your personality come shining through, so our designers recommend finding a color you love and build your kitchen around that hue.
Metals still stand strong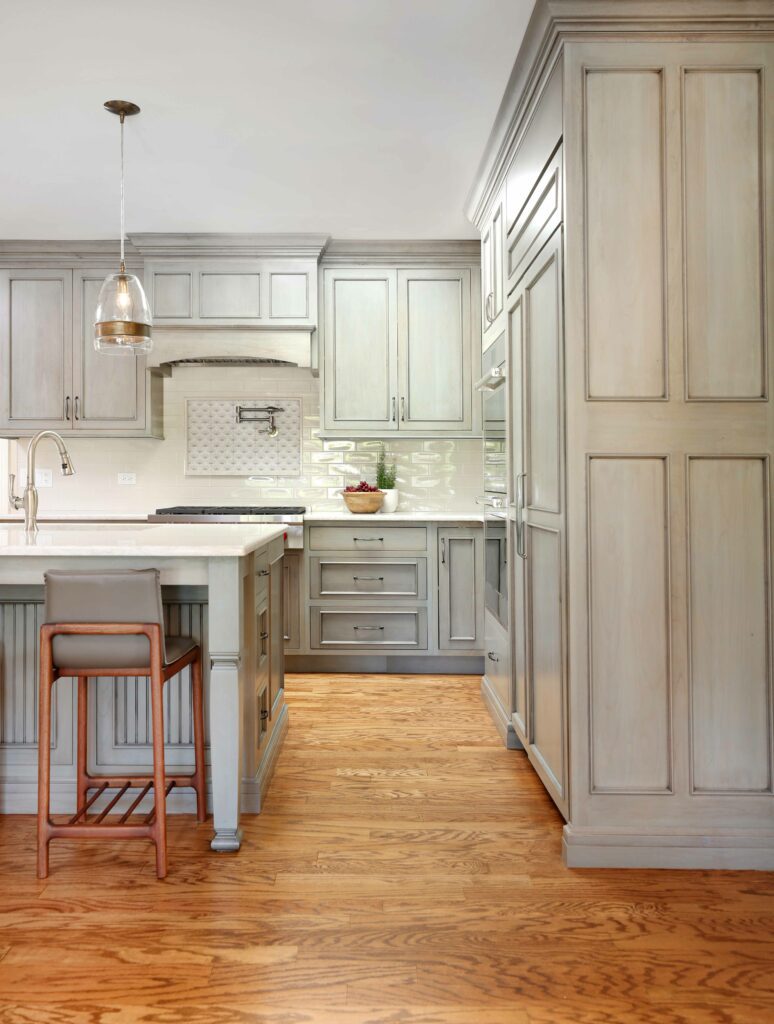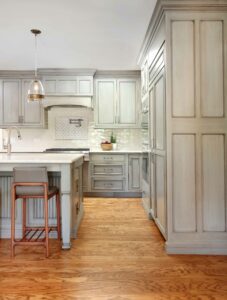 Brushed, polished, matte or mixed, metal accents and hardware add sparkle to any kitchen. There are the predictable places for metallic shine, like your plumbing fixtures and cabinet knobs, but unexpected metal accents on hoods, cabinet doors, and more can add a sleek touch to any space. So go ahead, choose that statement light fixture in any metallic finish you choose. When all those metals work together in your kitchen, they're sure to bring the right amount of shine to your space.
Traditional style gains ground
Similar to music, hairstyles, and fashion, old styles are made new again, with a timely twist. For kitchens, traditional touches are weaving their way back into today's homes, but with a fresh new approach. Today's traditional kitchen features more simplified details, rather than over the top ornamentation. It's perhaps most easily seen in kitchen cabinetry, as there are more options with traditional styling than just the eternally popular shaker style door. Those traditional details can be found just about everywhere, from faucets to cabinet doors, and let you decide just how much of that traditional style you want to invite into your kitchen design.
Navigating the myriad of choices you have available for your kitchen can be overwhelming. Fortunately, you can set up a meeting with one of the Normandy Designers to help you make sense of all the options. Feel free to browse our Instagram and Facebook pages to curate your favorite looks. Our designers will help you create a beautiful kitchen that best suits your style and home.