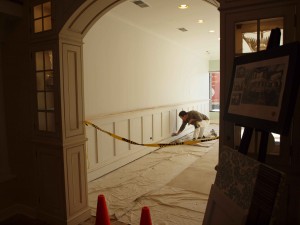 You may assume that since the Normandy staff is working on dozens of remodeling projects at any given time, the idea of remodeling our own showroom would be just an ordinary occasion.  But the steady stream of employees who stop by to "check the progress" reveals that we are just as excitable about remodeling our space as our homeowners are, and I am no exception.  I am quite excited to announce that our newly expanded seminar space is nearing completion, just in time for the first seminars of the 2012 season.
We have removed a bathroom display and consolidated two additional areas to provide a bright, open space where we will be able to comfortably accommodate 80 to 100 people at our very popular seminars.
This change will be completed in time for our first seminar of the 2012 season which takes place on January 21, the Secrets of the Ideal Kitchen.  You can see the progression of the before, during, and nearly complete in these photos.  We would love to show you the new space ourselves, so stop by if you're in the neighborhood, or click here to register for one of our upcoming kitchen, bathroom, or basement remodeling seminars.