How to add floral picks to your Christmas Tree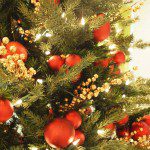 Adding floral picks to your Christmas tree can make the tree look fuller and give a natural dimension to your tree.  It also allows you to stray from the typical ornaments and garlands and give your Christmas tree a new twist.  In this video, Normandy Designer Chris Ebert shares his tips for shaping floral picks before you add them to the tree to provide the greatest impact.
You can also see more about ways to make your Christmas tree look full, adding a feather tree topper, creating a custom tree skirt, or grouping ornaments.  You can also learn more about Chris Ebert or schedule an appointment to meet with Chris or one of our other expert designers.