Awards by the dozen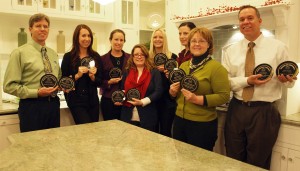 We've been fortunate to have completed some beautiful remodeling projects for our clients this year, and while we suspected that many of these were truly exceptional, we weren't quite prepared for the overwhelming response that we recently received from our peers.
This year, as in prior years, the National Association of the Remodeling Industry (NARI) Greater Chicagoland chapter held an awards competition to recognize superior design and construction among Chicago area remodelers.
This year, fifteen Residential "Remodeling Excellence Awards" were handed out, and Normandy Remodeling won a staggering 12 out of the 15 distributed.
Project entries were judged by industry experts and were evaluated on problem-solving, functionality, aesthetics, craftsmanship, innovation, degree of difficulty, and entry presentation.
The 12 awards represent the work of eight different Normandy Designers; Jennifer Runner, Ann Stockard, Leslie Lawrence Molloy, Gary Cerek, Stephanie Bryant, Kathryn O'Donovan, John Long, and Leslie Lee.
"We were shocked and thrilled to see that so many of our designers won one or more Remodeling Excellence Awards this year," says Andy Wells, Co-Owner and General Manager of Normandy Remodeling. "Our Designers focus on creating spaces that are tailored to the homeowners' needs and aesthetic ideals, and it is gratifying to have our work be recognized among the best remodeling projects in Chicagoland."
Categories of award-winning projects included a kitchen, bathroom, additions, interiors, exteriors, and entire house remodeling. In addition to these Remodeling Excellence Awards, Normandy projects have also won 10 national design awards in 2011, bringing the total design awards won to date this year to 22.
We are ever grateful to our wonderful clients who share their inspiration for their homes and allow us to create these amazing, award-winning spaces.  Thank you for letting Normandy be a part of your home's transformation!