Silver and Gold Inspiration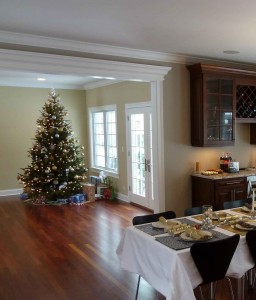 This year as you prepare to set your holiday table, take some inspiration from your Christmas Tree.  In this photo, you can see that Normandy Designer Heather Dalskov has incorporated the same silver and gold theme from her Christmas tree into the place settings and tablescape for her holiday meal.  This works particularly well when the tree is in close proximity to the table, but can be just as effective and beautiful even if the tree is several rooms away.
The place settings have either silver placemats with gold-tone napkins or the reverse.  "There is this notion that you should not mix metals, specifically silver and gold," says Heather. "That idea leads people to avoid the combination altogether.  But when they are paired deliberately, you will find that the warmth of the gold balances the crispness of the silver and the result is a glowing holiday that just sparkles."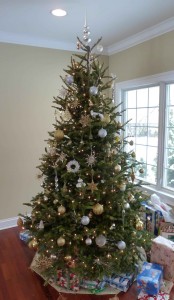 The silver and gold theme is evident in the ornaments on the tree, and if you look closely you will notice that the tree has a wide variety of ornament shapes and sizes.  Heather appreciates the interest and beauty that each ornament offers, and prefers these variations to trees that are dominated by a single color glass ball.  Though the sizes and colors vary, by keeping with the precious metals theme, the end result is a cohesive, bright Christmas tree that truly sparkles.
If you would like more ideas on how to make the most of your Christmas tree this year, you can read about feather tree toppers, creating your own tree skirt, grouping glass ball ornaments, or adding floral picks to your tree.  You can also read more about Heather or schedule an appointment to meet with her or one of the other talented members of the Normandy Design team.