For those who haven't heard of the Flat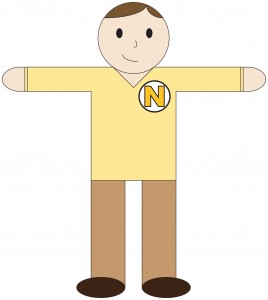 Stanley Project, it was developed to help children in school connect with their classmates.  Students would create a Flat Stanley and send him in the mail to their Pen Pal who would record Stanley's adventures abroad. Once Stanley returned, the student would share the journey with the class.  We thought it would be fun to send a Flat Norman along with our staff when they travel somewhere and share their adventures with everyone.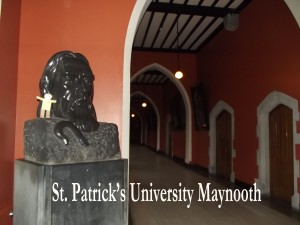 For Normandy Designer and Ireland native, Kathryn O'Donovan, making a trip home is always very special.  "I don't get to go back often, so each visit is very significant to me."  On her most recent visit this fall, Kathryn took Flat Norman to show us the Ireland she knows and loves.
Norman visited St. Patrick's University Maynooth, the college Kathryn attended before moving to the U.S.  He also went to Bunratty Castle and village in County Clare, where Kathryn and Norman cozied up to a 19th-century fireplace. "Bunratty Castle was once owned by the high kings of Ireland, the O'Brien clan.  Since my Mum is an O'Brien, I like to think of it as my castle," joked Kathryn. Of course,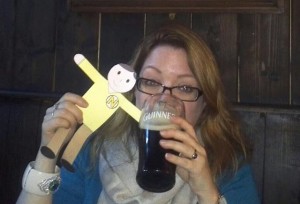 no trip to Ireland would be complete without stopping at a pub for a pint of Guinness with friends, so they made sure to check that off the list. Norman also spent some time in the place nearest and dearest to Kathryn, her childhood home.The home was designed by her father, an architect, and built by her family. "I remember  when I was a wee thing bringing materials to my Dad on my little peddle tractor during the construction of our home."  After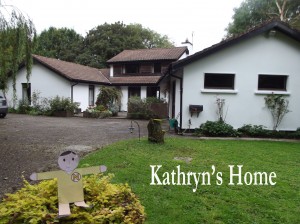 her family of four worked on the home for just a year and a half, the home was ready to move into.  "I try to go back once or twice a year, and it's great to be able to see family, friends and show off my homeland to my significantother, Bradley," commented Kathryn, "I have been in the U.S. for 20 years now, so differences like driving on the other side of the road and car in Ireland are a bit nerve-racking and do make me realize how long I've been gone."