Since everyone so much enjoyed the food from our Thanksgiving Potluck, we thought it'd be fun to share a recipe!  This one was brought by Normandy Designer Heather Dalskov and was incredibly tasty, it's something we're sure you'll love too!
Sausage, Apple and Cranberry Stuffing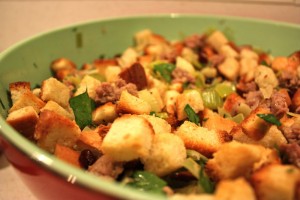 1 loaf of sourdough bread cut into 1/2-inch pieces (about 1 pound)
1 1/4 pounds hot Italian pork sausage, casings removed
5 tbsp. unsalted butter
1 onion, chopped
3 celery ribs, sliced 1/4 inch thick
1 Granny Smith apple, peeled and cut into 1/2-inch pieces
2 teaspoons minced garlic
3/4 cup dried cranberries
1/2 cup white wine
1 3/4 cups chicken broth
Preheat the oven to 350°F.
Toast bread on a large baking sheet in the middle of the oven until dry, about 10-15 minutes.
Add butter to skillet and cook onions, stirring, until softened and starting to turn golden. Add celery, apple, and garlic and cook, stirring, for 2 minutes. Remove from skillet and toss with bread cubes in a 13″x9″ casserole dish.  Add cranberries to the dish.
Cook sausage in a large heavy skillet over moderately high heat, stirring and breaking up large lumps, until no longer pink, about 5 minutes, then transfer with a slotted spoon to the casserole dish.
Add 1/2 cup white wine to the skillet while it is still warm to deglaze the pan (Cooktop should not be turned on)  Add chicken stock to the skillet and stir together.
Stir together the sausage, bread cubes, and onion mixture.
Slowly pour broth mixture over stuffing and stir together. Cover with foil and bake in the middle of the oven for 30 minutes, then uncover and bake until bread is golden and stuffing is heated through, 20 minutes more.
Stuffing can be assembled (but not baked), without broth, 1 day ahead and chilled, covered. Stir in broth and bring to room temperature before baking.
Enjoy!  And thank you, Heather, for sharing!