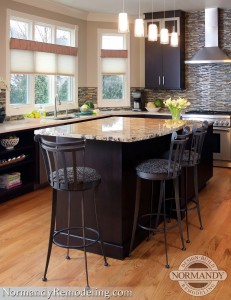 In larger kitchens, or kitchens that are open to other areas of the home, choosing to add a higher countertop at bar level can provide an informal barrier between the kitchen and the rest of the home. "This barrier can also aid in eliminating the sight of kitchen clutter as it helps define the space," says Leslie.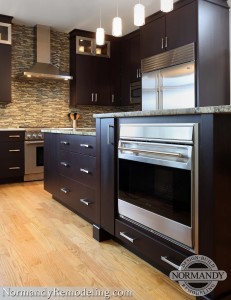 The kitchen island is one of the most popular elements that people request in a new kitchen remodel.  Without a doubt, kitchen islands can provide additional work, storage, and dining space; but many people may not know that a few modifications to the typical kitchen island can make them serve even greater functions in the kitchen.
"By creating two levels of countertop height on an island, you open up a variety of opportunities and solutions for your kitchen," says Normandy Designer Leslie Molloy, CKD.  "The height of the staggered island countertops depends on the preference of the homeowner and the purpose of the island's functionality."  Aside from the typical countertop height, you can either opt to add a lower level, often known as table height or a higher section, often known as bar height.  "These variations are a popular option for combining preparation and eating areas," noted Leslie. "But they are also great for additional cabinetry, storage, and appliances, whether you decide table or bar height."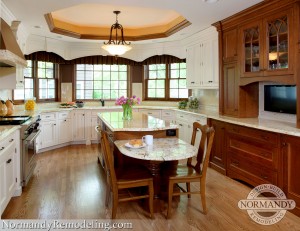 For smaller kitchens, opting to add a lower level, or table height, the section can give you the benefits of a dual-level island without overwhelming the space.  This is also particularly attractive for avid bakers, as the table height is an easily accessible baking station that doubles as an eating area.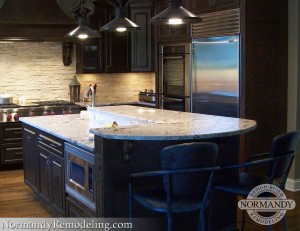 Multiple levels on your kitchen island can provide many benefits to your kitchen.  However, if your kitchen island's primary purpose is for setting out platters for entertaining, you may find that the variation between high and low countertops causes more frustration because it lacks a continuous surface to arrange your serving pieces.
When deciding on the right type of island for your new kitchen, your designer will be your best resource to help you determine the right fit for the way you cook and the way you live.  We invite you to meet with Leslie Molloy, CKD, or any other member of the Normandy Design Team for a free in-home consultation to discuss the best way to remodel your kitchen and find the design solutions that are the right fit for you.