Stained VS Painted Cabinetry: Understanding the Differences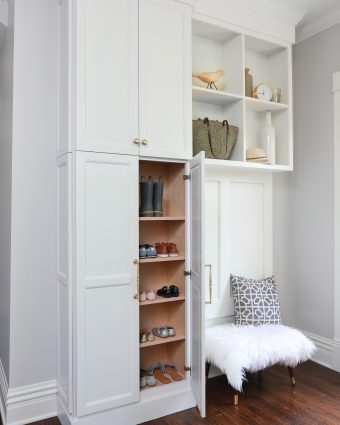 Deciding whether to choose a stained or painted finish for your cabinetry can be a daunting task, which is why we're here to help!
Let's start with the basics. A stained finish is when a thin coat of wood stain is applied to the cabinetry, which is then absorbed into the wood grain, allowing the natural wood features to still be showcased. "Oak, ash, chestnut, cherry, and walnut are just a few wood species that take stain beautifully as they are porous and able to absorb stains very well," Normandy Designer Karen Chanan states.
Painted finishes on the other hand are when cabinetry is first sanded down then painted. "Maple cabinetry is the most commonly used wood species for painted finishes," Karen says. "Color wise, you can choose any color paint for your cabinetry, which offers options, whereas stained finishes bring out the character in the one-of-a-kind wood grain."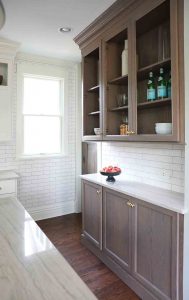 Both options have a variety of pro's and con's. For instance, stained cabinetry will fade and change color over time, but is more durable than painted cabinets. "With painted finishes, homeowners have more color choices, but paint is vulnerable to chipping," Karen adds, "If you are searching for the durability of a stained finish but also the color customization of a painted finish; opt instead for painted cabinetry and a stained island where guests are more likely to sit and kick."
Whether you incorporate a stained or a painted finish, there are a few things to consider. "Both finishes are able to incorporate a glaze, which is when another layer of color is applied and then wiped off by hand, giving the cabinetry more dimension," Karen states. "For painted cabinetry, white paint is more difficult to keep clean whereas darker colors like navy or dark gray are more forgiving. It's also important to know that since wood is a natural material, it will expand and contract through the seasons causing hair line joints to be visible in the cabinetry; this is completely natural and does not mean the wood needs to be replaced." Overall, choosing between a painted and stained finish is mainly aesthetic based and coordinated with your style preference.
If you're looking to renovate your kitchen and searching for some guidance on whether to incorporate a stained or painted finish in your cabinetry, set up a time with Karen to talk about the possibilities for your home. Make sure to also visit one of our upcoming workshops and follow Normandy Remodeling on Facebook and Instagram for even more home tips and inspiration.