The beautiful cabinets you choose for bathroom storage are hiding a resource in plain sight. They are a smart, and space saving, spot for a towel bar or hooks.
"When you don't have room for a wall-mounted towel bar, the outside of a cabinet can be a space saving solution," says Normandy Designer Jackie Jensen. Jackie adds, "It's especially nice for hand towels and decorative towels. These don't get as heavily wet as a bath towel, which means less worry about moisture near your wood."
Hooks are another option. Jackie says, "I've seen really great executions of hooks. One client used a series of rope hooks. She has one for towels, one for clothes, one for a robe. It looks great and makes her bathroom really efficient."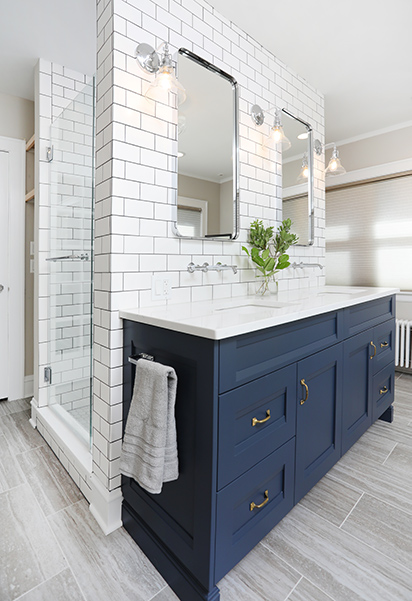 In tight quarters the side of the cabinet can also be the right spot to mount your toilet paper holder.
And what if you really do need to hang your bath towels here and you do have moisture concerns?
"Remember to turn on your fan," Jackie says, adding, "It's recommended that you let your fan run for 20 minutes after your shower." If you have trouble remembering, many newer fans have timers that will do the countdown for you. Some are even super quiet, which should keep any noise objections at bay.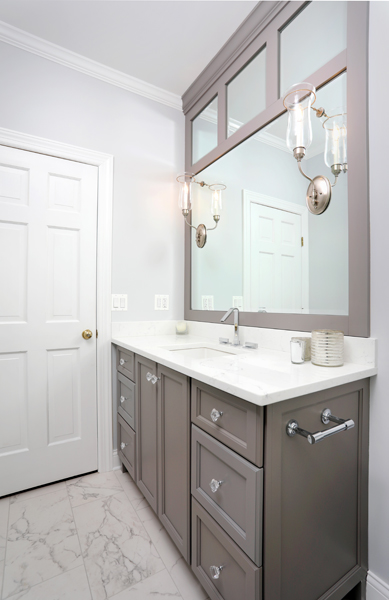 Families do keep more towels on hand these days and having a variety of storage, including inside the cabinets and on towel bars and hooks helps keep things organized.
"We like to give every bathroom options for storage and organization," Jackie says. She adds, "using the side of the cabinet is a clever way to enhance those options."
If your towel collection is bursting out of your cabinets, it might be time to refresh your bathroom. Why not set up a time to talk to Jackie about all the ways to make your bathroom more efficient and more beautiful? You can also join us at an upcoming virtual webinar to learn more about remodeling. If you are looking for ideas, the Normandy Remodeling photo galleries are filled with good ones. We share inspiration and tips on Instagram, Facebook and Pinterest, follow along for design right in your feeds.