Basement Bathroom Basics and Beyond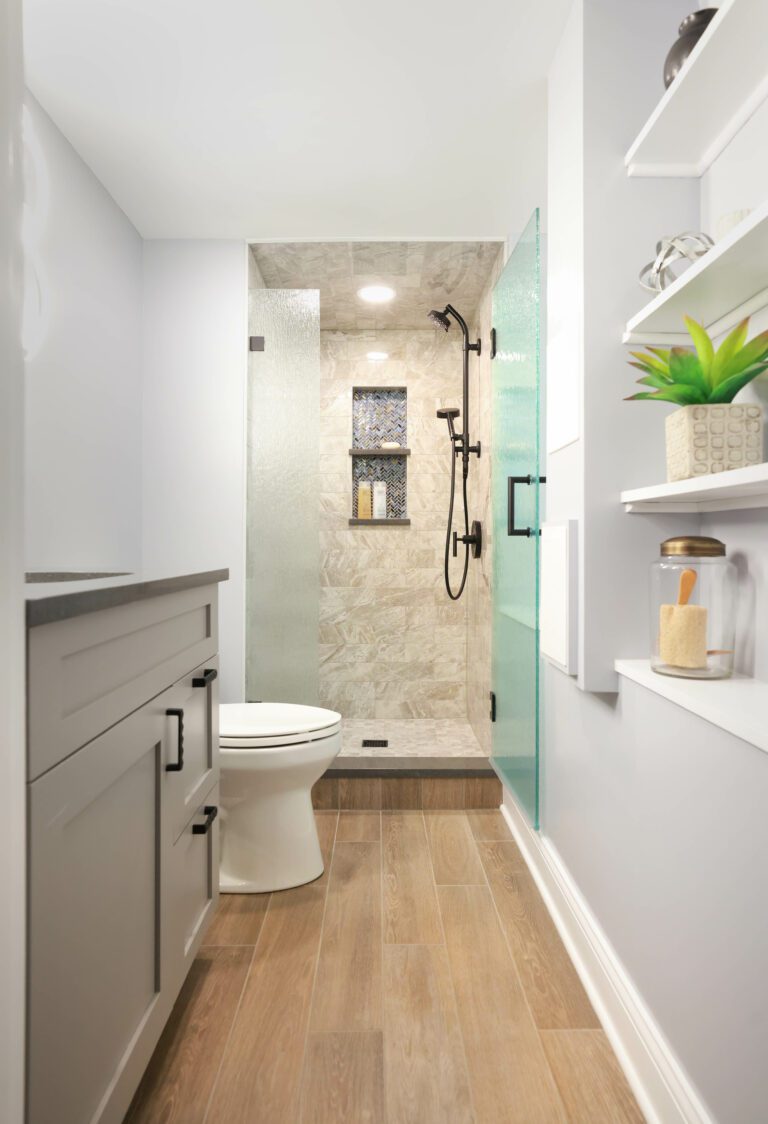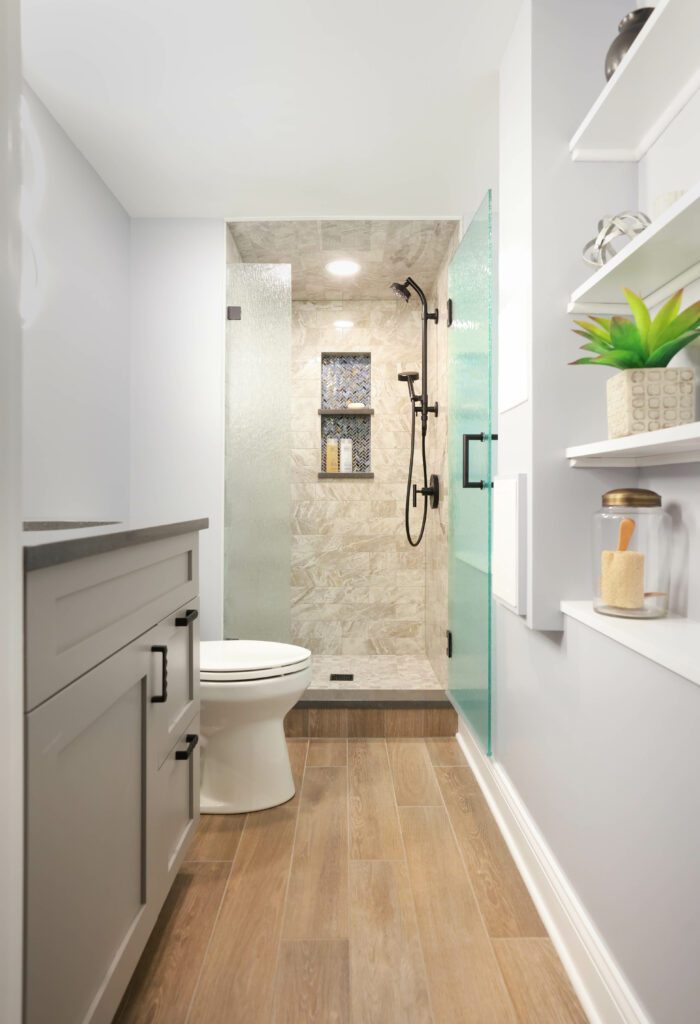 Adding a bathroom in the basement of your house is a smart way to make the lower level more functional. A basement bathroom is a nice to have when you watch movies, workout or spend time in your office downstairs.
That basement bathroom becomes a must-have when an older teen decides to stake out the space as their living quarters. If you occasionally host guests in the basement, putting in a bathroom is also a must. Your visiting family members and friends will definitely be grateful to not have to troop up and down the stairs for showers and such.
"When a family is finishing a basement or creating a separate living space, a basement bathroom makes it feel more welcoming and less like an afterthought," says Normandy Design Manager Leslie Molloy, CKBD.
Most families agree that a three-piece bath, which gives you a sink, toilet and standing shower, rather than a separate tub and shower or tub/shower combination, is the right arrangement. "Most people aren't going to sit for a long, leisurely soak as a guest. A shower is just right," says Leslie.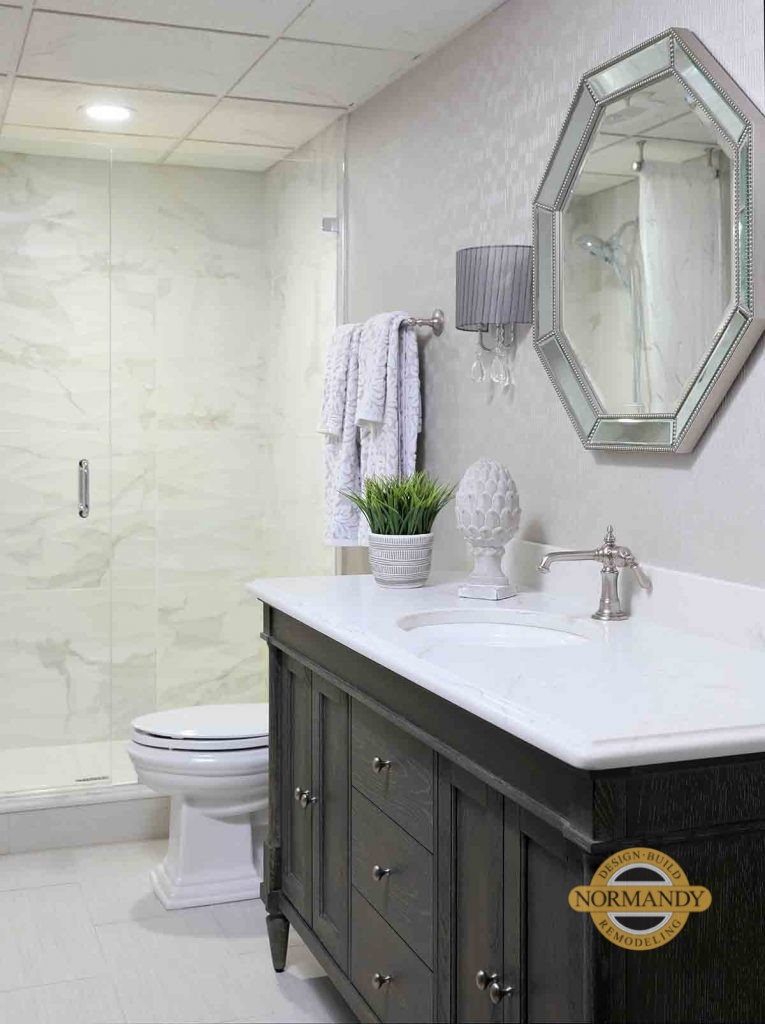 The big decision is deciding the level of finish you want. "We see it two ways. The first is finishing the basement bathroom to match that of the rest of the house. This happens when it's a true extension of the living space and you expect it to get more use," Leslie says.
She adds, "The second choice is to let it be more basic." This is a smart way to approach a basement bathroom that might only be used a few times a year. You still want it to be welcoming, but no one is expecting mixed metals, statement tile and layers of lighting.
Aside from a finish strategy, Leslie assures us that planning for efficient plumbing is a big part of the process. "We're very aware of water needs and water flow. It's important for efficiencies and also to keep the project economically sound. There's no reason to place new plumbing fixtures any farther away from an ejector pit than they absolutely need to be."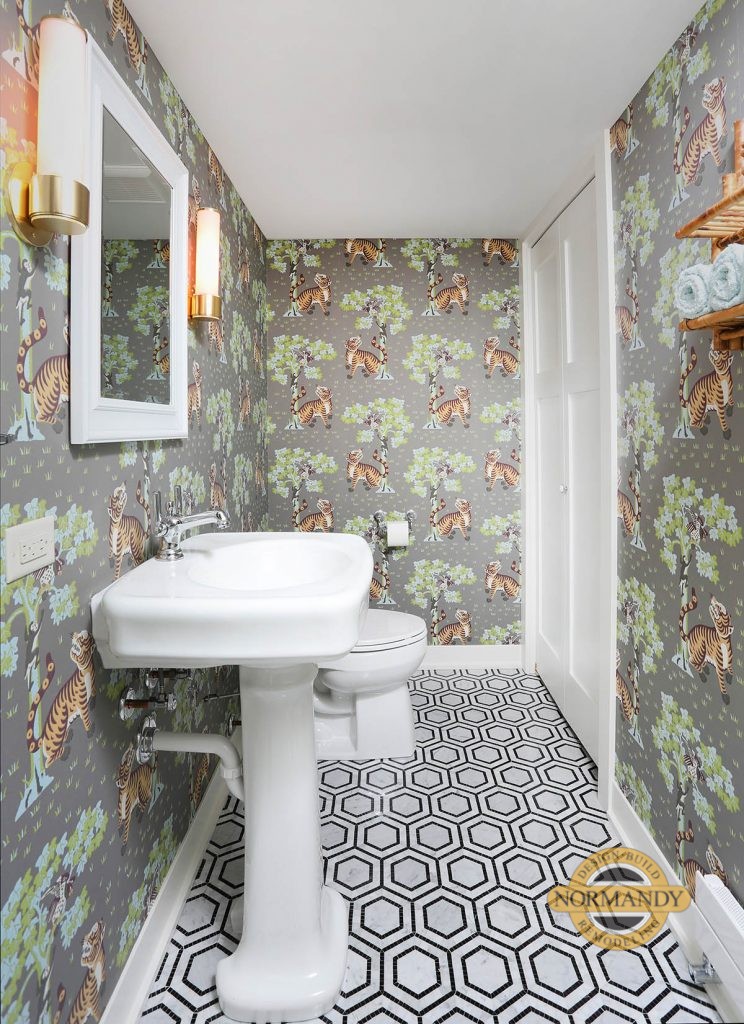 Leslie advises looking at your overall wish list for the basement to assist in planning for plumbing needs. "If you're putting in a wet bar, we'll take that into consideration and find the efficiencies," she says.
On that note, Leslie often reminds families who are reimagining their basements not to over plan. "Remember that you'll still need a spot to stash holiday decorations and off-season sporting goods. Plan for a storage area alongside your new bar, office basement, bedroom and yes, bathroom."
If you find yourself peering down the stairs and wishing for more from your basement, why not set up a time to talk about the possibilities? The Normandy Remodeling photo galleries are an excellent place to find inspiration. If you'd rather have ideas and tips delivered straight to your feed, follow us on Instagram, Facebook and Pinterest.