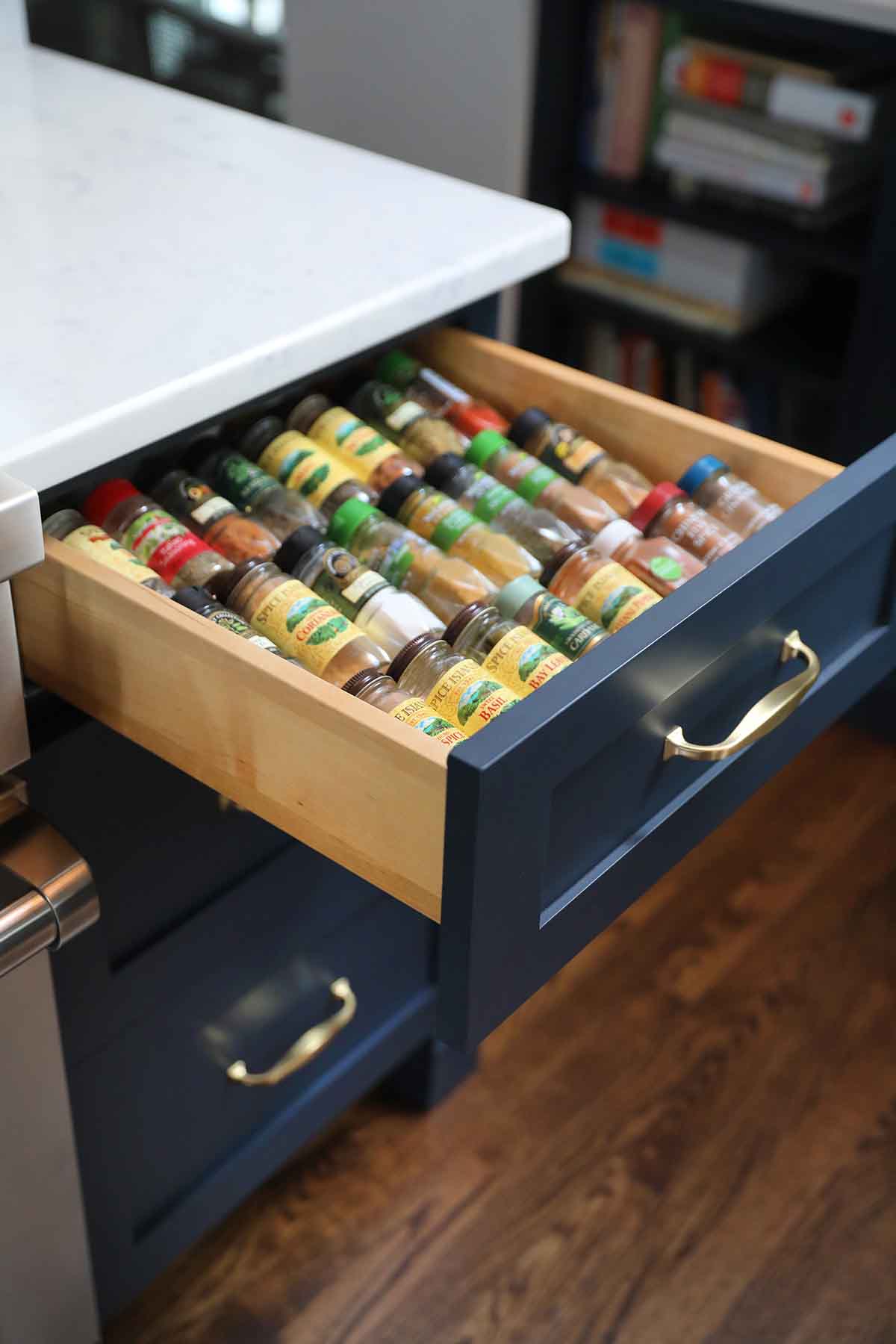 How many containers of oregano do you have in your kitchen? If your spice cabinet is a disorganized mess, you might be overbuying things you already have in stock. Normandy Designer Laura Barber, AKBD, says that kitchen organization tools top the list of necessities when it comes to a remodeling project.
Some of the most requested cabinet and drawer organizers are for the kitchen.  "Even better if the organizers are customized to fit the essentials," says Laura, "like spice drawers, which are my personal favorite. You can see all the spices you have because they're angled up and displayed clearly. The drawer can be situated next to the stove or your meal prep area so everything you need is at arm's reach."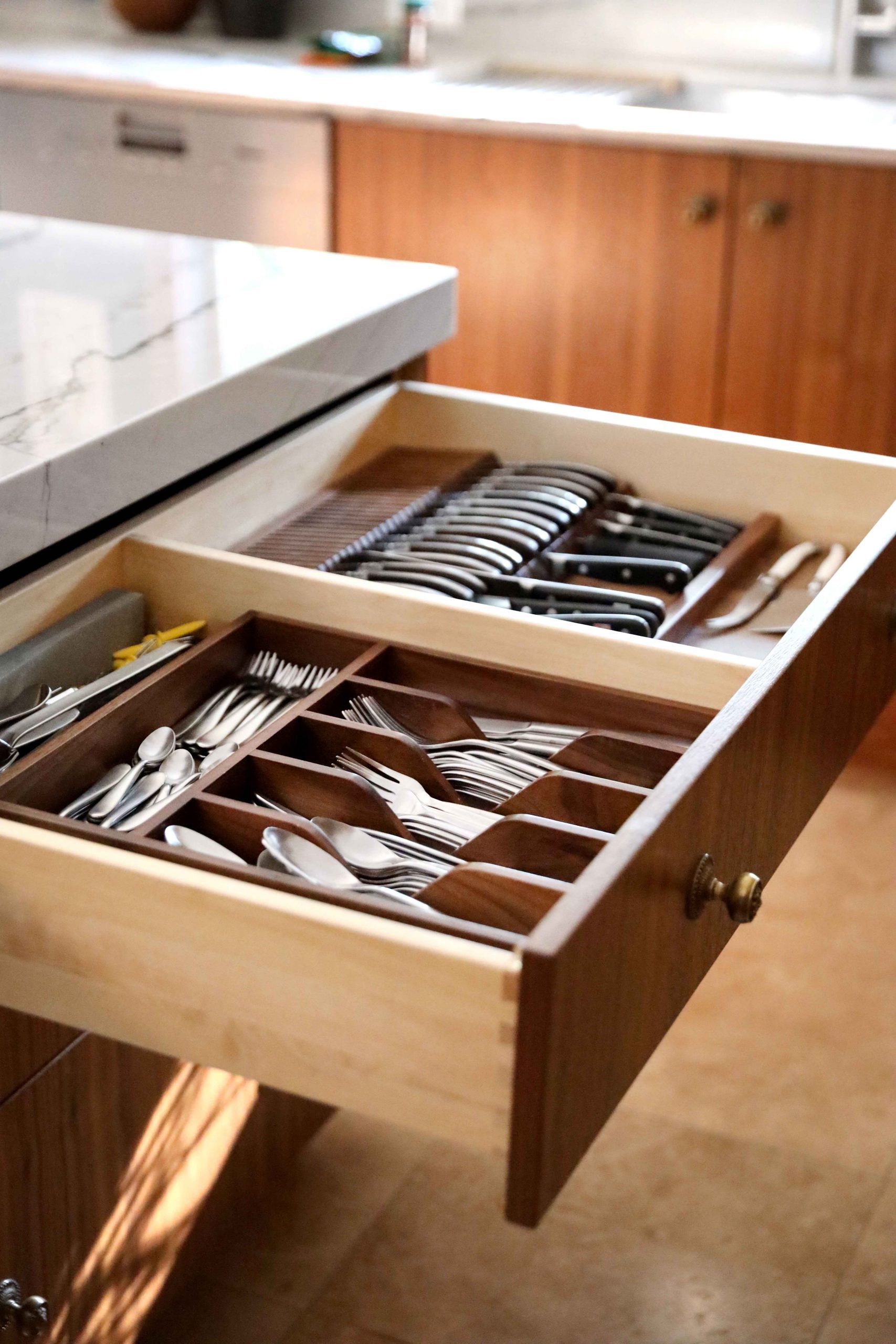 Cutlery dividers are also a popular option to add to your kitchen remodel. "These come with adjustable notched drawers and the dividers can move as your needs change, long and skinny space for knives, or wide for potholders," Laura says.
As kitchen design becomes more about open spaces, there are fewer walls to accommodate cabinets, and less room for organized storage. "People want more shelves and windows in their kitchen," says Laura. This is when the island becomes a perfect place for wide, deep drawers with peg organizers to store dinner and dessert plates or platters. "It's so much easier to grab heavy plates that are at knee height than reaching above your head to pull them down from upper cabinets," Laura says.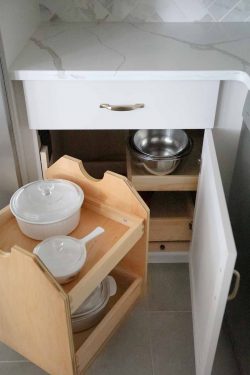 Space saving organizers for blind corners bring items to you on a rotating or pull-out shelf which makes finding kitchen tools like the cheese grater or veggie spiralizer easy to get to. "With deep corner cabinets so many things are hard to reach, then get lost and forgotten. A lazy Susan or pull-out corner organizer solves this common issue," Laura says.
Some kitchen organizing features are a given. "Everyone knows they want the roll-out shelves for easy access to pots and pans. Plus, trash and recycle bins fit nicely in custom roll outs, leaving more floorspace," says Laura. "You may even opt for thin spice rollouts to store your pantry ingredients. These make great use of narrow spaces, like next to the fridge or oven."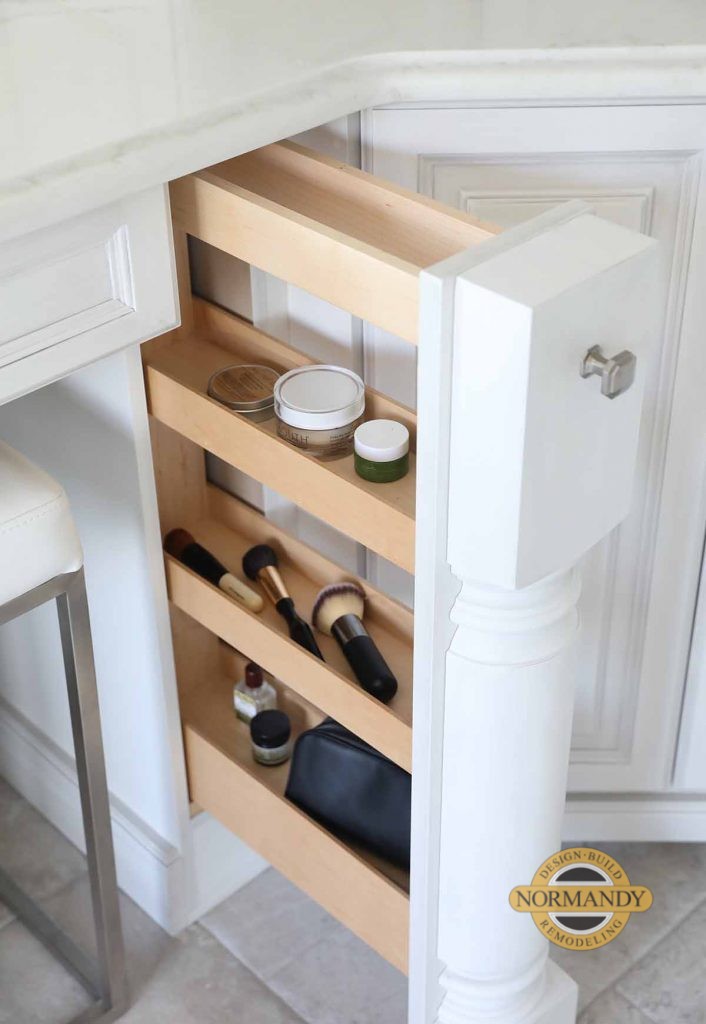 Kitchen organizers can be used in unconventional ways, too. "A spice pull out drawer works well in bathrooms to store hair tools, extra bottles of shampoo, hair spray, and other essential toiletries," Laura suggests.
Organized drawers not only help your space functioning better, but they also leave the countertops clear of clutter. "It's easier to maintain a clean room when there's a place for everything," says Laura.
If you're ready to wrangle the mess of tools and containers in your kitchen or bathroom, reach out to Laura to discuss all the organizing options available for your next remodel. In the meantime, follow us on social. We share completed projects and design tips on Facebook and Instagram, as well as our photo gallery.