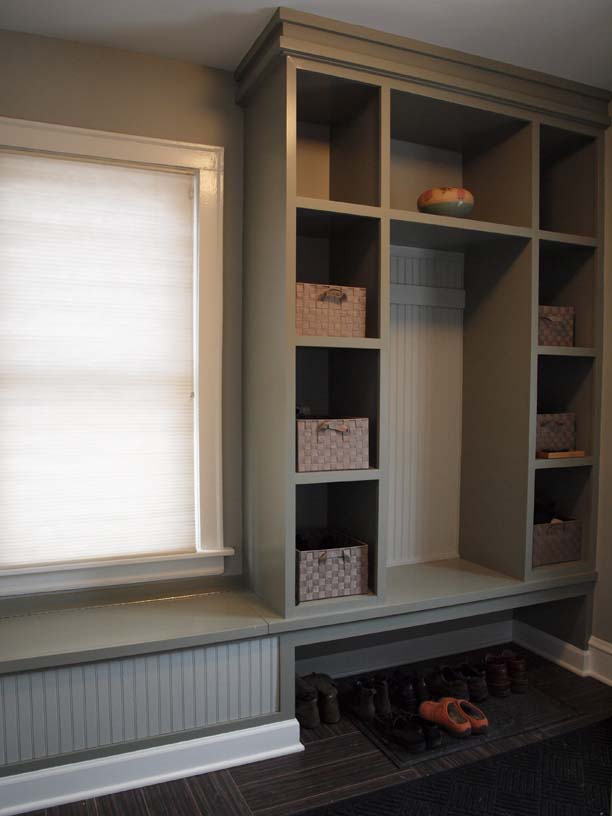 A mudroom can mean a lot of different things to different people, but what it ultimately comes down to, is that a mudroom is a space in your home that serves as an organized and functional landing spot for your family. With that established, the Normandy Design Team narrowed down what needs to be taken into consideration when creating a mudroom and the common trends in mudrooms.
First, you need to think about what features you want and who's going to be using it. At Normandy we customize mudrooms to the customer, depending on their needs. If you have kids, it's important to have hooks, cubbies, or lockers that they can reach. Some homeowners prefer to have lockers over cubbies to conceal everything, but if your family is constantly on the go, cubbies might be more convenient to grab what you need and go. A charging station for electronics is a nice feature, and if you have a pet, a hook for their leash and a shelf for food or toys is a great idea – it's all about preference and purpose.
The two most overlooked elements of a good mudroom are the materials used for storage and the flooring. The surfaces should be easy to clean and flooring should be able to handle heavy foot traffic. This will help the mudroom withstand daily wear and tear and the materials won't have to be maintained or replaced that often.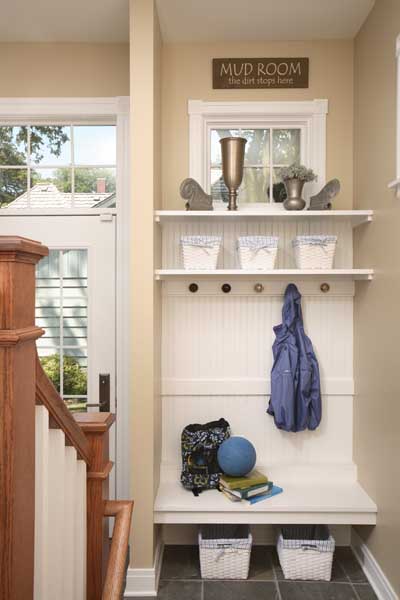 A way to dress up your mudroom is to incorporate wainscot paneling, which adds an architectural touch. This added feature can make the mudroom feel like another room in the house and not a storage closet or entryway.
Mudrooms can take on all shapes and sizes, and the designers shared a few of their favorite Normandy mudrooms and explained what makes them great
1. This small niche area was all this homeowner needed. The area was just big enough to carve out open shelving and hooks for coats and bags. The antique doorknob hooks are a unique touch and the natural light coming into this mudroom, makes it bright and cheery!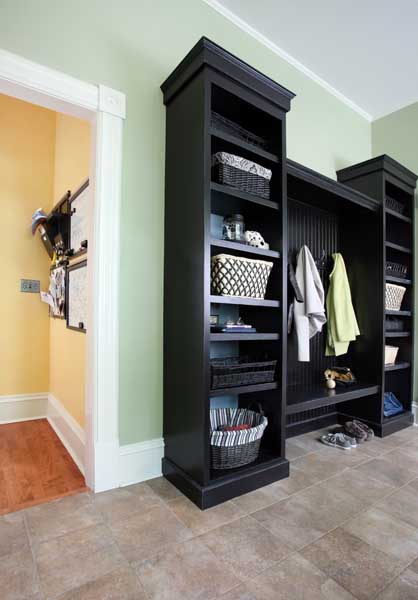 2. The open shelving accommodates the homeowners' containers, giving a place for all the 'grab and go' items. The electric outlets behind the open shelving for the cell phone and other electronics are a nice touch; it doubles as a great charging station.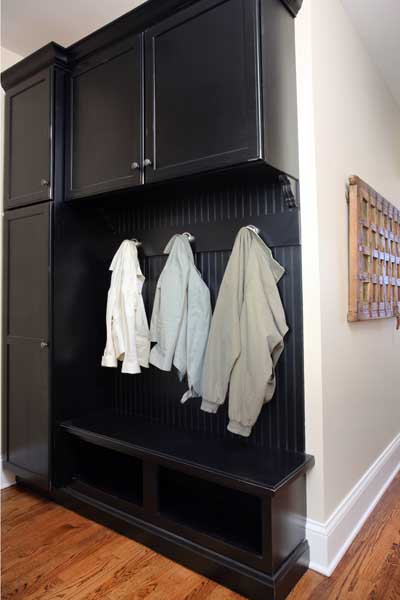 3. The distressed black cabinetry finish is a great look in a spacious area. The closed storage helps conceal the clutter when visitors come to the back door. The beadboard protects the wall from heavy backpacks and the paneling makes the unit appear to be a custom piece of furniture. It's a great use of space!
If you're longing for a beautiful mudroom or contemplating more extensive changes to your home, you can set up a time with one of our designers to talk about the possibilities. You can also learn more about additions, kitchens, or other remodeling projects at an upcoming workshop. Check out the photo gallery or follow Normandy Remodeling on Facebook and Instagram for even more home tips and inspiration.