Your Guide to a Pawsitively Exquisite Mudroom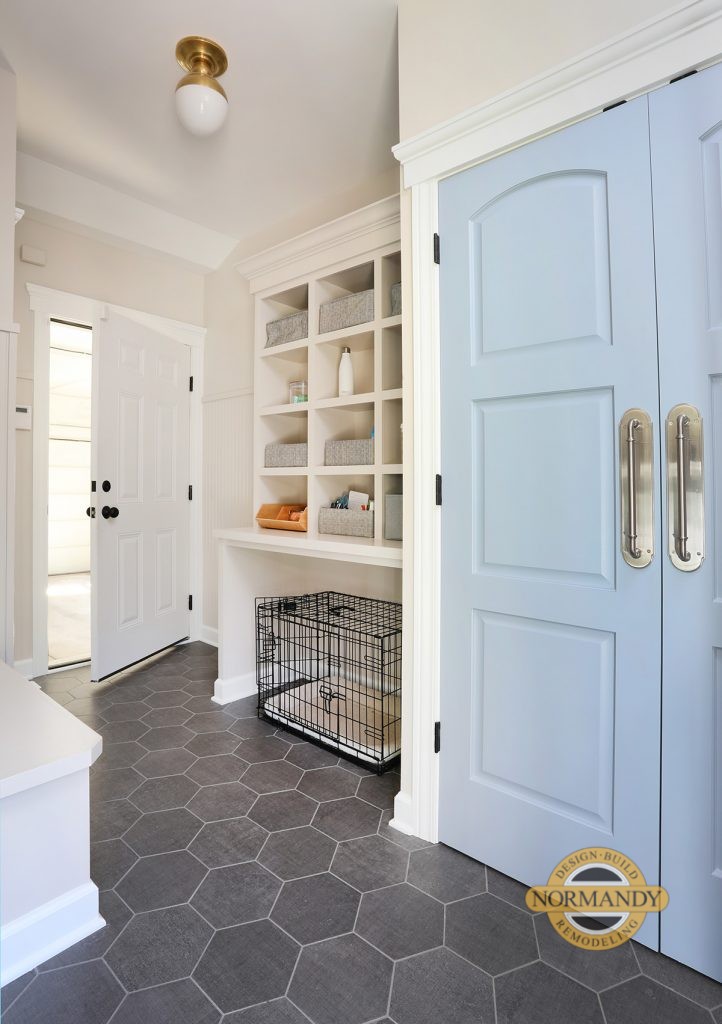 It could be argued that the member of your family who will most benefit from a mudroom is of the four-legged variety. When muddy paws come into the house, having a space that's prepped for their arrival can make life a little easier for everyone. But having a mudroom that's tailored to include your pup's needs is more than just a tile floor where you can wipe off their paws. Many people are opting to include a spot for their sleeping quarters, or crate, in the mudroom as well.  There are a few very good reasons for doing this, as shared by Normandy Designer Jennifer Cross, AKBD.
"My dog is definitely an important member of our family, which is the case for so many people," notes Jennifer. "If your pet is important to you, then considering their needs when remodeling a space just makes sense."
"In many homes, the primary entrance that people use day-to-day is off the garage, which is coincidentally where the mudroom is also typically placed. Now I don't know about your dog, but my pup is very excited to see me when I get home, in fact I can't get to her soon enough," shares Jennifer. "It makes a lot of sense then to put her crate right at the door I'll be using to come in. That way she gets to see me right away, and if we need to head right back out for a walk, it's easy to grab her leash and hit the door."
In this family's mudroom, the shelving unit was designed around the crate, which makes it easy to get their dog in and out, but doesn't compromise the storage potential of the room. "Get creative with the space by incorporating open storage for miscellaneous items like your mail, house keys, and dog leashes. Cubbies are also the perfect tool to create a customized and organized space for each member of the family, perfect for coats, bags, and even dog toys."
In addition to flexible shelving, there are also some harder to spot features of this mudroom that are a hit for any home, not just families with pets.
"A lot of the work of a mudroom is done by the flooring. You want to choose a durable option like a porcelain and something that has a matte finish or lower sheen to minimize the potential for slips," notes Jennifer. "Something you can't see but that I recommend for every mudroom is a heated floor. This provides a couple of big benefits. First, it keeps the room warm, something that is important for a space that's typically adjoining a chilly garage. Secondly, a warm floor lets you toss wet hats and gloves right on the floor to speed drying, which can be a big hit for families with kids. Lastly, since the mudroom floor often is the spot where we track in moisture from the outdoors, the heated floor will dry more quickly."
Incorporating a space for your pet in the mudroom is just one way you can make life better for you and your pup. Set up a time to talk with Jennifer about the best ways to integrate thoughtful design when remodeling throughout your home, for every member of your family. You can also follow Normandy on Facebook and Instagram for even more home tips and inspiration.