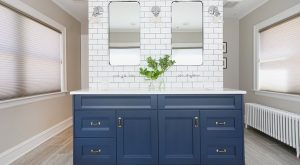 The saying goes; three strikes and you're out. Well, this was the case for a primary suite in Kenilworth. Strike 1 – The layout wasn't working.  The homeowners had to trek through a sitting room and bathroom in order to get to the bedroom. Strike 2 – The aesthetic was tired. Strike 3 – Storage was really lacking. Ready to overhaul the space, the homeowners called upon Normandy Designer Vince Weber.
The homeowner was an architect and worked with Vince to explore many layout options. It was decided that putting the bedroom first, then the closet and the bathroom gave the primary suite a better flow. This means that the old bedroom became the new, bright bathroom.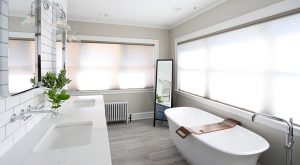 The new bathroom is simple and eclectic, which better suits the homeowners' personal taste. It features classic white subway tile, a traditional blue-colored vanity, and gold hardware. The Quartz countertops look like marble to provide durability and enhance the bathroom's eclectic aesthetic. You'll also notice contemporary mirrors, light fixtures, and wall-mounted faucets.
"This bathroom had windows on three of the four walls, which was a bit of a challenge," said Vince. "We placed the free-standing tub along one of the exterior walls and then put a walk-in shower behind the vanity."
"This was the best spot for the shower. The subway tile on the vanity wall wraps into the shower area, creating a cohesive look," added Vince.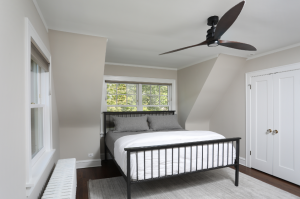 The new shower has the works – including a bench, body sprays, and a hand-held shower. A blue and white accent tile picks up the colors from the vanity and subway tile. Overall, it is a nice blend of simple and elegant.
The closet has a mix of open and closed storage. The space is large enough that it also serves as a dressing area. Moving into the bedroom, everything was kept clean and simple. Removing the small closets and a radiator also created a nice nook for the queen-sized bed.
Now, the homeowners enter their bedroom and walk through their closets to get to the bath. The new flow is comfortable and provides more privacy in the bathroom. Plus, the style of their master suite matches their taste.
If you're thinking about renovating your primary bedroom or suite, set up a time with Vince to talk about the possibilities. You can also learn more about additions, kitchens or other remodeling projects at an upcoming workshop. Check out the photo gallery, or follow Normandy Remodeling on Facebook and Instagram for even more home tips and inspiration.