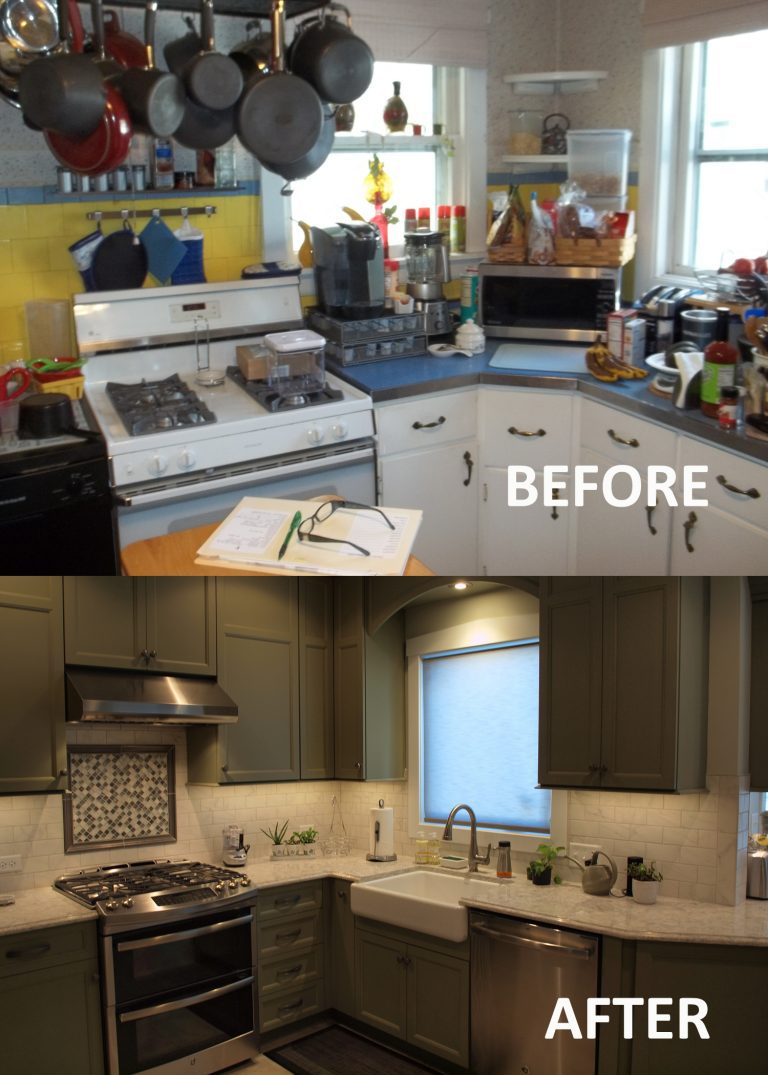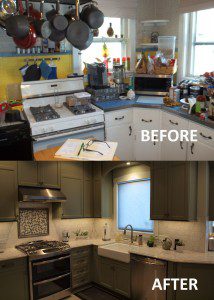 As it stood, the 1940's Chicago home contained the original kitchen. While it sounds charming, in actuality, it was very outdated with very little storage and work space.  The space constantly looked cluttered because nothing could be put away. Tired of continuously rolling out their portable dishwasher and avoiding hosting holiday parties because of lack of functionality, these homeowners reached out to Normandy Designer Laura Barber, AKBD. When it came to coming up with a solution, it was all about location, location, location…
"In order to make this kitchen more practical and functional, a few key items needed to be relocated," said Laura. "Closing up the window on the range wall and shifting over the window above the sink really changed the whole dynamic of the space.  From there, we were able to reconfigure a new floor plan with more storage and counter space."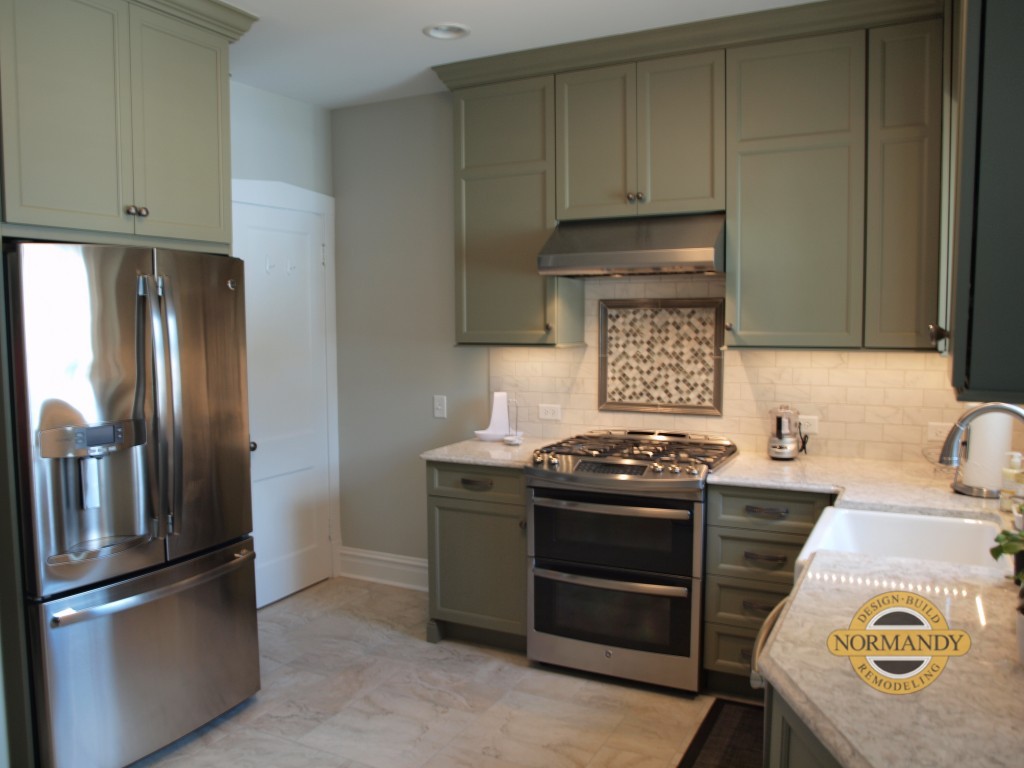 With the windows put in place and a new placement for the sink, Laura moved the refrigerator to where the old sink was formerly kept.
"It's amazing how these adjustments changed the whole feeling of the space," noted Laura. "They now have a full-sized dishwasher and an apron front sink."
This smart move also made room for a recessed pantry, so some tall pantry storage was gained. This was a huge gain for the homeowners since there was almost no storage before the renovation.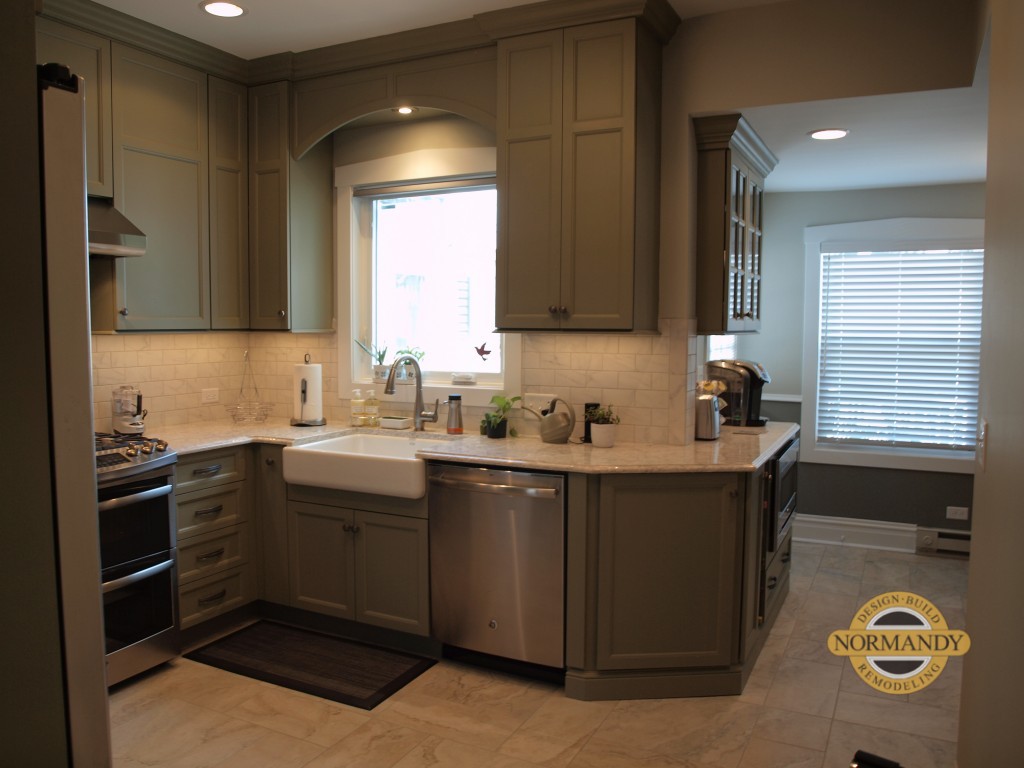 As far as aesthetics goes, the couple didn't want to just opt for the ever-popular white cabinetry. Instead, they were eager to pick out something unique that reflected the age and style of their home. Therefore, they went with sage green cabinets and neutral Cambria countertops. The white marble backsplash and mosaic accent tiles above the range tie everything together beautifully. Porcelain tile flooring with a light stone pattern also brings interest to the room, yet provides the durability that is needed due to the couple's two dogs.
"Overall, the space is very classic," added Laura. "However, the mix of mosaic tile,  metal, and stone add a little bit of a contemporary edge."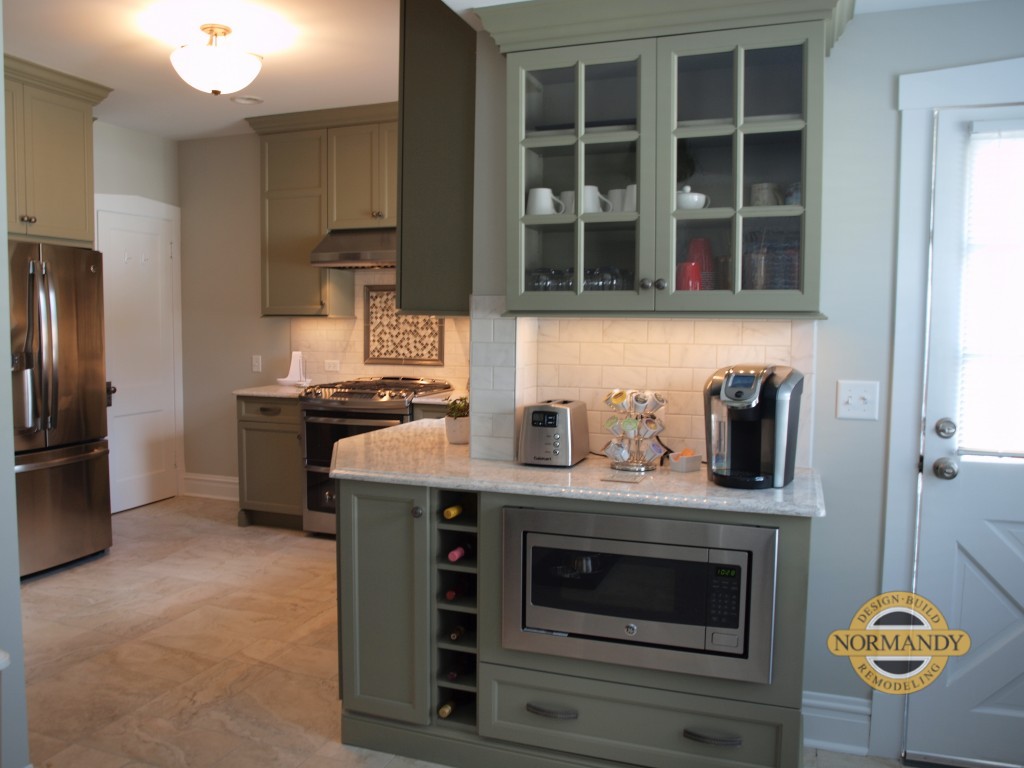 A few other noteworthy features include stacked cabinetry that goes to the ceiling. This gave much-needed storage while also visually opening up the room.
Overall, with a beautiful kitchen with plenty of storage, the couple can now proudly take on holiday hosting again. In fact, the space near the back door allows for a bar and entertaining space. Wrapping the cabinetry down to the breakfast room also allowed for a continuous run of counter space to use for drinks and a coffee station.
"It's safe to say that this kitchen remodel was dramatically life-changing," said Laura. "The counters, open workspace, and storage give the ability to entertain and enjoy the space. I'm so happy that I could have hand in that."
Laura can help transform your kitchen too. The first step is to set up a free consultation to see and discuss your space. Or, you can register to attend one of our free remodeling seminars to learn more. For more kitchen ideas, you can also view the Normandy photo gallery or follow Normandy Remodeling on Facebook, Twitter and Instagram.