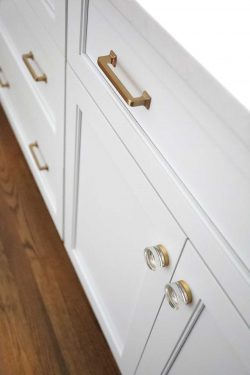 Cabinet hardware can seem like such a small detail, but it can have a surprisingly big impact on the overall look of your kitchen. Kitchen cabinetry hardware allows you to bring your personality to the space even more and can take the style of your kitchen to the next level.  "When it comes to cabinet hardware, it can act as jewelry for your cabinetry," says Normandy Designer Laura Barber, AKBD. "It can really elevate cabinetry with a personal touch in the kitchen, and helps set the overall tone for the space."
"In order to enhance the style of your kitchen, it is important to know how certain elements can complement, accent, and stylize the space to its full potential," added Laura. "Because there are such a large variety of options for cabinet hardware, it really comes down to personal preference."
Here are some of our favorite tips to help you make the right choice for your kitchen: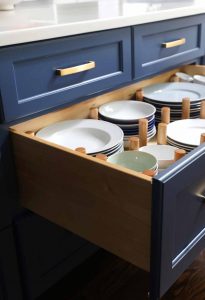 1.  Style:  The overall style of your kitchen can dramatically change when you begin adding the finishing touches.  Whether you wish to decorate your kitchen in a more traditional, modern or contemporary style, the hardware can help advance these individual features even further.  To accomplish a very modern look, some homeowners choose to have a touch latch system installed, to create a simplistic straightforward look with no visible handles or knobs, instead of adding ornamental hardware.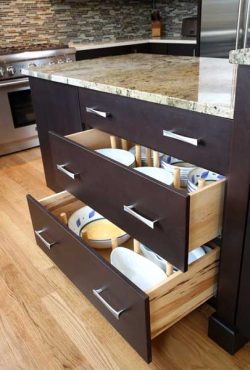 2.  Orientation:  It is common for knobs to be seen on doors and pulls on drawers, but this depends on personal interest and the style you wish to achieve in your kitchen.  "For more of a modern look, clean, linear hardware is ideal, but occasionally, pulls can be seen on doors as well," added Laura.  "Another rule I tend to follow is that if a drawer is more than 30 inches, I opt for 2 pulls rather than one, in order to keep balance and proportion." 
3. Contrast:  Hardware can be used to compliment surrounding items, such as appliances or accent pieces.   When attempting to accent stainless steel appliances, darker cabinetry highlights the hardware and allows for a contrasting look.  These dramatic accent pieces also add visual interest to the kitchen, without overwhelming the space.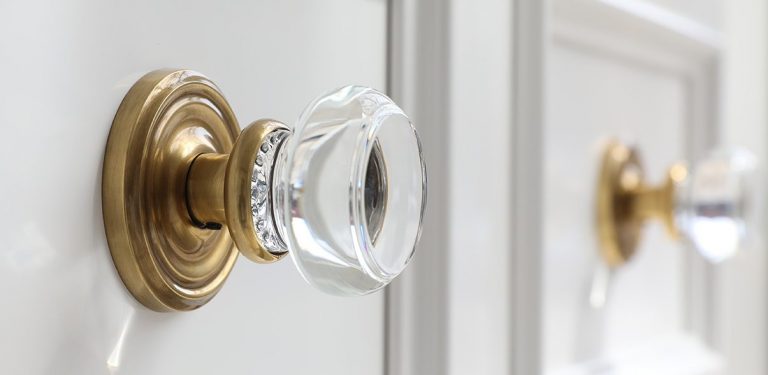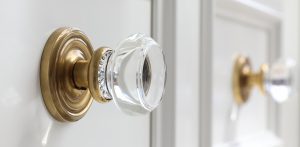 4.  Focal Points:  If you have an ornate backsplash or other striking focal points in your kitchen, you may choose to downplay the visual role of the hardware.  By selecting knobs or handles that visually blend into the cabinetry, they don't compete for your attention and can allow those show-stopping focal points in your kitchen truly shine.
Choosing the right knobs and handles for your cabinets is just one of the many ways you can customize your new kitchen to create a knock-your-socks-off look. Set up a time to talk with Laura about your kitchen remodel, or learn about upcoming webinars to answer a lot of those pre-planning questions in a single session. If it's the inspiration you're after, we encourage you to check out our photo gallery or follow us on Instagram or Facebook to get your daily dose of design.