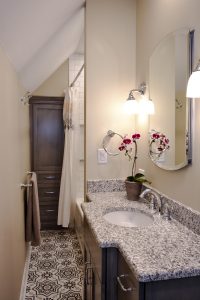 Solid color tiles can often feel like a blank canvas, and while there are times when that's exactly what your design needs, there are other times when it can make the space feel, well, blank. Adding a pattern to one of these solid color tile opens up a world of opportunities for color, pattern, and style that can take that blank canvas and make it a wow factor for almost any space.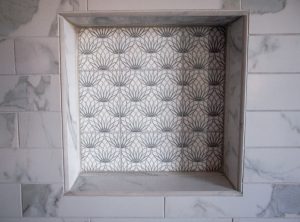 "Printed tile is just what it sounds like," Normandy Designer Ashley Noethe says. "They take a plain tile and print a pattern over the top of it, and usually the pattern is then glazed over for a more durable finish."
"You can find patterns applied to natural stone that allows the beauty of the stone to blend with the printed pattern, or you can find printed patterns on a more uniform background like porcelain, ceramic or even glass" Ashley explains. "They are very durable and hold up well over time so you can place them practically anywhere, on your backsplash, on your floor, or even in your shower for an added pop of detail."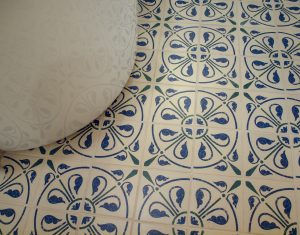 Printed tiles can create the look of wallpaper or even intricate mosaics, but be careful not to indulge in too much of a good thing. "I like to remind people that too many patterns in one space can make the room feel busy, which detracts from the beauty of the individual tiles," Ashley notes. "That doesn't mean you're limited to just one pattern, but try to use different sized options to balance the scale and proportion. For instance, use bigger patterns on the floor and smaller patterns on the wall to really help break up the space and not make things feel too uniform."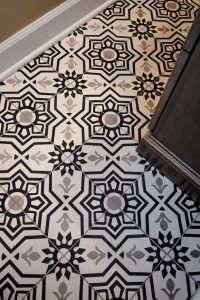 While patterned tiles can create a dynamic look, there are certain spaces you may want to reconsider incorporating them into. "Patterned tiles in areas such as the stairs can create a major trip or fall hazard due in part from the eyes struggling to distinguish depth and borders with the changes in elevation because of the pattern," Ashley states. "If your remodel is part of a long term plan for aging-in-place, I'd advise against incorporating such a strong pattern within your stairs to avoid any possible injuries."
About ready to incorporate a bold and one-of-a-kind feature wall into your own home? Set up a time with Ashley to discuss your home's possibilities, and make sure to register for one of our upcoming virtual webinars where we'll discuss a range of remodeling projects such as additions, kitchens or even primary bath remodels. Looking for even more home inspiration? Follow Normandy Remodeling on Facebook and Instagram to stay in the loop on our favorite projects as well as some helpful tricks to help you with your next remodeling endeavor.