When this La Grange family remodeled their kitchen, they worked with Normandy and enjoyed their experience and loved the results. So when it was time to renovate their garage, they knew that we were the right fit for the job. As it stood, their two-car garage was undersized and lacked any sort of suitable storage space. Our creative thinking and eye for architectural detail allowed them to gain the garage space they needed while improving the exterior aesthetic of their home.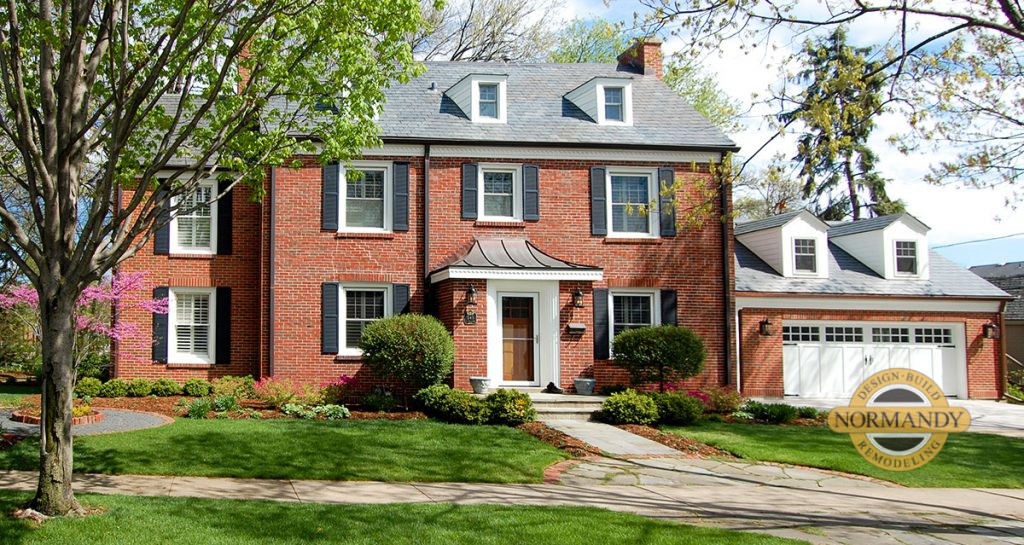 Prior to renovating, the garage had a flat roof with two separate openings that barely fit their cars let alone any additional storage. A garage tear-down and re-build was required to give this family exactly that they needed.
Overall, the new garage was enlarged to be 24 feet wide, and two large dormers with pull down stairs were also incorporated to make the garage attic a usable storage space. Our design team also took care to ensure that every architectural detail matched the colonial style home.
"Details like the slate roof, copper gutters and fiberglass columns match existing details, making the garage look like an original part of the home," noted our team. "We also selected coach lights that were the right scale – it was important that they fit the addition." "And the coach lights on the front of the home were also replaced so that everything coordinated."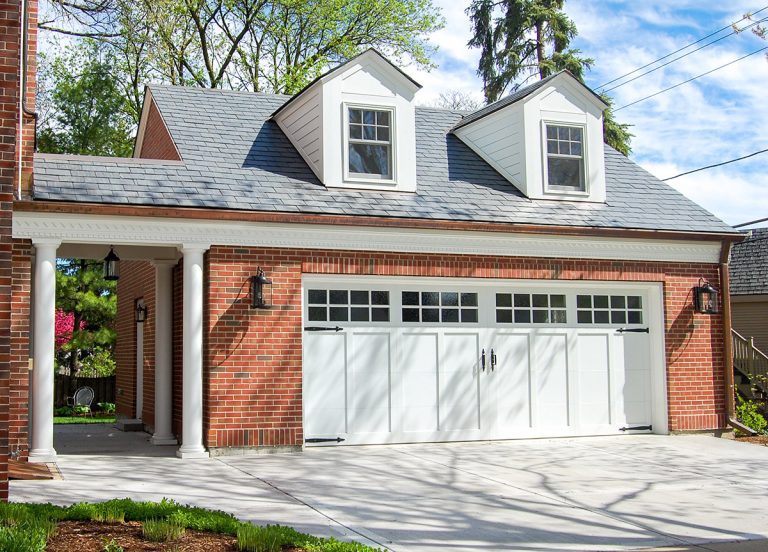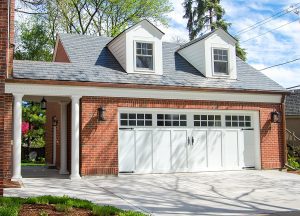 A few other design details of this garage that really stand out are faux hinges on the door, which give a vintage and old school look. The window panes are also charming, with seeded glass for some added privacy. A decorative trim below the gutters, known as a frieze board, also provides visual interest. A breezeway connects the home and garage together for protection from the elements. A feature that isn't visible to the eye is that the garage door opener is programmed directly into the car for easy access.If you have a home renovation project in mind or are contemplating more extensive changes to your home, you can set up a time with one of our designers to talk about the possibilities. You can also learn more about additions, kitchens or other remodeling projects at an upcoming workshop. Check out the photo gallery or follow Normandy Remodeling on Facebook and Instagram for even more home tips and inspiration.