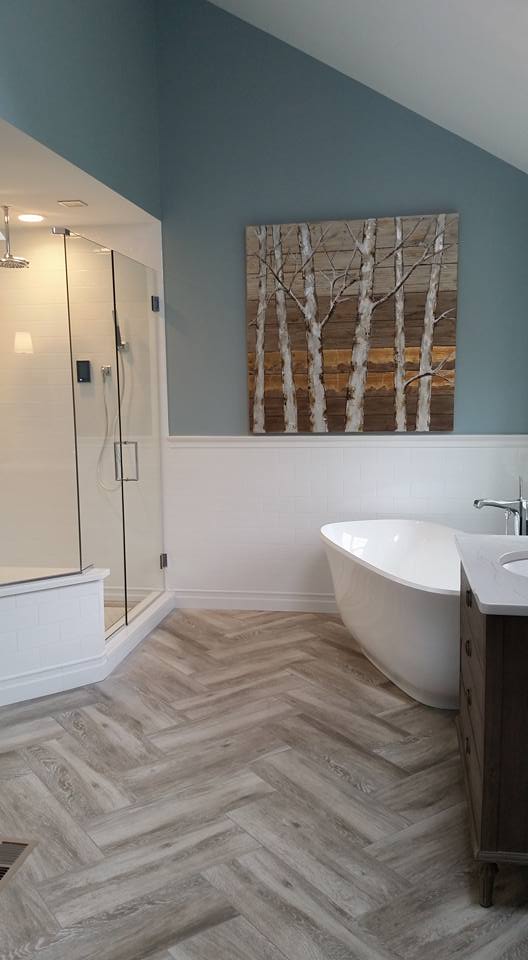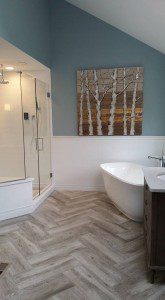 There comes a time when even a certified kitchen and bathroom designer needs to renovate. In this instance, it was time for Normandy Designer Leslie Molloy, CKD to remodel her master bathroom. Here's a peek at the personal design decisions she made for her space and photos of the beautiful outcome.
"While we have completed plenty of remodeling projects in our home, the master bathroom was still something that needed to get done," said Leslie. "Our home was built in 1989 and the master bathroom reflected that. The space was outdated, with a small shower and massive tub. It even had carpeting."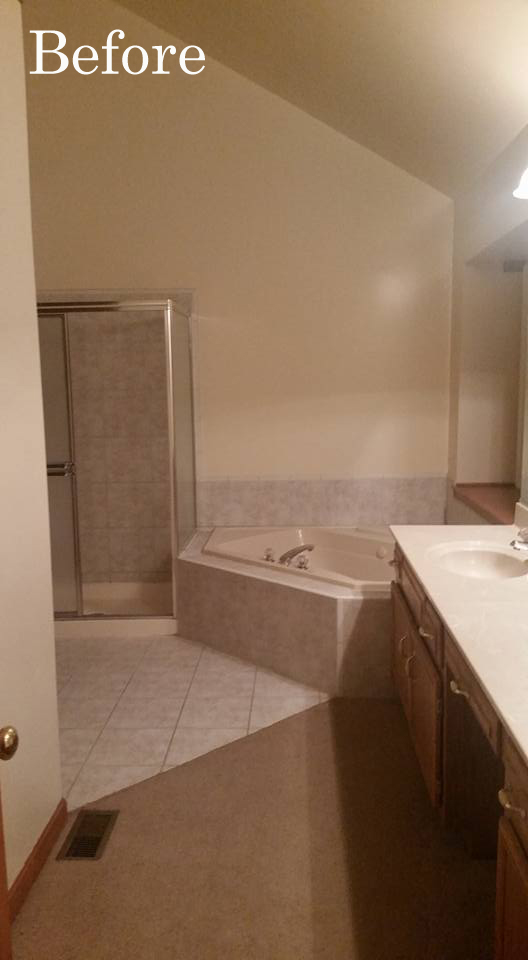 Overall, to get a beautifully updated space, Leslie had to come up with some design solutions.
"We knew that we needed a larger shower, but we had to reconfigure the space in order to make that happen," said Leslie. "Relocating some walls and the toilet and tub plumbing enabled us to make room for the bigger shower that we desperately needed."
For Leslie, the shower was used most often, so it was the perfect area to splurge. Therefore, she opted for a frameless enclosure with an electronic DTV system from Kohler. This feature allows for a custom shower experience, including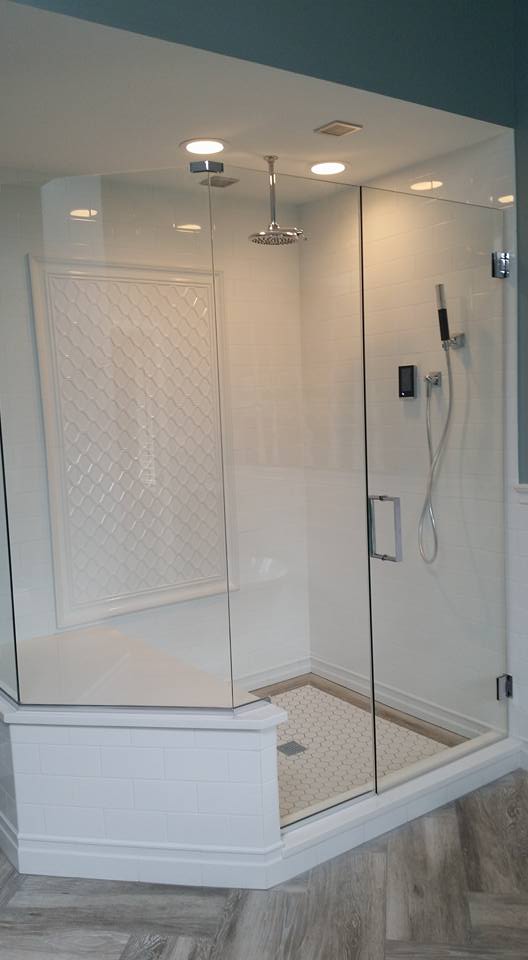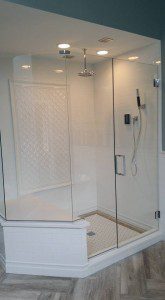 personal settings for temperature and pressure. Additionally, Leslie included a rain shower head from the ceiling, separate hand shower and a bench with a niche underneath to hide soap bottles. Bluetooth speakers were also installed in the ceiling to stream music.
The carpeting also had to go, and was replaced with something beautiful – a tile that looks like wood set in a herringbone pattern.
"The radiant heat was also a splurge, but now that the weather is getting cold it has been really nice feature," added Leslie.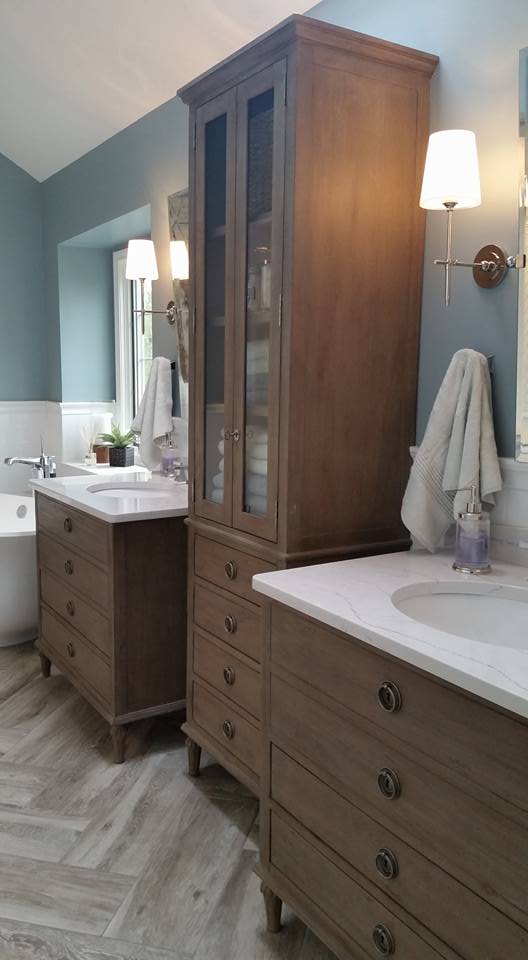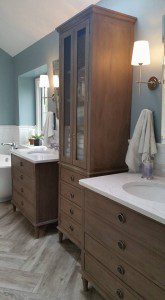 In addition to saying goodbye to the carpeting, Leslie also removed the large vanity.
"The vanity was massive, which was great for storage. However, from an aesthetic, it was too big and the proportion wasn't right for the space," said Leslie. "Instead, we did two free standing vanities and put a tower in the center to break it up."
"This tower gave us the linen storage that was lost when we relocated the shower," added Leslie.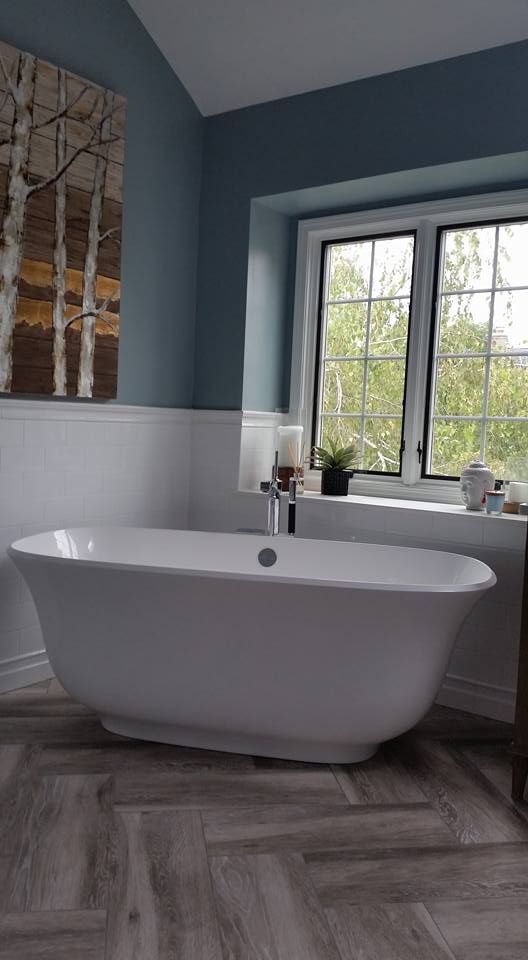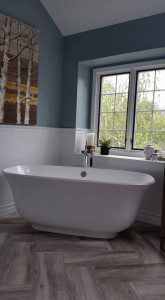 Although the shower is the main attraction in this master, the bathroom was so large that the space needed to maintain a bathtub. Leslie selected a Victoria and Albert freestanding volcanic limestone bathtub, which retains heat extremely well.
"While the bathtub does not get much use, the floor mounted tub filler came with a hand shower that has proved to be extremely useful," noted Leslie. "It is convenient for tasks such as cleaning or washing hair."
Set up a time to meet with Leslie if her master bathroom remodel has inspired you to start your own. Or, register to attend an upcoming seminar to learn more about the remodeling process. You can also visit the Normandy photo gallery or follow Normandy Remodeling on Facebook, Twitter and Instagram for more design ideas and inspiration.