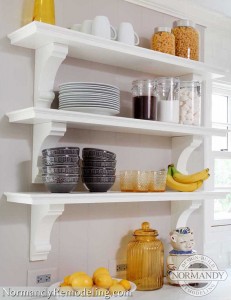 Kitchen designs can vary greatly, but one thing they all have in common is a designated place to store your plates and dishes.  You'll find dinnerware most frequently stored in a traditional wall cabinet, but don't resign your dishes to this predictable location before considering some of these increasingly popular alternatives.
"Open shelving is a growing trend in kitchen design, not only for the aesthetic that it provides, but for the ultimate in accessibility," says Normandy Designer Leslie Molloy, CKD. Dishes are stacked in plain sight, making them easy to put away after washing and simple for guests to help themselves.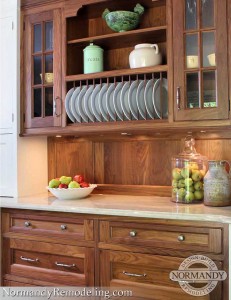 If you have vintage dishware or plates with a striking pattern, a plate rack may be the best choice for you.  "This vertical storage option lets the plates function as artwork, lending a unique and personal design element to the kitchen," notes Leslie. Suitable for everyday dishes or for special occasion plates, this solution has the added bonus of minimizing dust collection on the plates since the dishes are stored vertically.
Open floorplan kitchens continue to gain in popularity, but one of their noteworthy drawbacks is the decreased number of wall cabinets. "One of my favorite solutions for plate storage in an open kitchen is peg drawers," says Leslie.  "Nobody has ever heard of them, but as soon as they see how flexible and versatile they are, everybody wants one in their kitchen."  These drawer inserts have wood, metal, or plastic pegs that can be moved into varying positions to tailor the drawer's interior to fit the dishes.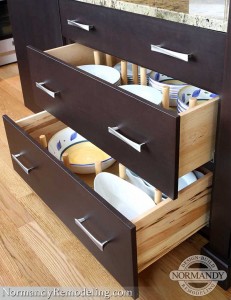 Storing plates in a traditional wall cabinet is still a solid choice for many kitchens, and with good reason.  "You don't have to worry about the dishes being neatly stacked if you have a solid front on your cabinet," commented Leslie.  "Or if you just prefer them being enclosed to keep off the dust, you can consider a clear or textured glass front that still lets your dishes peek out into the kitchen."
Whether you choose to store your dishes out in the open or tucked away within a cabinet, there are more options than ever for your kitchen.  Schedule a time to talk with Leslie about the best way to create your ideal kitchen, or join us at an upcoming kitchen remodeling seminar to learn the basics of preparing for a kitchen remodel.