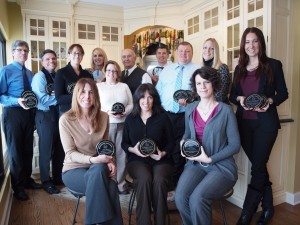 Each year the National Association of the Remodeling Industry (NARI) Greater Chicagoland chapter holds an awards competition to recognize superior design and construction among Chicago area remodelers.  This year, 19 "Remodeling Excellence Awards" were handed out, and Normandy Remodeling received 15 of the 19 distributed.  Project entries were judged by industry experts and were evaluated on problem-solving, functionality, aesthetics, craftsmanship, innovation, degree of difficulty, and entry presentation.
The 15 awards represent the work of 11 different Normandy Designers; John Long, Ann Stockard, Karen Chanan, Jennifer Runner, Kathryn O'Donovan, Leslie Molloy, Leslie Lee, Laura Barber, Terry Tondelli, Tony Tondelli, and Troy Pavelka.
Categories of award-winning projects included the kitchen, bathroom, additions, interiors, exteriors, and entire house remodeling. In addition to these Remodeling Excellence Awards, Normandy has also won 7 national design awards in 2013.  If you count the 5 professional recognition awards and two more regional design awards, the total awards won during 2013 was 29.  What a year 2013 was for us – we can't wait to see what 2014 holds!
"The remodeling industry is recovering, and with that brings more clients who are ready to invest in their home and make it ideal for their lifestyle," says Normandy Principal Andy Wells.  "Our designers take the homeowners' inspiration, and between their passion for design and extensive product knowledge are able to create these beautiful spaces that are recognized by our peers as being among the best remodeling projects in Chicago; which is extremely rewarding."