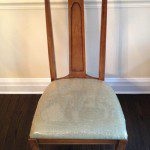 Thinking about throwing out your dining chairs for new ones?  Think about giving them a make-over first!  Normandy Designer Ann Stockard recently made over six vintage dining room chairs that she bought at a resale store.  "I knew it would be more cost-effective," commented Ann, "and I also liked the fact that I could put my own creative twist on them."
The make overtakes approximately 35 minutes/chair and you'll need:
-Fabric of your choice: Purchase enough fabric to wrap around the chair edge and leave 2-3 inches of overlap on the underside, typically about 6" of extra fabric on each side.
-Screwdriver
-Upholstery Staple Gun
-Scissors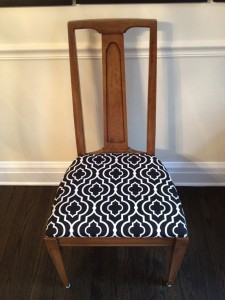 How Ann did it:
1. Choose the fabric and print you want.  Ann chose a print that she felt gave the chairs a modern, fresh feel that also matched her current décor.
2. Unscrew the seat and remove it from the frame of the chair.  Ann's chair seats originally had plastic wrapped around the fabric, which she opted to remove as well.
3.  Pull the material taut around the seat and staple with an upholstery staple gun to the bottom of the chair.
4. Remove excess material with scissors.
5. Screw the seat back on.
Voila!  The make-over is complete and you now have an updated, stylish chair!  Now finish up the rest of the chairs and your dining set will officially be a product of your own creative inspiration!