Warrenville Couple Gets Farmhouse Kitchen Remodel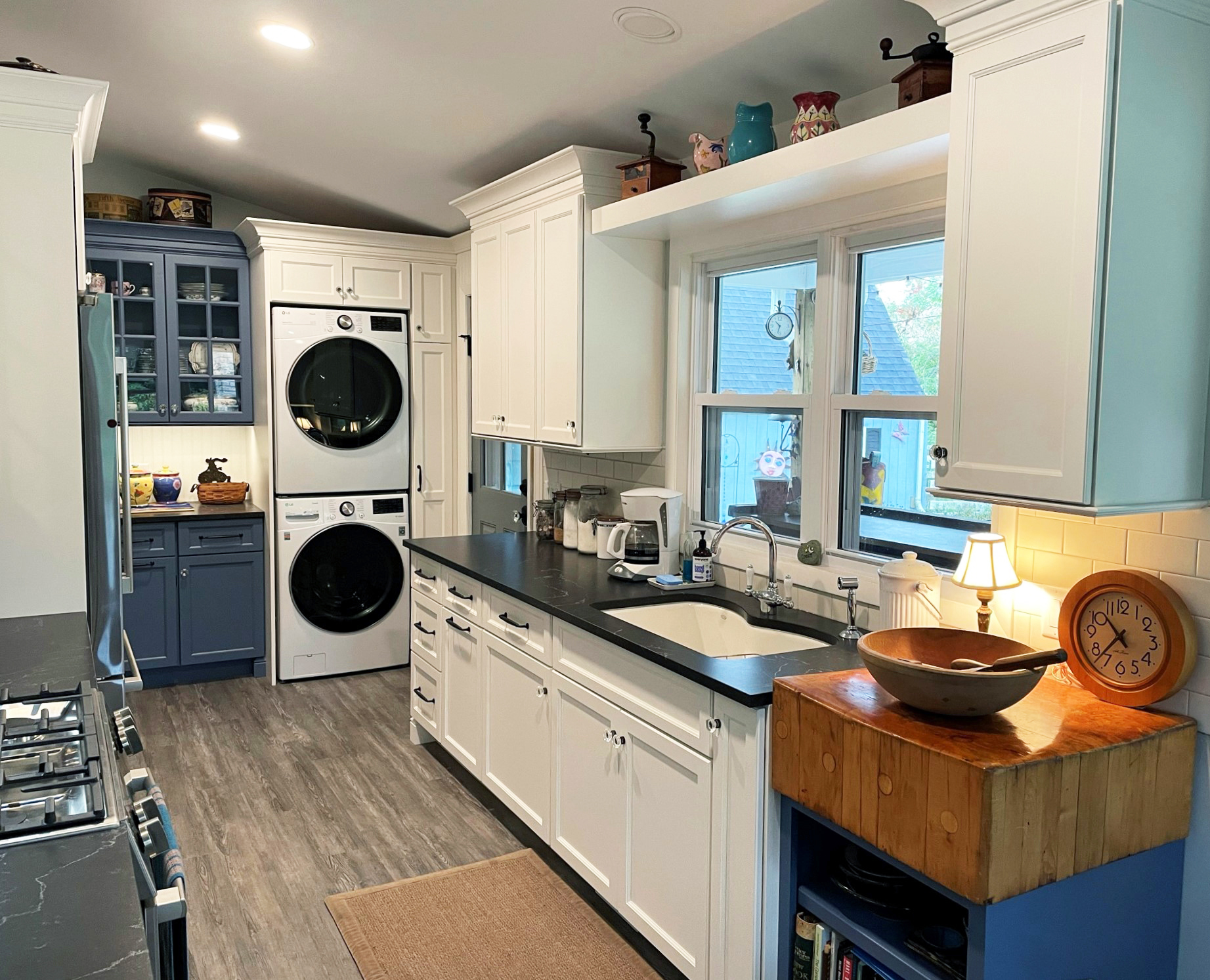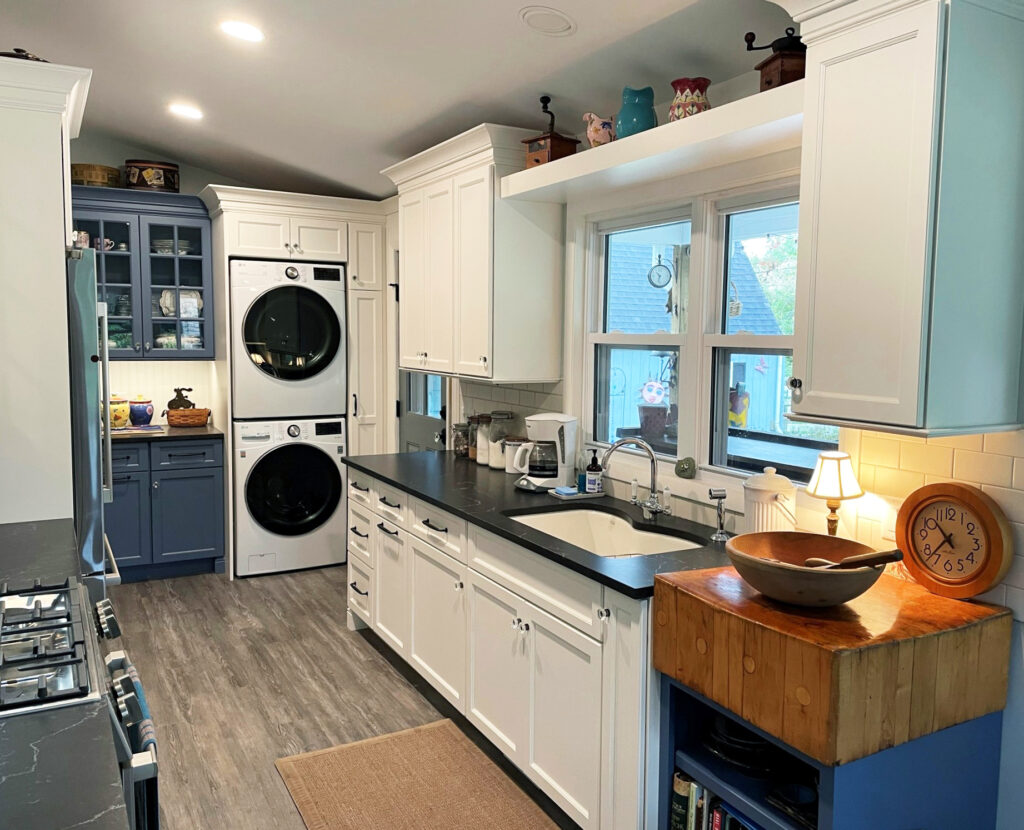 This busy bohemian couple aspired to remodel their quaint kitchen, one day. As outdoor enthusiasts, updating the interior of their home often fell to the wayside, until they remodeled their family room and experienced the impact it made. They wanted to fall in love with their kitchen in the same way and called on Normandy Designer Laura Barber to partner with them on their project.
Naturally, when a couple has been planning a remodel for long a time, they've accumulated bits and pieces to incorporate. "They wanted a fresh, crisp farmhouse kitchen that expressed their love of nature and their eclectic personalities. Armed with a beautiful, patterned accent tile she'd been saving, and a rich antique table, we designed a space for better functionality with a few upgrades," says Laura.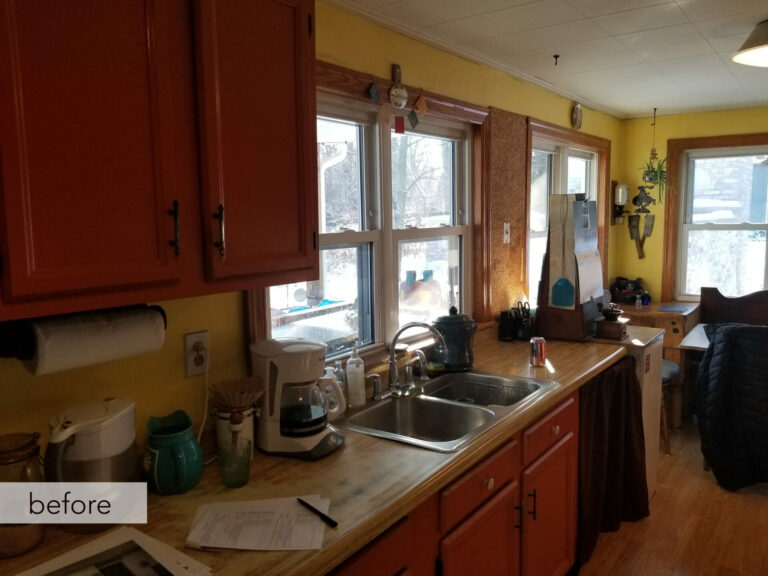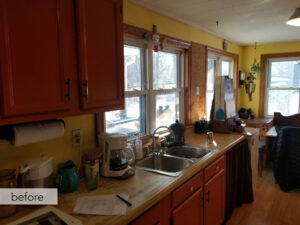 The renovation would be limited to the existing kitchen footprint, and it was critical that every item had a purpose and fit in its designated place. "We got creative with the design and looked for tricks to make the most of every inch. Every element in this kitchen has a very specific, intentional purpose that we thoroughly scrutinized to make sure it earned its place in the design," Laura says.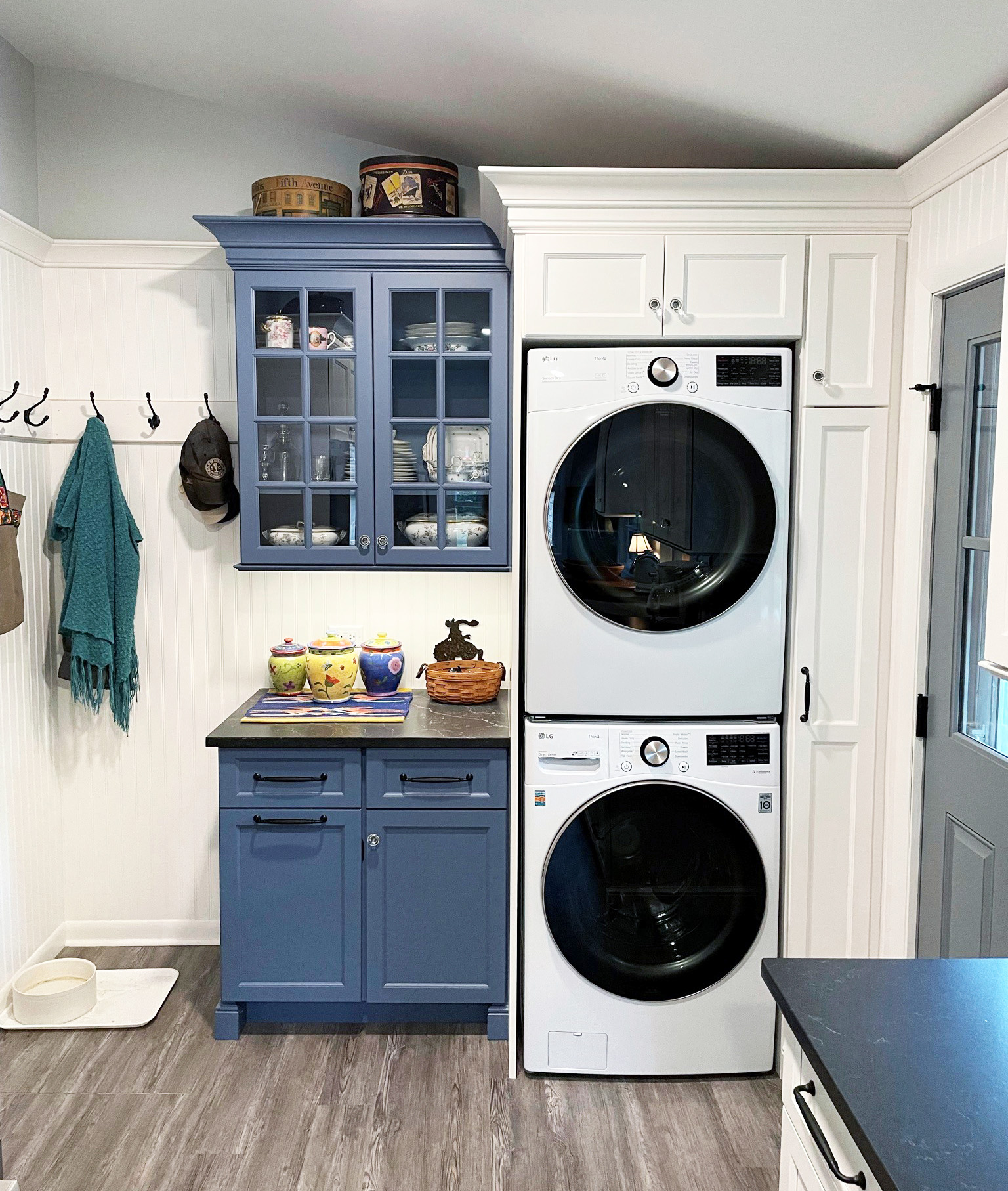 In European fashion, their washing machine and dryer are located in the kitchen. "To create more space, we began by swapping out their side-by-side washer and dryer for a stackable unit that was also more pleasing to the room's aesthetic," Laura says. "Utilizing the extra space created, we installed a blue hutch just inside their entrance door that acts as a perfect drop spot for keys and phones, as well as a storage area for large bags of dog food." The wall features beadboard for durability while adding farmhouse charm and is equipped with hooks for dog leashes and coats.
"Beyond incorporating her tile as an accent above the oven and the antique table as a butcher block next to the sink, we added crystal knobs on the cabinet doors, which added to the kitchen's vintage feeling," says Laura. "The countertops are quartz, in a honed matte finish which looks like soapstone and compliments the down-to-earth style of the kitchen so nicely."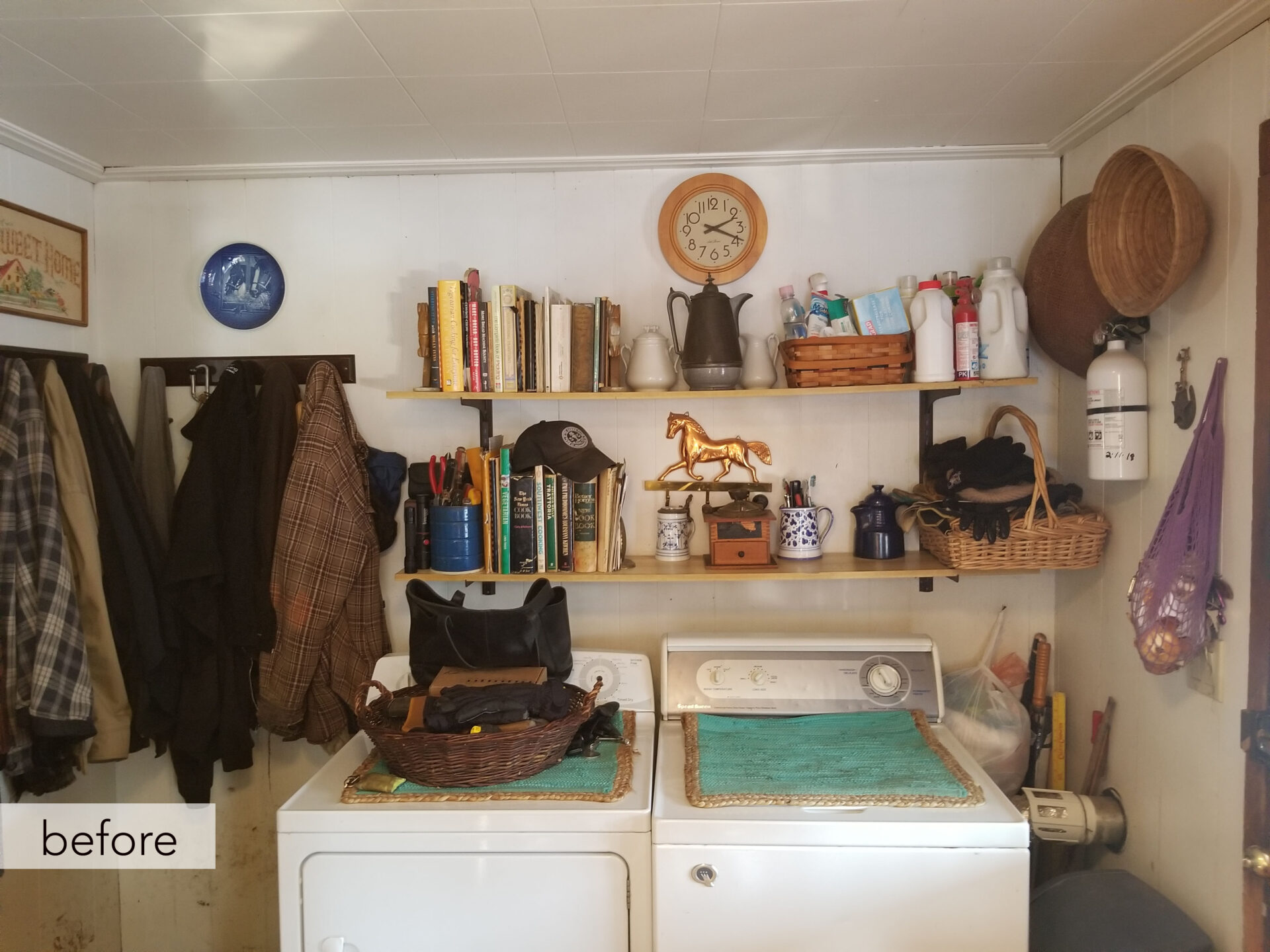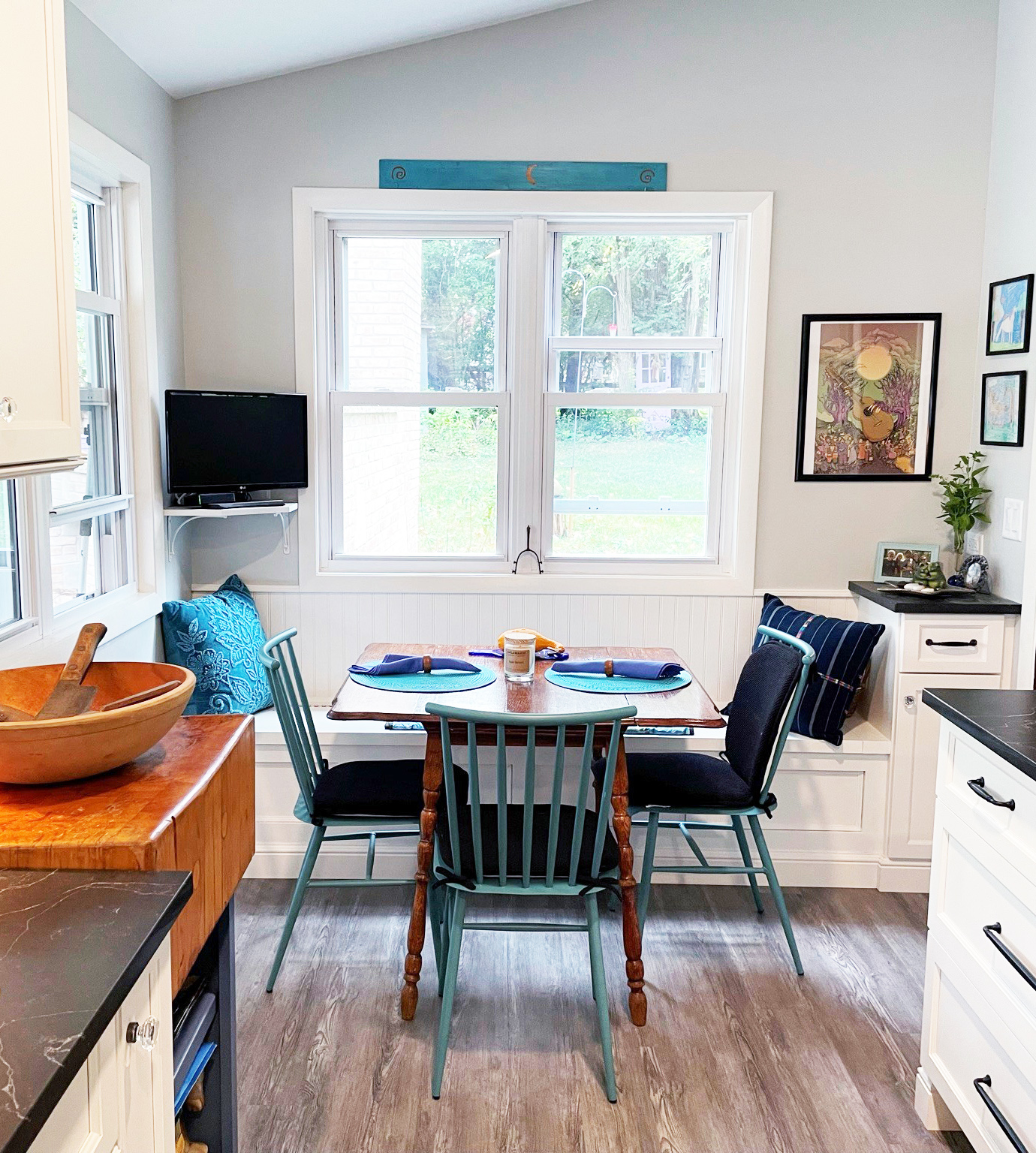 To maximize every inch of space, we incorporated a bench with lift up storage that offers additional seating to complement their existing table and chairs, flanked by a small but purposeful counter and cabinet. "They wanted to keep their bill paying station in the kitchen space," says Laura.
"One the biggest surprises we made was removing the drop ceiling and discovering we could raise the ceiling height to 9.5'. This allowed for a vaulted ceiling which really opened up the space nicely," Laura adds.
Using durable materials was important for their particular space. "They board horses and are often in and out from the barn, with dogs in tow, so we opted for a beautiful vinyl floor. The wood-look flooring is hearty yet stays true to the fresh farmhouse appeal."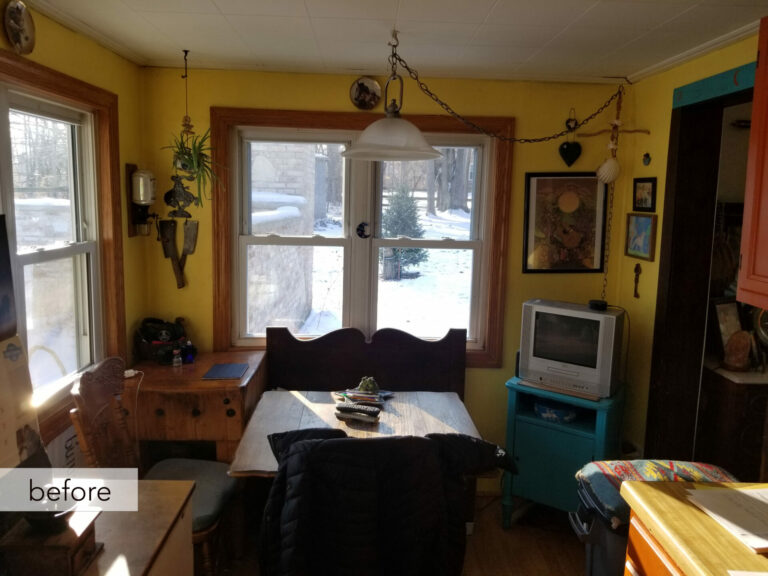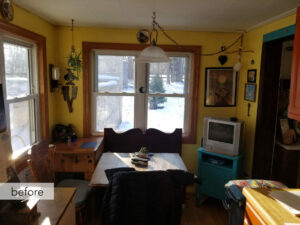 "This kitchen was a vision years in the making and I'm so excited I got to partner with this couple to help them achieve a kitchen they absolutely adore," Laura says.
We love to help families create truly unique spaces in their home, and our aim with each project is to reflect the character of the family who lives there. If you have been collecting ideas for a kitchen remodel or addition to your home, give Laura a call to set up a meeting. In the meantime, you can read our series on what a remodeling journey really looks like or peruse our collections of project photos on Facebook or Instagram.