The Laundry Room is Moving Up in the World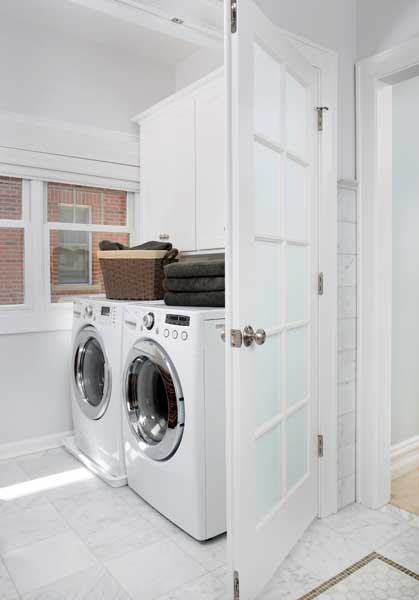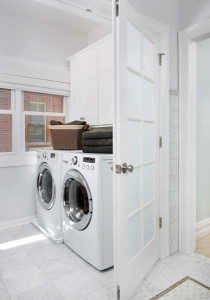 Are you tired of lugging your laundry to the first floor or even the basement? When all of the bedrooms are on the second floor it can be a real pain to cart dirty clothing, towels, and bed linens downstairs to be washed and dried, only to have to tote it all back upstairs to be put away. That's a lot of trips trudging up and down the stairs with heavy baskets of laundry and it might be time to bring it to your main living area.
"Upstairs laundry rooms require special planning and space," said Normandy Designer Vince Weber.  "You need to consider how you do your laundry and if you have or are willing to make the space for it on the second floor."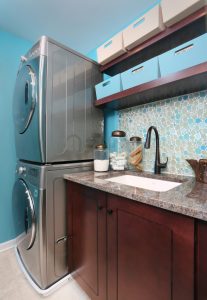 When doing an addition or remodeling your existing space, it can be tough to decide whether to move the laundry room to the second floor or stick to the traditional location in the basement or the first floor.
"When planning a two-story addition, there is an opportunity to allocate for the space needed for a second-floor laundry room in your layout," said Vince. "If you're just remodeling, you may have to decide what square footage you are willing to give up and if it makes sense for you."
If there is room, many laundry rooms are used as a multi-purpose space on the second floor with first-class features such as custom cabinetry for linen storage or cleaning supplies. If space is an issue, a small closet can be transformed into a laundry hub with stackable machines.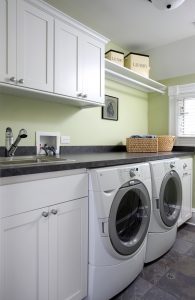 Putting in a second-floor laundry room requires some special considerations, but as our lives become more hectic and we have less time to do our chores, it could be beneficial. Plus, many homeowners enjoy the added living space downstairs that a second-floor laundry room provides. It will allow extra footage to be allocated to a kitchen or half bath, wherever you need it most.
If you're thinking about relocating your laundry room or it's time for your home to undergo a remodel, set up a time with Vince to go through your list of possible projects. You can also learn more about additions, kitchens, or other remodeling projects at an upcoming workshop. Check out the photo gallery, visit a Design Studio, or follow Normandy Remodeling on Facebook and Instagram for even more home tips and inspiration.