Opposites Attract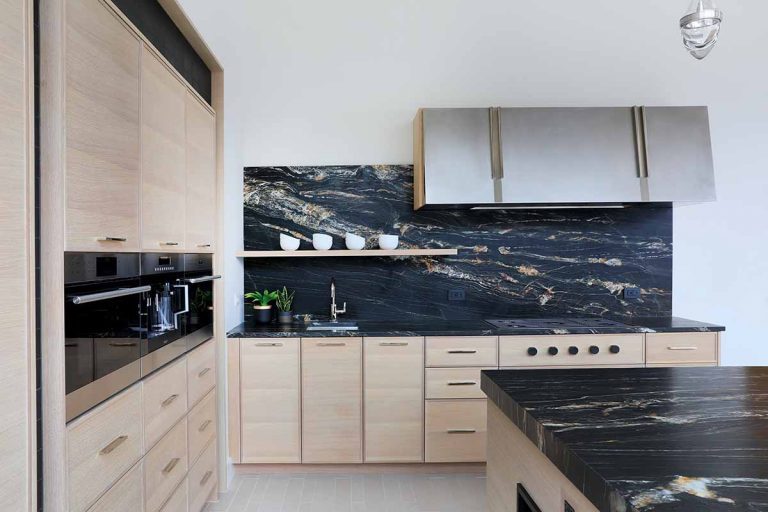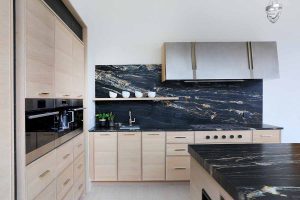 With warm tones, exceptional details, and an emphasis on natural materials, this modern kitchen challenges the misconception that contemporary design is stark or cold. A modern aesthetic is about texture, lines, asymmetry, and the marriage of opposites, and Normandy Designer Liz Reifschneider designed this kitchen to showcase it perfectly. The play of light and dark, smooth and rough is accentuated throughout.
"The mix of black with blonde oak is on-trend right now, but has staying power," said Liz. "And the wood panels in the tray ceiling are the same material as the wood cabinets and create that asymmetrical rhythm that is the overall concept of the entire space."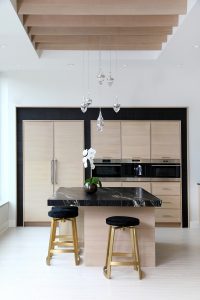 A trio of cabinets houses your steam oven, coffee system, and microwave into one linear convenient appliance station. Pattern and movement in the countertop and backsplash are enhanced with a leathered finish that turns a typical kitchen into a modern masterpiece. Cowhide stools were added for an unexpected treat and give the space personality and another added texture.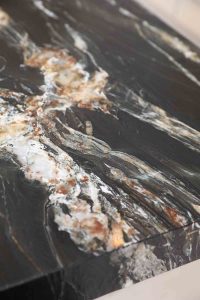 The pendant lighting is a modern twist on a vintage perfume bottle with hand-blown glass hung at varying heights for an interesting visual effect. The metal hood is a custom creation by a local artisan combining a contrast of polished and brushed stainless steel.
This stunning kitchen is just one of many you'll find at the new Normandy Remodeling North Shore Design Studio. Stop by to take a look around and get inspired for your own remodeling project. For directions to the nearest Design Studio to you, visit normandyremodeling.com/showrooms.  You can also find inspiration for your addition, kitchen or major renovation at normandyremodeling.com or on Facebook, Twitter, Instagram or Houzz.