High Contrast Kitchen Wows in Westchester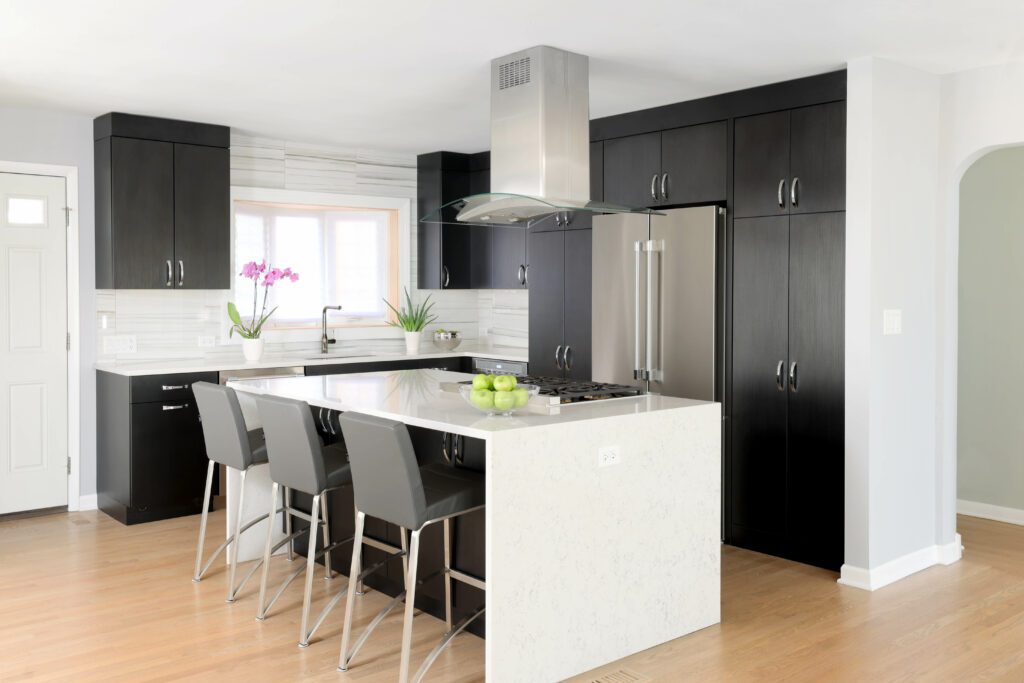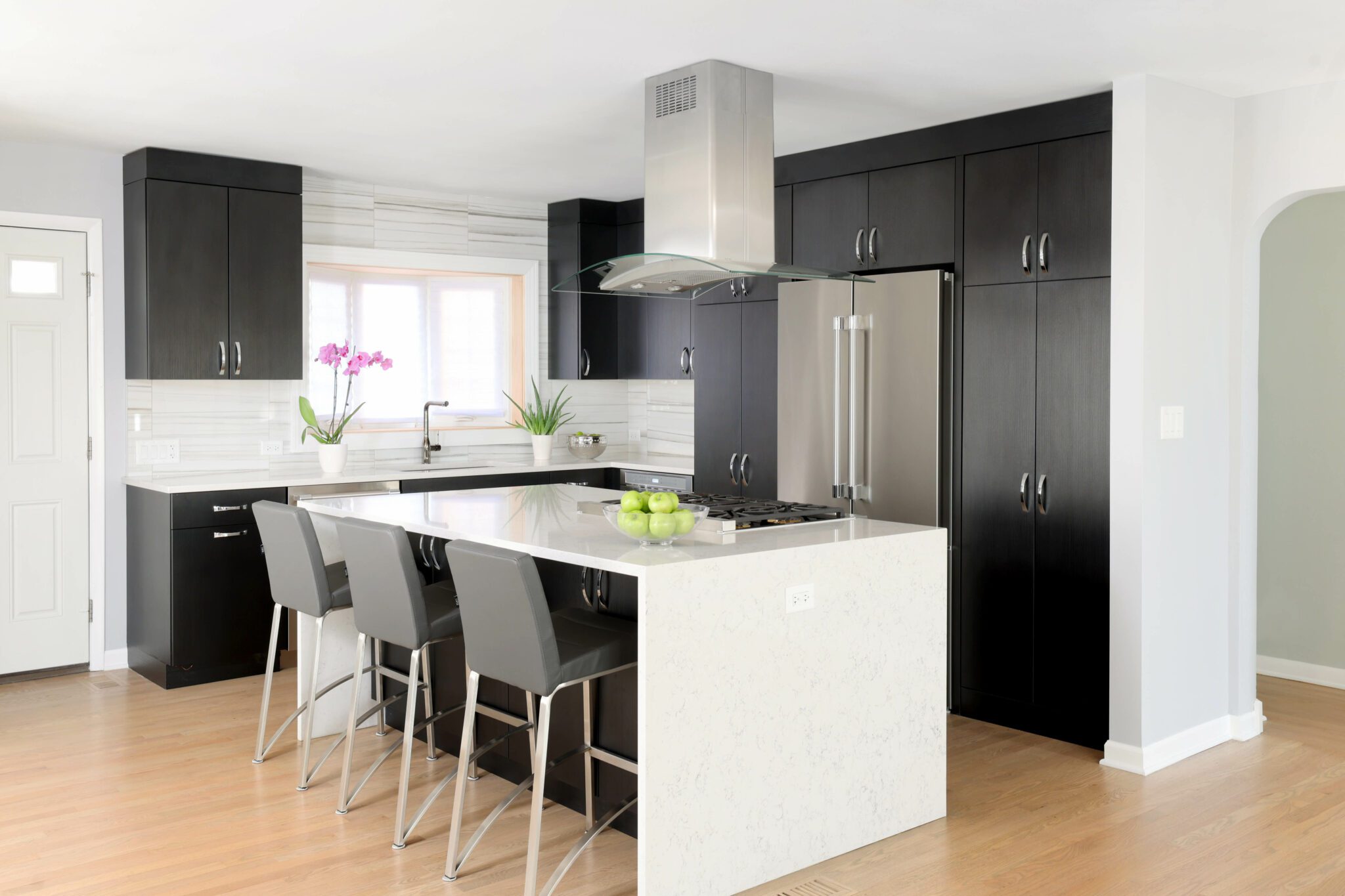 This Westchester bachelor wanted his kitchen to better reflect his personality and be spacious enough to accommodate gatherings. "The existing kitchen was aesthetically outdated and was much too small for one cook, let alone offer space to entertain," says Normandy Designer Becca Ruggiero. Together they partnered to work through the layout challenges, finding solutions that aligned with his vision of a modern, high-contrast kitchen and open concept floorplan.
"We began by taking down two walls which then combined the kitchen, dining room, and living room," says Becca. "Since the range is essentially in the center of the kitchen, an island chimney was installed to serve as the hood." The shallow cabinets on the seating side of the island provide much-needed additional storage space.
"Finishes with high drama and a modern edge were our goal. Black laminate cabinets fit the bill, accented by white countertops with a waterfall edge and polished metals throughout," Becca says.
Large format glossy tiles were used as the backsplash to mimic the look of a stone slab on the walls. "This was a cost-effective way to get the style he desired," Becca adds.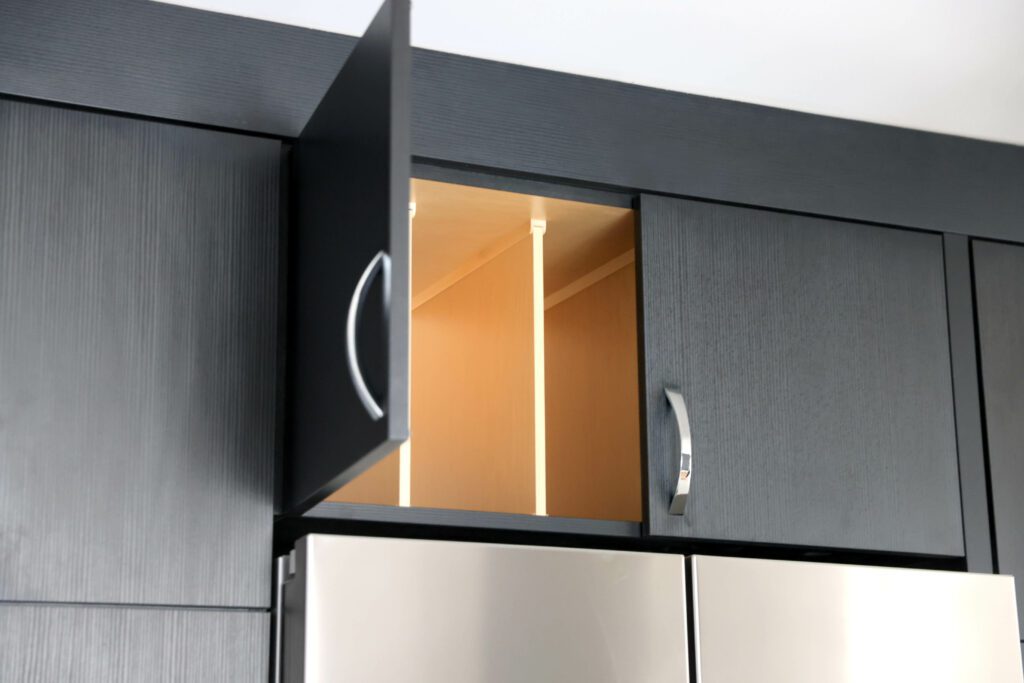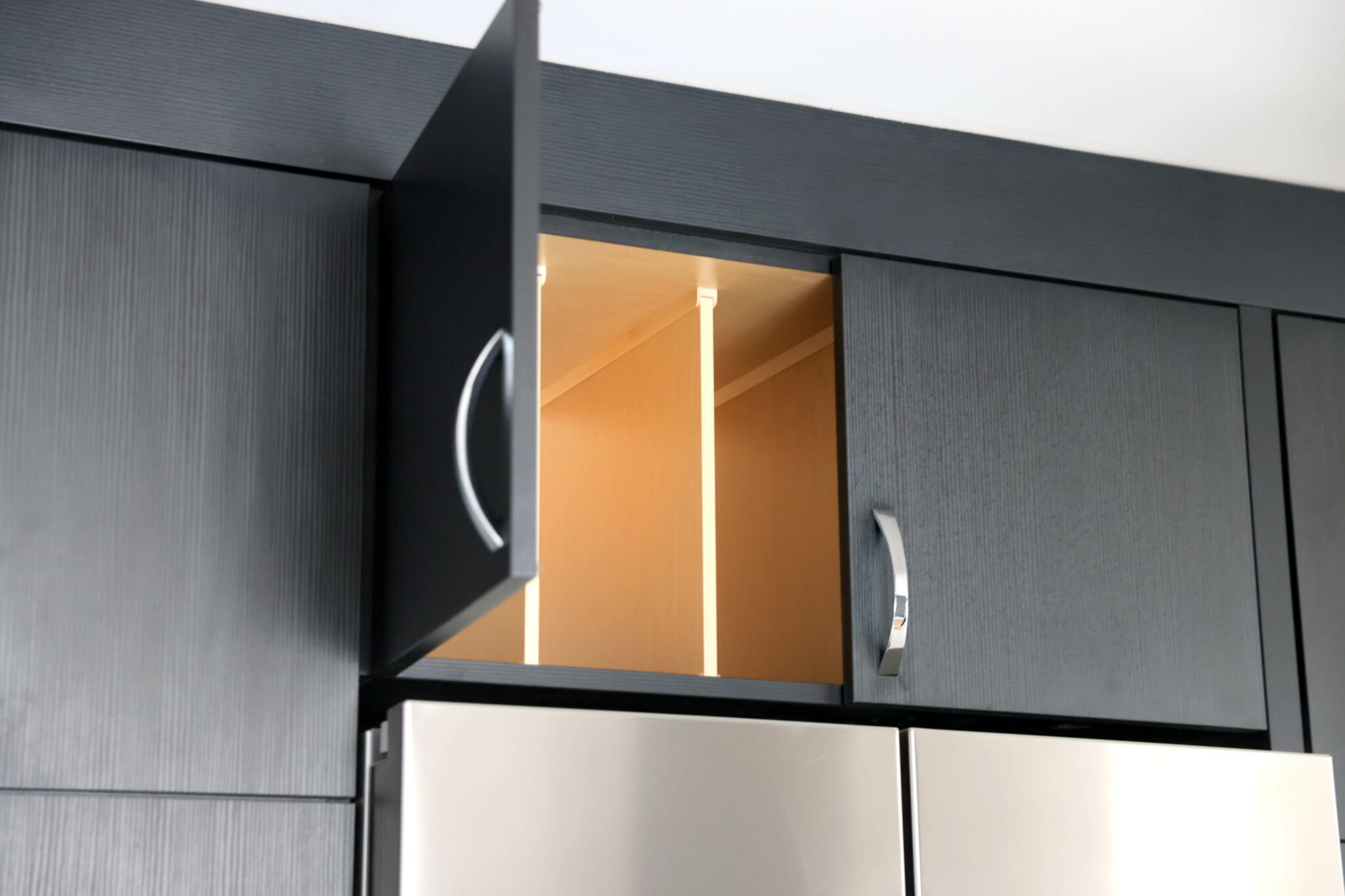 The modern aesthetic of this kitchen is all about clean lines, so it was important to keep the kitchen well organized and tidy and eliminate areas where clutter would naturally gather. "We added pull out utensil and spice drawers next to the oven and vertical tray dividers above the fridge. We even created a broom closet out of cabinetry material to take advantage of an awkward area with a wall bump-out," Becca says. The final touch was creating consistency throughout the first floor, so the old kitchen linoleum was replaced with hardwood and the remaining flooring was refinished.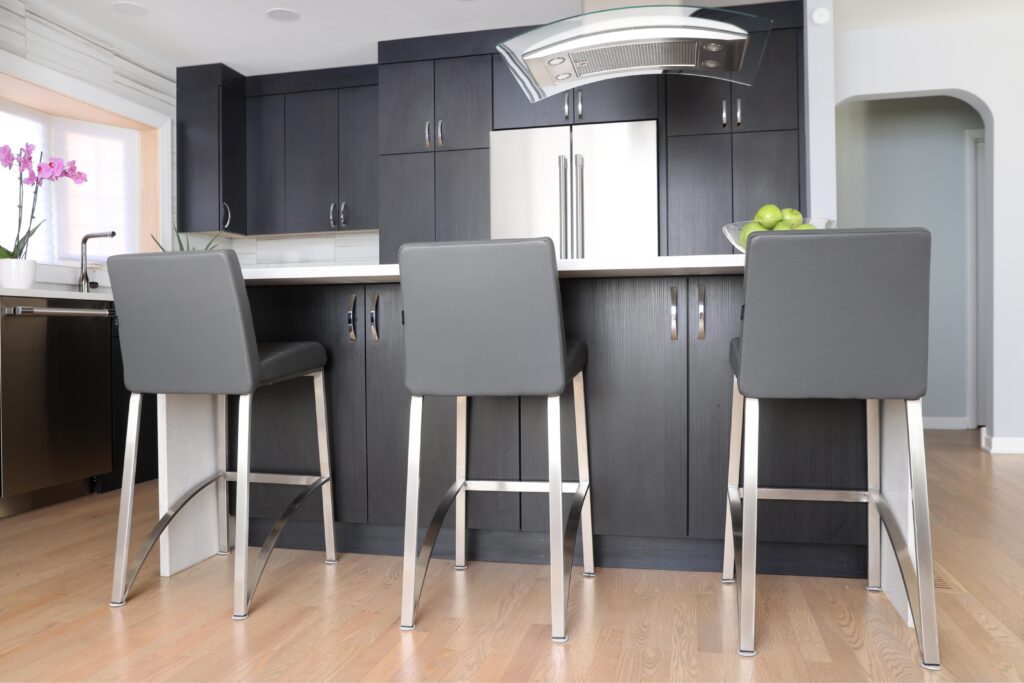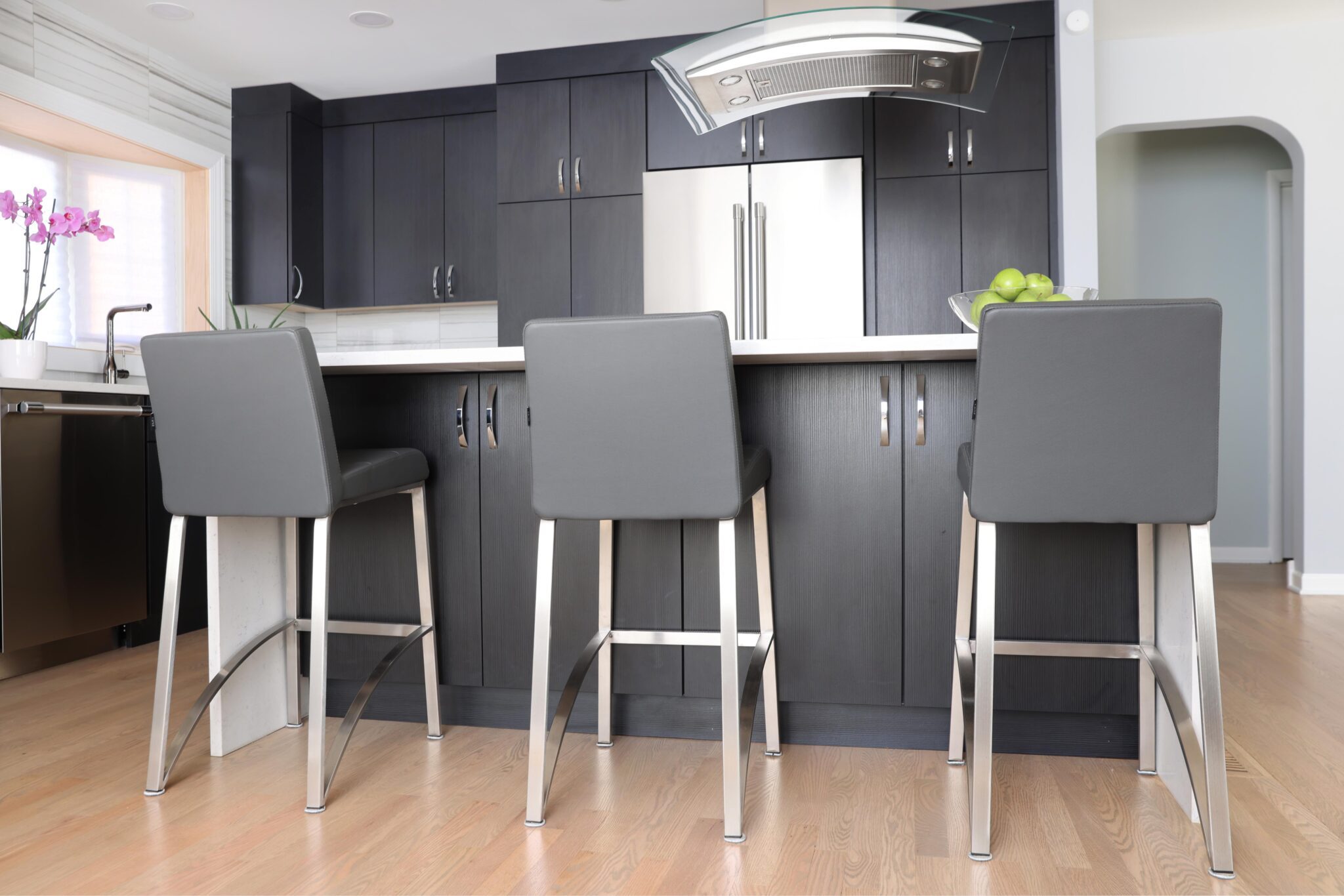 "The result is an ultra-modern, masculine kitchen that is the centerpiece of his new open floorplan. He looks forward to entertaining his family and friends and showing off this gorgeous design-savvy space," says Becca.
Sometimes reimaging a kitchen that seems stuck in a time warp requires the eye of a designer. If you're ready to take the next step toward updating your kitchen or another room in your home, give Becca a call and see what you can do together. We have examples of finished projects on our Facebook and Instagram accounts where you can browse and begin building an idea file.