Hardwood Vs. Tile Floors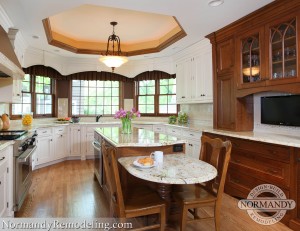 Whenever a remodeling project starts to take shape, the question that always comes up is "What are we going to do with the floor?"
"That's especially the question when working with homeowners who already have hardwood floors," says our Normandy Design team.  "Economically speaking, hardwood floors are typically more cost-effective than tile floors for material and installation.  While tile is more durable than hardwood, if it is damaged through cracking, staining or chipping it needs to be replaced; whereas hardwood can be sanded and refinished."
"In regards to style, what's popular in tile varies over time.  The pink and yellow tile that was so popular in the 70s is now a dead giveaway that the space needs updating," says our designers.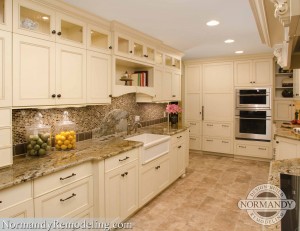 "Hardwood has a timeless appeal to homeowners, and should they tire of the color, they can have it refinished in a new color.  Now, would we recommend hardwood in a bathroom, laundry room, or to people with several pets? Probably not, because it is going to wear much easier than tile."
"Another pro of tile is that you can have heated mats under it, such as Nuheat," adds our design team.  "But be aware that if you go with a natural stone tile there is maintenance involved, whereas porcelain and ceramic are very low maintenance."
If you are considering a renovation project or contemplating more extensive changes to your home, you can set up a time with one of our designers to talk about the possibilities. You can also learn more about additions, kitchens, or other remodeling projects at an upcoming workshop. Check out the photo gallery or follow Normandy Remodeling on Facebook and Instagram for even more home tips and inspiration.