Made In The USA Kitchen Tribute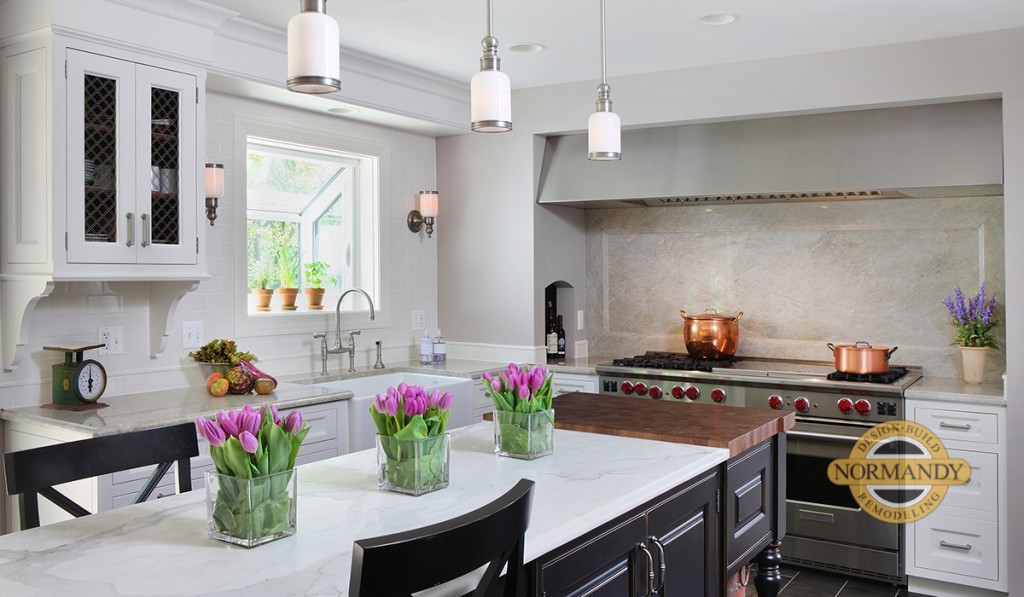 With the 4th of July coming up in a couple days, we thought it'd be fun to share a (mostly) made in the USA kitchen project.
This kitchen was created by Normandy Designer Kathryn O'Donovan, and it's almost entirely manufactured in the United States. Our clients and designers choose materials from all over the world for their beauty and performance, so there are just some items that are best selected outside of our borders. As a family-owned American business though, it always feels great to incorporate fixtures and materials from U.S. businesses.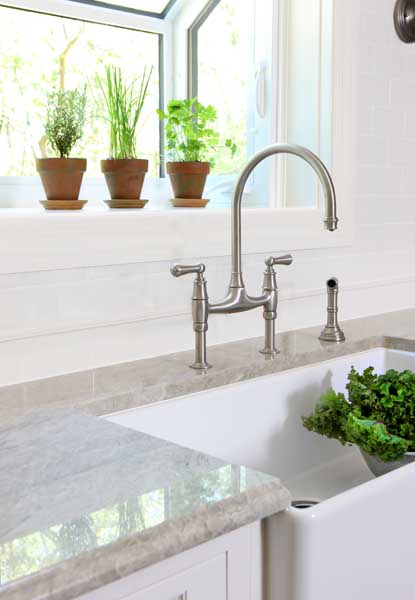 Cabinets are often the first thing you'll notice in a kitchen, and this is no exception. The cabinetry is Quality Custom Cabinetry which is manufactured in Pennsylvania. The pride in workmanship shows in these cabinets, and their beauty is matched by their durability.
The windows are manufactured by Pella in Iowa. Pella was founded in Pella, Iowa in 1925. They employ more than 8,000 people and are a wonderful resource for windows and doors.
The kitchen tile backsplash, which you can find along the sink wall, is handmade by Sonoma Tilemakers in California. Supporting artisans not only feels good, it also makes your home unique.
The appliances play a substantial role in this kitchen, including the 48″ wide refrigerator and the spectacular 60″ wide range.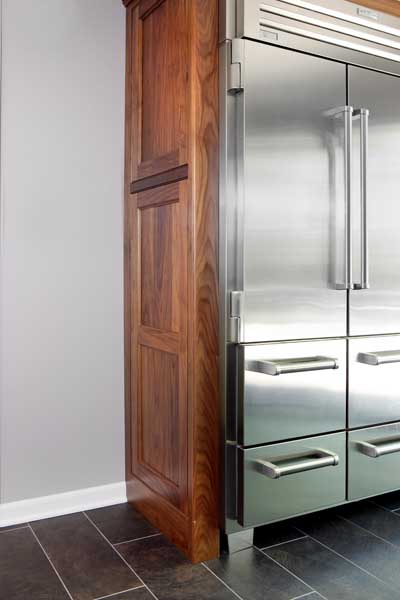 This couple loves to cook and it's no surprise that the appliances are the centerpieces of the design. Most of the appliances are Sub-Zero and Wolf, manufactured in Wisconsin. Many of our clients choose a professional range for their kitchen remodel, and Sub-Zero and Wolf appliances are some of our favorites with which to work.
The range hood and butcher block top were created by local craftsmen, not to mention the skilled tradespeople who brought all these different materials together to create this beautiful finished kitchen.
Read a bit more about this beautiful kitchen. If you'd like to talk to Kathryn about a mostly made in the U.S.A. kitchen remodel, you can set up a time to talk. Find more inspiration in the Normandy Remodeling photo galleries. We share ideas and projects on Instagram, Facebook and Pinterest. Follow along for a dash of design in your feeds.