USA Made Kitchen Products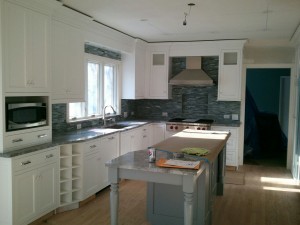 As a fun way to join in the Independence Day fun, we wanted to share a kitchen that is almost entirely made in the USA.
This kitchen was created by Normandy Designer Leslie Lee and almost all the elements in the kitchen are manufactured right here in the U.S.
The white kitchen cabinetry in this kitchen is Plain & Fancy, manufactured in Pennsylvania.
The blue kitchen tile backsplash is manufactured in California.
The windows are Pella and manufactured in Illinois.
The appliances, except the dishwasher, are Sub-Zero and Wolf manufactured in Wisconsin.
The dishwasher is Kohler, also manufactured in Wisconsin.
The flooring is also a domestic oak.