Natural Stone Looking Tile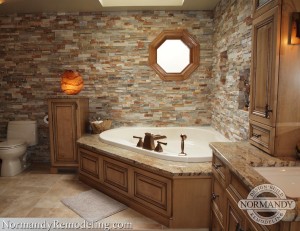 While we all love the look of natural stone, it's just not very practical in some areas of the home unless you're on board with the maintenance it requires.  So what products are available that give you the look but not the maintenance?
"Porcelain and ceramic tiles are great options that have come a long way in mimicking natural stone," says Normandy Designer Heather Dalskov.  "Porcelain has especially made progress over the years, and has a huge variety available to homeowners."
"The best lookalikes mimic not only the look of natural stone, but the texture of it as well," commented Heather.  "And each tile on the floor or wall should look different, mimicking the fact that every piece of stone in nature is unique.  Cambria has some countertop selections available that mimic natural stone properties, such as incorporating varied patterning to mimic the movement you'd find in a slab of granite."
"If you're working in a space such as a mudroom or a laundry room where you're looking to save on costs, there are some high-quality laminate countertop options that come in a variety of patterns and textures that would work well," says Heather.