Best Flooring For Wet Areas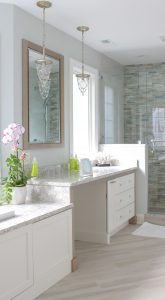 There are different areas of homes that are just more prone to water, no matter how careful we are.  Rooms such as your bathroom, laundry room and mudroom will see wet floors by their very nature. It's important to take into consideration the material you choose for flooring in those rooms for safety, as well as economic reasons.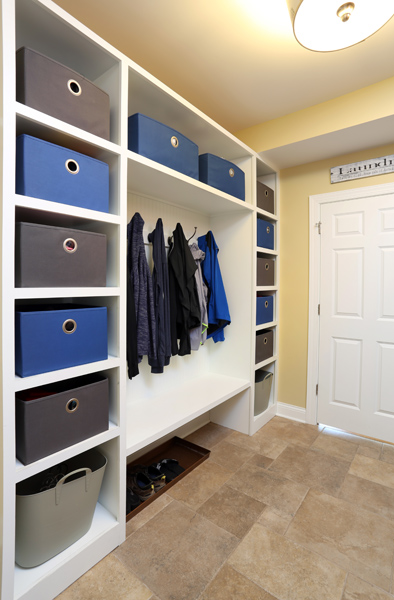 Staying away from high gloss, whether it be ceramic, porcelain or natural stone tile, is a good idea since it tends to be more slippery. If you really love the look of the high gloss, combine it with a matte or honed finish or use it in a mosaic pattern to help reduce slip.
Porcelain tiles are a great solution for wet areas, because they're low maintenance and harder than natural stone and ceramic, making them less likely to stain or chip.  Porcelain manufacturers have really made a lot of progress in the design and appearance of flooring tiles, and do a great job mimicking all kinds of looks from various hardwoods to natural stones.
Ceramic tile has also made a lot of progress in the options and effects you can achieve, and is also less likely to stain or chip than natural stone.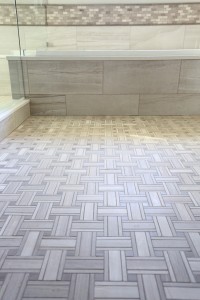 While natural stone is definitely a viable option for the "splash zones" of the home, it does have the potential for staining and chipping. Natural stone will need regular sealing, and you have to be careful about the types of cleaners you use so that you don't damage the stone. Even with these cautions, natural stone was created with Mother Nature's paint brush – it's one of a kind.  To some, the maintenance and care is absolutely worth it.
If you are looking to get the most out of your home's wet areas or contemplating more sweeping changes to your home, you can set up a time with one of our designers to talk about the possibilities. You can also learn more about additions, kitchens or other remodeling projects at an upcoming workshop. Check out the photo gallery or follow Normandy Remodeling on Facebook and Instagram for even more home tips and inspiration.