A Modern Take on Vintage Bathroom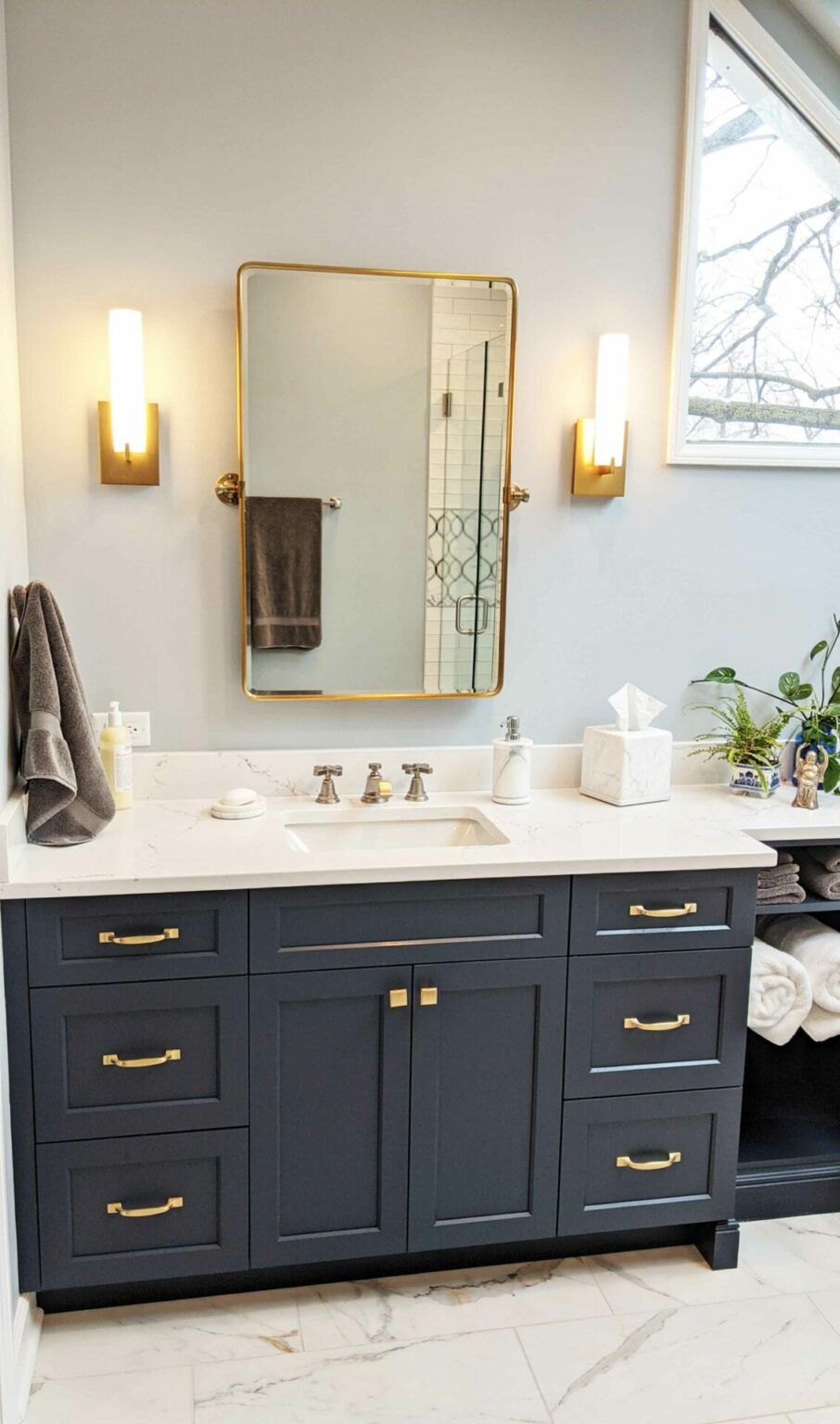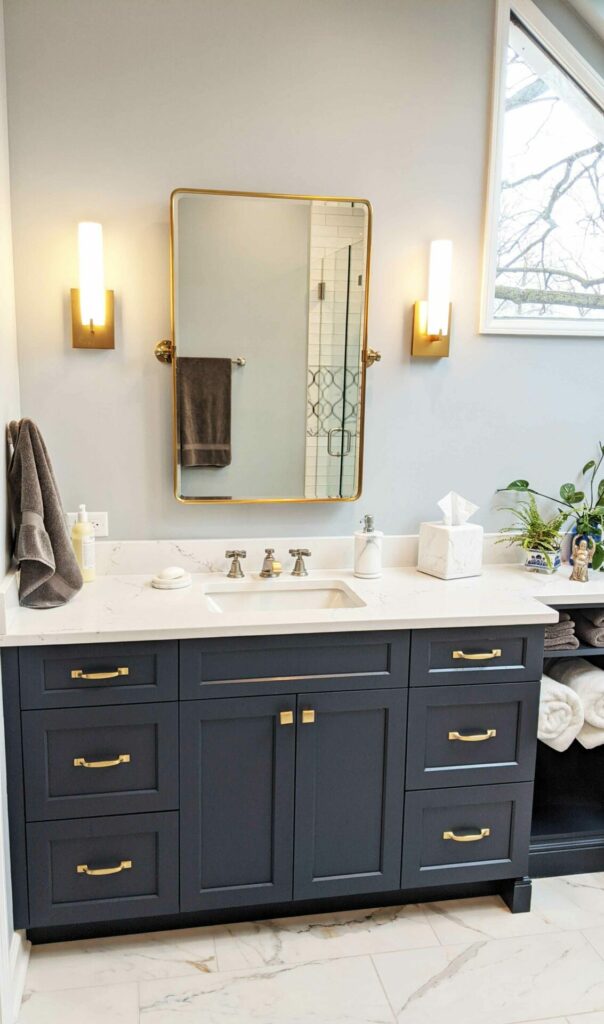 When you choose to live in a vintage home, it's likely because you fell in love with the home's character, so when it comes remodeling, you want to stay true to those roots. "It's a careful balance to keep the home's overall aesthetic intact, while adding functionality and a timeless feel to the design," says Normandy Designer Becca Ruggiero. Becca partnered with this Glenview couple to create a modern take on their primary bathroom, and it all began with a vanity.
"My approach to remodeling a space within a vintage home is to try using hand crafted materials, smaller scale tiles, and lots of white to infuse that classic feeling. However, for this 1920s home, we stepped outside the realm of neutral colors and created a fresh perspective on vintage that was built around the navy blue vanity they fell in love with," Becca says.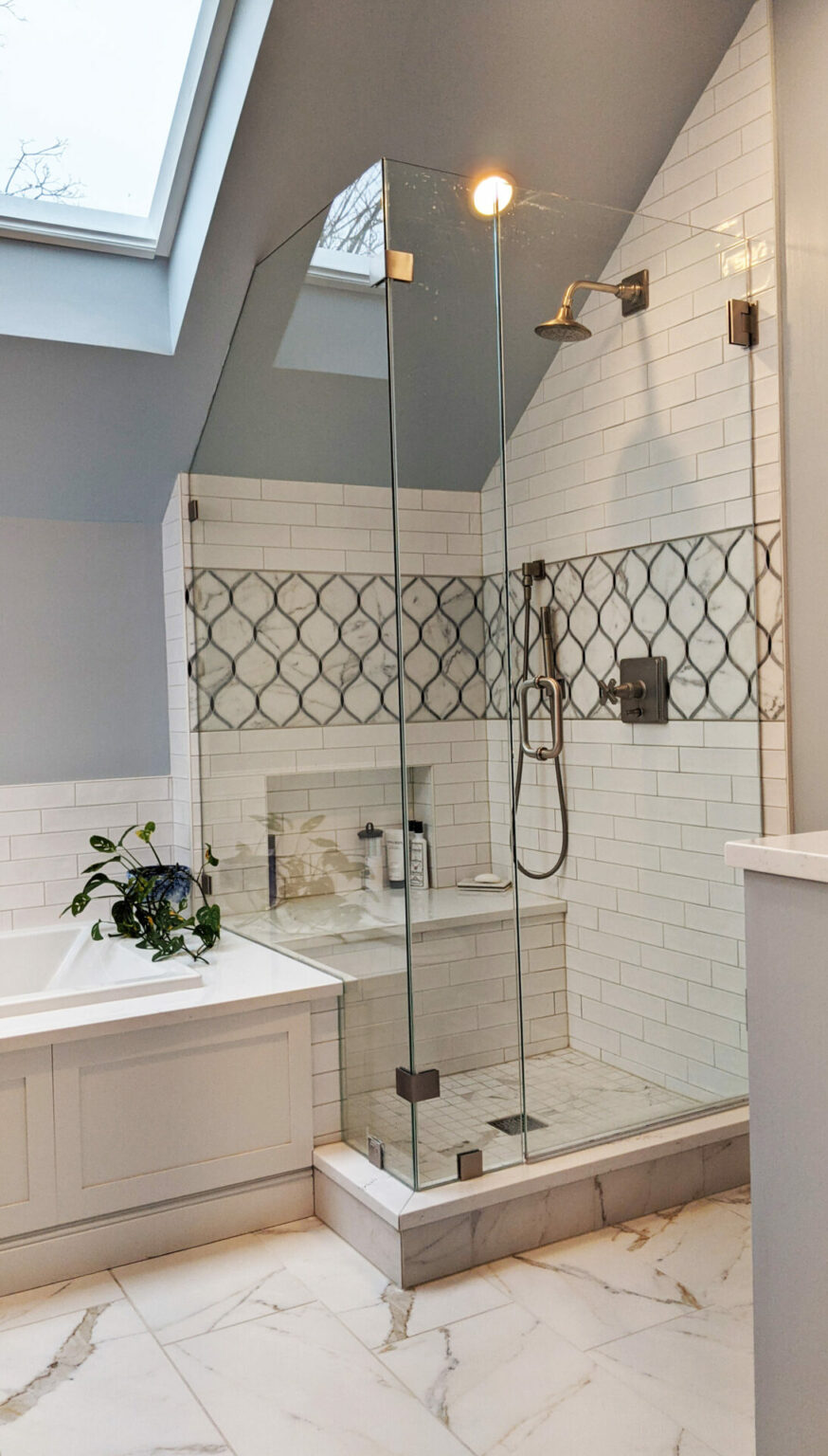 "This couple loves quirky touches and bold colors," Becca says. "The deep cabinet color is what drove the decisions for the entire bathroom's palette." We balanced the bold vanity color with lots of white in the shower, but the design was anything but simple and standard. The small tiles used in the shower floor are a vintage inspired nod, but the walls are where we got creative. "The subway tile on the walls stay true to the home's era, but that gorgeous band of accent tile is really what adds their personality to the design. It's one of their favorite elements." If you look closely, the trim piece outlining that band is a gold color which ties in with the gold veining in the bathroom floor tile. Little touches of glimmer in their choice of fixtures bring an upscale feel to this cozy space.
Just outside the bathroom is a dressing room for her, which includes a matching vanity with sink, and a custom wardrobe. "We added a built-in wardrobe that goes all the way up to the angled ceiling and looks as if it's original to the home," says Becca. "It's a fantastic private area between the primary bedroom and bathroom where she can get ready for the day or prep for the night in a relaxing space."
Whether you live in a vintage home or a more updated structure, Becca is here to help with your next remodeling project. Give her a call to set up an appointment. You can peruse a collection of our favorite projects in our photo gallery or on our Instagram or Facebook accounts.