The Perfect Entertainer's Kitchen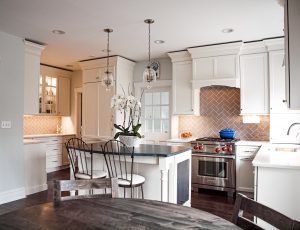 What's the key to a perfect entertainer's kitchen? One that works as well for the chef as it does for the guests? According to Normandy Designer Laura Barber, AKBD, an island or peninsula that separates the two is essential. "It doesn't seem to matter if you have a 10" x 10" kitchen or a 20" x 20" kitchen. Everyone stands right there," says Laura. She adds, "Creating some separation between the workspace and those who aren't actively working is important in a successful kitchen."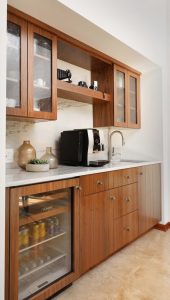 Laura also recommends designating a drinks station to draw people away. "Put your coffee bar or wet bar to work.  A dry bar or even just a cleared-off countertop also work well as a place to set up glasses, ice and easy grab-and-go drinks," she says.  
Laura also likes a floorplan where the kitchen is open to the dining room for entertaining. "While it doesn't have to be completely open, having a kitchen that flows into the dining room is excellent for entertaining. People can spread out across the two rooms without feeling like they are missing something," says Laura. When you do have guests, consider placing appetizers or another drink option on a sideboard to tempt even more people away from the workspace.  
"So often, dining rooms go unused, but if they are open in some way to the kitchen, the space becomes inviting," Laura explains.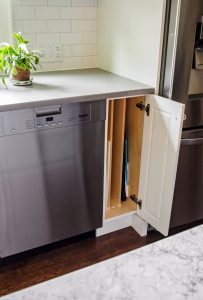 Another thing to think about is storage. Being able to access your place settings, glassware and serving pieces will keep stress down for the host and helpers. "Adding vertical storage for trays and serving platters makes it easy to pull them out when you need them and tuck them away when you don't," says Laura.  
"If entertaining is important to you, we design to help you enjoy your time preparing and serving food and to enable your guests to enjoy your efforts. Bringing people together can seem effortless with a little planning up front," says Laura.  
If your kitchen isn't quite up to the task of entertaining your family and friends, you can set up a time to talk to Laura about transforming it into the home to which everyone wants an invitation. Check out the Normandy Remodeling photo galleries for kitchen ideas that might inspire your idea entertainer's space. Follow us on Instagram, Facebook and Pinterest for more projects, ideas and tips.