Four Phases of Remodeling: #4 – Are we there yet?
Your tile is set, the cabinets are installed, and the addition breakthrough is complete. The renderings you've been studying for months are coming to life before your eyes. The end is in sight, but Normandy Designer Maury Jones says that this final phase of remodeling is when your patience will truly be tested.
"This is the phase of remodeling that tends to have tempers flare up more than any other time," says Maury. "When the end of your remodel starts to become clear, it's harder to wait for those final trade partners to do their last jobs, and even minor delays can be unbearably frustrating. Now is the time to channel your inner Zen, or at least stop yelling at the dog for their muddy paws."
The trade partners still have a lot of things to do in this final phase of remodeling, but many of them are smaller in scale, and you may find yourself tiring of their presence. You wouldn't be the first person who's tempted to push the last of them out the door prematurely, potentially to your own detriment. "Once you get to about the 90% mark in your remodel, take the time to do a thorough walk through with your Superintendent to review anything that's still outstanding or needs attention," notes Maury. "This is the perfect time to discuss the details of your project's warranty, too, as reputable contractors will stand behind their work."
But don't start unpacking your fine china quite yet. "Hold off on moving personal effects back in until you've been given the green light by your Superintendent, especially if you're still waiting for the final construction cleaning. It will be worth the wait, I promise," Maury says.
Just like a ribbon cutting, once your home is complete, it's time to show it off. "After feeling displaced and living through construction for several months, seeing your remodel come to a close is exhilarating," says Maury.  Gush over your new space, you deserve it. "Don't be shy," Maury says, "share photos, throw a party, and invite over the neighbors. You made some great decisions to create a home that's sure to be the envy of the neighborhood, you've earned the right to be proud."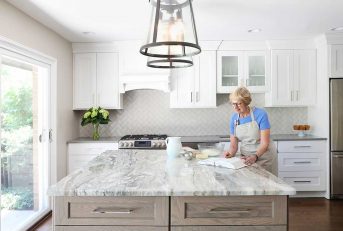 Now that it's all over, you can look back and see how far you've come. You found the perfect partner for your project, developed inspired floorplans and elevations, made selections for details big and small, lived through construction and an erratic rollercoaster of emotions, not to mention the dust, debris, and dumpsters. Finally, your new room or addition is finished. You are now officially ready to live happily ever after… or maybe you're sad it's over. Perhaps you had more fun than you thought and already have plans for your next project. Remodeling can be addictive after all, and there are likely more rooms in your house that are now getting a second look. All in good time.
Does this sound like a wild ride that you'd love to experience? Give Maury or one of our designers a call to start the discussion of your remodeling project. Envision yourself in a new spacious kitchen, see your loved ones laughing in the addition of cozy family room, or settle into the feeling of a delicious spa-like bathroom. If you need help with that visualization, follow us on Facebook and Instagram where we showcase our completed renovations.