Fit and Fun Finished Basement In Lake Forest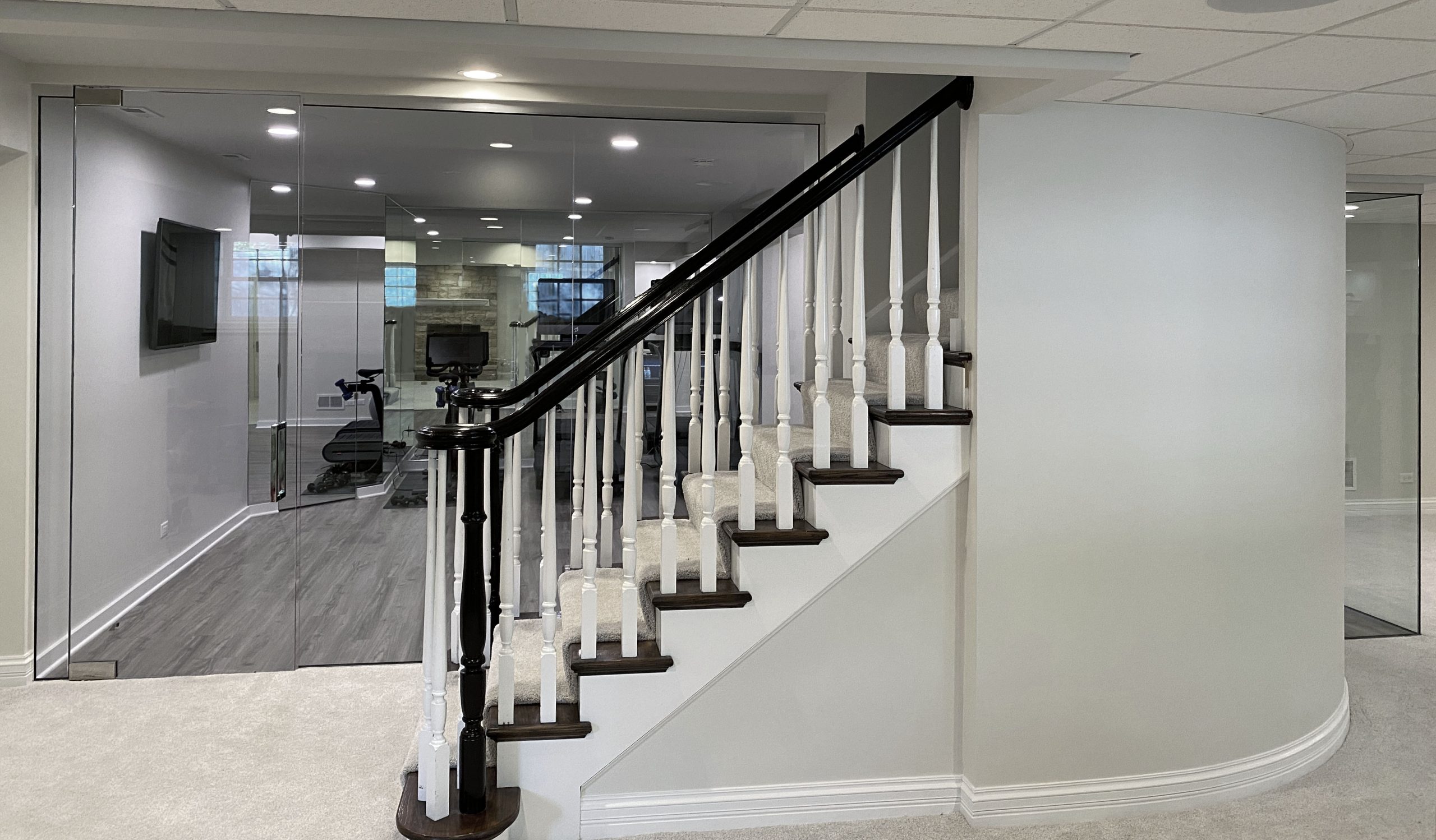 Is your basement fine, but not fabulous? That was the case for this Lake Forest family. Although it is a newer home, the basement was closed off from the rest of the house. Heavy stained wood built-ins also made the basement feel older than its years.
Normandy Designer Jeremy Paris went right to work opening up the basement while creating dedicated spaces for working out, hanging out and hosting guests for an evening or a month.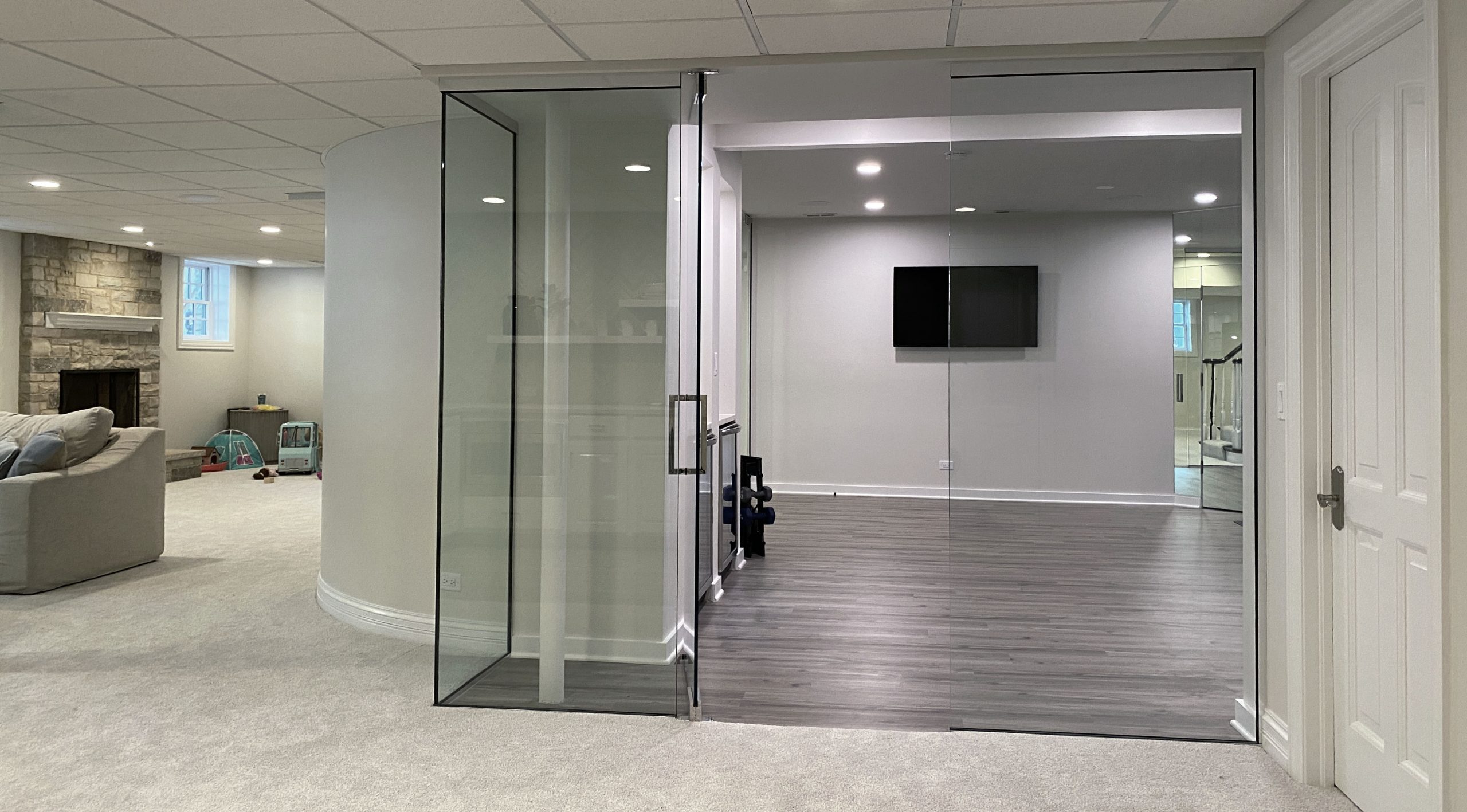 "The original stairs led down to a vestibule area with a door you opened to access the basement.  Opening that up made the finished basement feel more like an extension of the house and less like a completely separate area. Now you can see the great curves this particular staircase has," Jeremy says.
The new open entry sets the scene for a light, bright and truly inviting finished basement where your eye is immediately drawn to the glass-walled workout room. "It's a real showpiece," Jeremy says, adding "those glass walls were in the original plans and they set the scene for some great workouts." The double beverage refrigerators add symmetry to the space and increase the luxurious feeling of the home gym.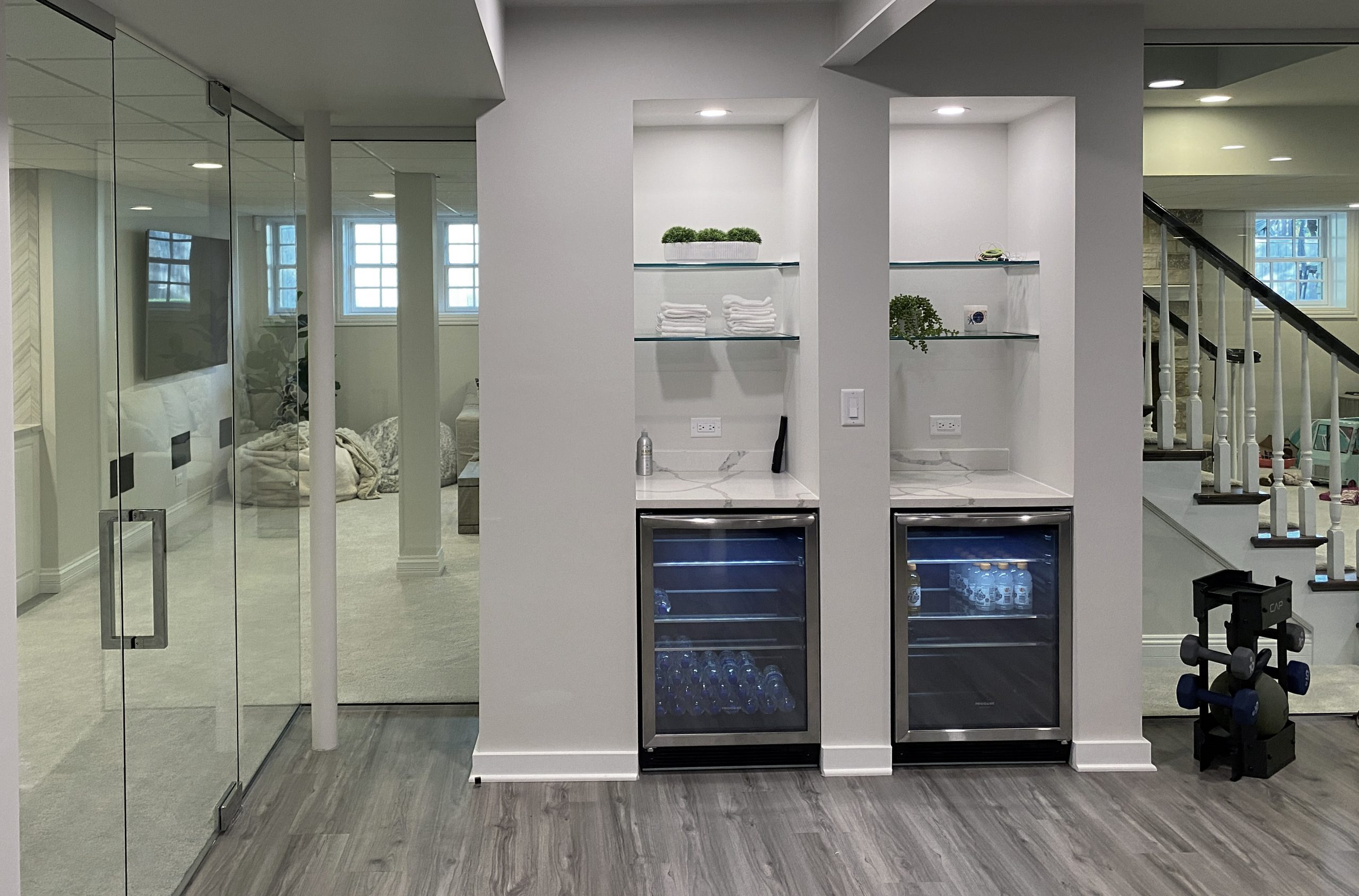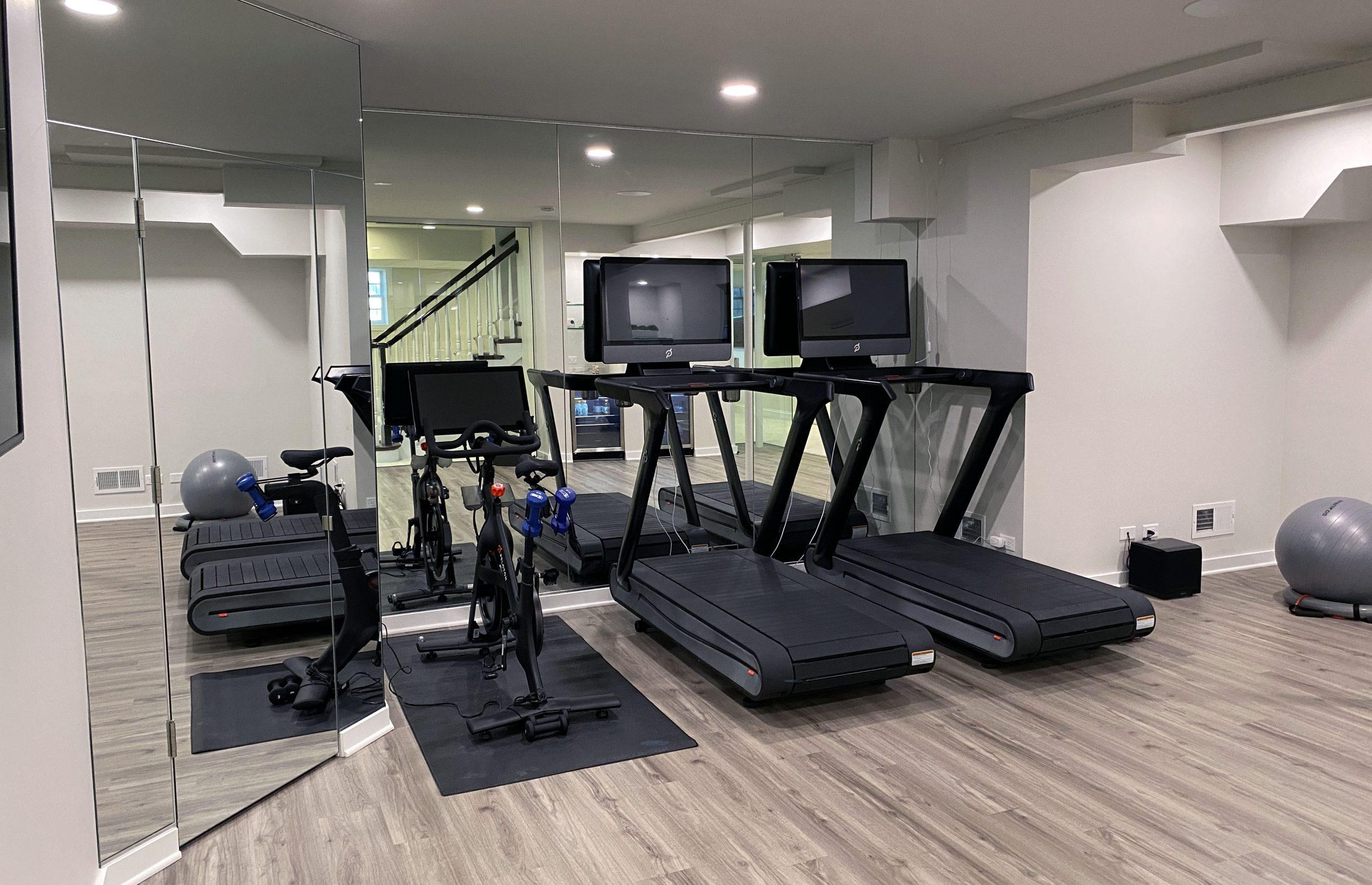 When designing a home workout space, Jeremy explains that the activities you want to do will influence your flooring choice. "They're focused on treadmills, bikes and yoga, so the wood floors make sense. If they were into heavy weights, we might have gone with another material," he says. The family worked with Abt Electronics to install a heating and cooling system just for the workout room. This gives them the ability to cool things down for an intense ride or raise the temperature for a hot yoga session.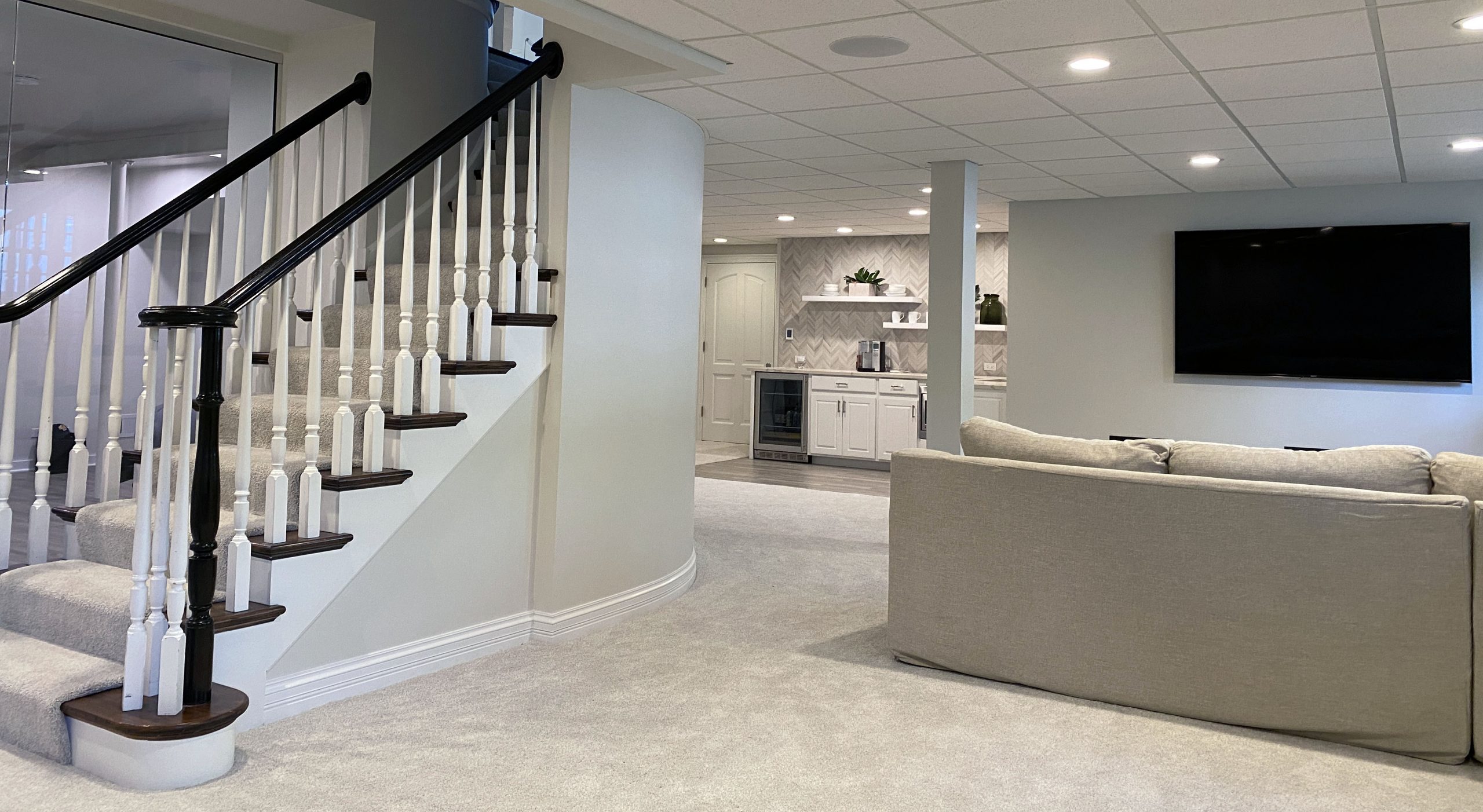 On rest days, the family settles in for movie marathons or game watching. Snacks and drinks are easy to replenish in the kitchenette.
In another wing of the basement, Jeremy moved a guest room closet moved to create better flow and a more welcoming space. Overnight guests also appreciate the kitchenette for quick breakfasts and late night snacks.
Jeremy offers a gentle reminder that no matter how many wow elements a finished basement renovation has, you can't forget about storage and mechanicals. With that said, even the nuts and bolts have star power in this basement. "We hid some mechanicals behind one of the mirrored panels in the workout room. You access it with a click lock. It's completely hidden, but you can get in there with a simple push," he says.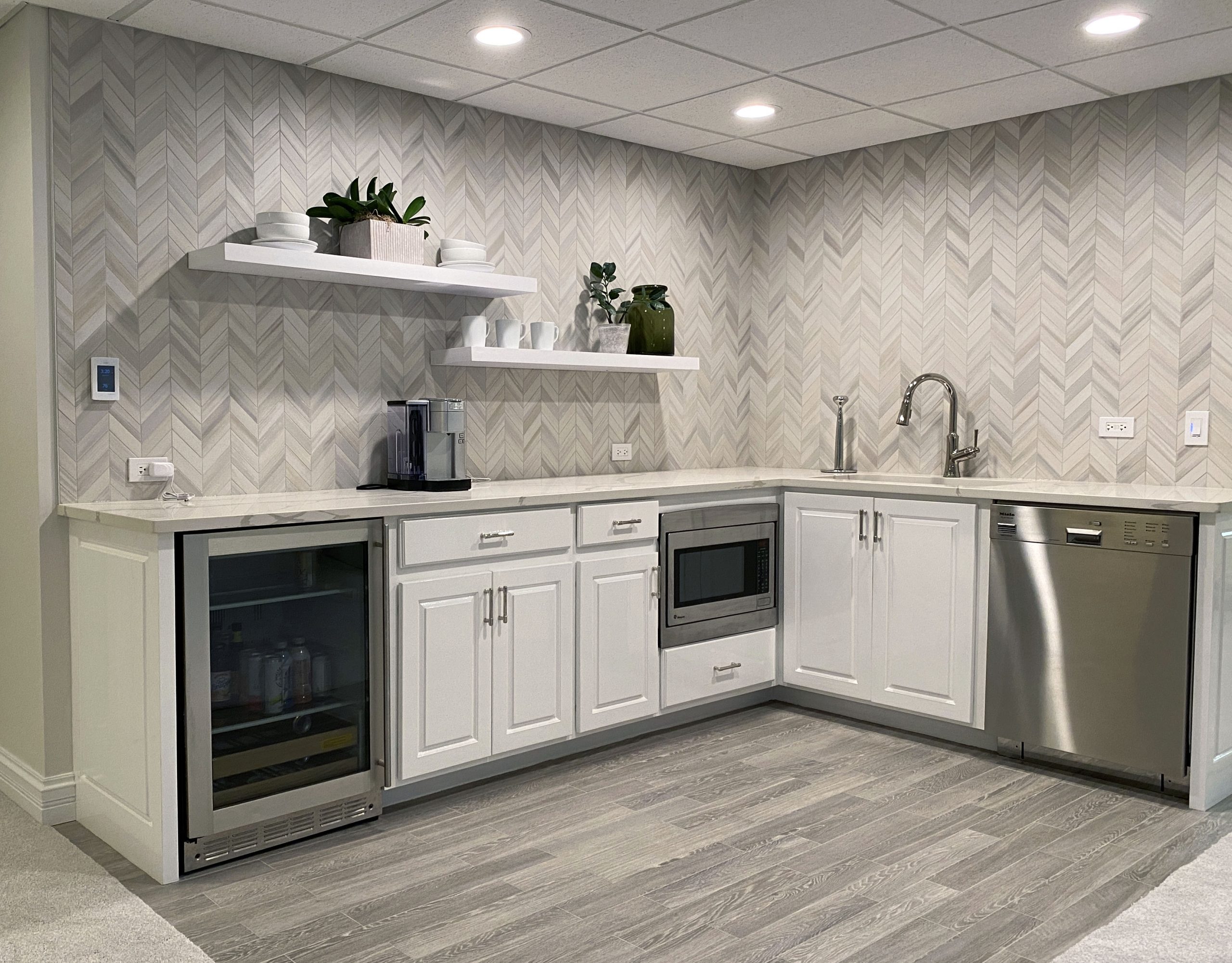 Remodeling your basement is a way to maximize your square footage without adding on to your home. Jeremy advises that it is usually a quicker project than an addition. "This basement already had high ceilings and natural light. Those are great things with which to start. Even without them, there's likely space in your basement to play, relax and host," Jeremy says.
Are you wishing for a glass enclosed hot yoga studio after seeing this one? Or maybe eyeing a kitchenette for game watching parties? Set up a time to talk to Jeremy about the potential that might be hiding in your basement. Visit the Normandy Remodeling photo galleries for more ideas. We share inspiration and tips on Instagram, Facebook and Pinterest. Follow along for favorites and surprises in your feeds.