What You Need to Know Before Building an Addition
So, do you think you want to build an addition? It's time to start doing your homework. How close is your home to your property line? What are your municipality requirements? Do you know what FAR stands for? Keep reading to learn how to move things forward. We've got a step-by-step guide from Normandy Designer John Long.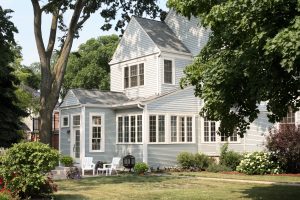 Step 1: Size Up Your Home
"First things first, you want to have a professional come out and determine if an addition is even possible," said John. "There are a few terms that will come into play."
Here's some of what needs to be reviewed:
Plat of Survey: A document provided upon the closing of your home. It shows your property and the location of your home on your property.
Set Backs: The space between your home and property line where the building is not allowed. Typically, it can be from 5 to 10 percent of lot width at the sides. There are also front and rear setbacks to be considered.  These requirements vary from town to town.
Floor Area Ratio (FAR): The ratio of a home's square footage in proportion to your property size.
"We use these criteria to assess if an addition is possible," said John. "In some cases, there is not enough space to build out. For example, if the front of your home is too close to the street, an addition to the front of the house will not be allowed."
"There are also some cases where the home has already maxed out on square footage," added John. "A family with whom I recently met wanted to add on to the back of their home. After doing some calculations, we learned that the house was actually already over the limit of what was allowed for their property, so additional square footage was not possible. In these situations, we need to explore the option of reconfiguring the existing space."
Step 2: Find the Right Fit
After you've sized up your home, you'll have a better idea of what type of addition is possible. When it comes to additions, you have a few options – up, over, or out.
"If you aren't able to build out into your yard due to restrictions, you can consider building up with a second story and/or out over the garage to get the extra square footage that you need," said John.
If you really need the space but an addition doesn't work, all is not lost.
"You can always look at reconfiguring your interior to see if there's a way to make better use of it," noted John. "More often than not, it seems that the home's interior layout is the issue. For example, there may be a formal dining room that is only used a couple of times a year. Repurposing this space can allow for a bigger kitchen or better living spaces… whatever you need."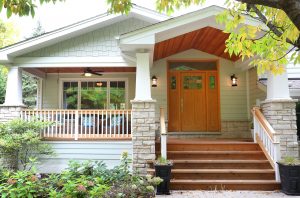 Step 3: Select the Right Style
One last thing to consider before adding on is the style of your home. You want to make sure that your addition matches the architecture of your home, and possibly even the predominant style of your neighborhood. This style consideration is so important, if done right, style can definitely enhance the property's ultimate real estate value.
"You want to avoid your addition sticking out like a sore thumb," said John. "It should look like it was an original part of the home."
Now that you are armed with this information, are you ready to get started? You can set up a time with John to talk about the possibilities. You can also learn more about additions, kitchens, or other remodeling projects at an upcoming workshop. Check out the photo gallery or follow Normandy Remodeling on Facebook and Instagram for even more home tips and inspiration.