Whole Home Transformation: From Split Level to Arts and Crafts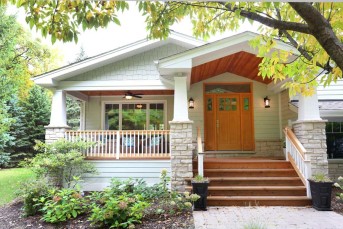 The owners of this Palatine split-level preferred the look of an Arts and Crafts style home and were looking for an addition that would result in some traditional curb appeal. However, outward appearance was not the only priority. Additional garage space, a walk-in closet addition for the master suite, family room, mudroom, and screened-in porch at the rear of the home was also desired. As this was a tall order, the homeowners called upon Normandy Design Manager Troy Pavelka to get the job done.
"Split-level homes present unique design challenges," said Troy. "However, we were able to transform their house into a more current and relevant Arts and Crafts inspired home that not only reflected traditional styling but met the family's long term needs."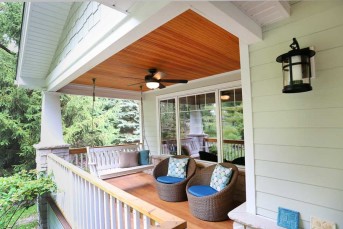 A front porch addition with natural stone detailing, tapered Arts and Crafts columns, and traditional cedar flooring and steps brought the Arts and Crafts style closer to home. The addition of the third car garage, with a walk-in closet above, also contributed to the revised scale of the home, reducing the focus on the existing split level configuration. New garage doors, fiber cement siding, stronger window styling, natural stone, and architectural details were also added to the exterior makeover.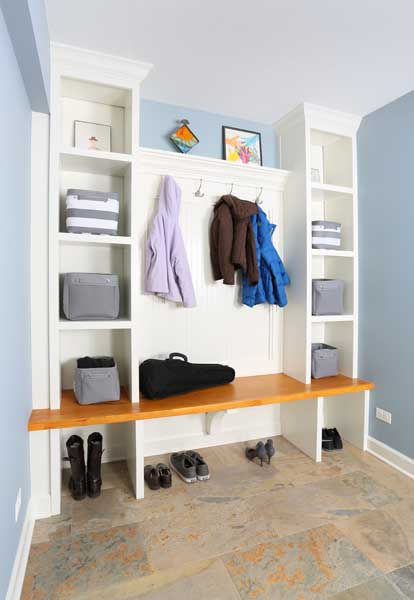 The home was also improved upon functionally. A dedicated mudroom was created, complete with custom cubbies with outlets for charging their phones, cameras, and other gadgets. The kitchen layout was also updated and now boasts a large island for entertaining. Modern appliances with proper clearances and ventilation also provided a remarkable improvement to the function of the kitchen space.
Lastly, a screen room off of the dining area of the home was added. Given the large property and private rear yard, this porch really takes advantage of ideal views and entertaining possibilities.
Are you looking to change the style of your home with an addition? Register to attend our upcoming seminar "Adding On Up, Over or Out" to learn more about the process of expanding. Or, follow Normandy Remodeling on Facebook, Twitter, or Instagram for more design ideas and inspiration.