Basement Bars & Kitchenettes: Your Tiny But Mighty Entertaining Tools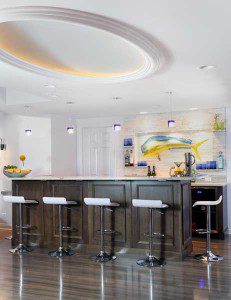 Whether you're looking for added kitchen space, more room to entertain, or both, incorporating a basement bar or kitchenette may be the perfect touch to your lower level.
Although similar, basement bars and kitchenettes differ in a few ways. Basement bars are the more common option, as they are an entertainment hub with the capacity to house a fridge, bar, sink, microwave, cabinetry, seating, and more. Size wise, basement bars can be as compact as a six foot wall of upper and lower cabinetry, or as large as a small kitchen.
Kitchenettes on the other hand are a mini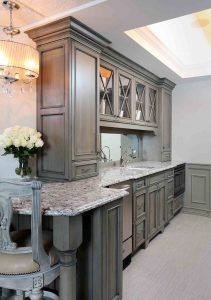 kitchen situated in your lower level, which usually house a cooking surface, refrigerator, and kitchen-style sink. Kitchenettes are perfect for homeowners who would like to have a designated location for parties only, as it keeps your main kitchen clean and intact. Like basement bars, kitchenettes can be similarly large, depending on the basement size and layout.
Whichever option you incorporate, both have an immense number of benefits.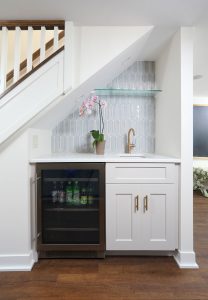 Entertainers are immediately drawn to basement bars as it not only saves you a trip to the upstairs refrigerator, but it also provides you the perfect snack sanctuary that stores food and drinks for when guests are over. Kitchenettes are perfect for homeowners who love to cook, acting as the quintessential lower level prep kitchen you've always needed.
When you choose to install either a kitchenette or basement bar, there are a few precautions to take. The first being ventilation, as it may be more challenging to integrate a ventilated hood and the correct amount of ventilation in the lower level. Design wise, it is more challenging to incorporate either a kitchenette or basement bar as designers must be mindful of airs ducts, plumbing, and the heights of cabinetry. Plumbing is especially tricky as your current lower level may not have plumbing roughed in, so having to figure out how to get water to and from the lower space may be a time-consuming challenge.
If you think you're ready to get started on your very own home renovation (with a touch of lower-level entertainment), set up a time to talk with one of our Designers. Make sure to also attend one of our upcoming seminars to learn more about the kitchen, bathroom or home addition process.