More Modern than Farmhouse Kitchen Remodel for a Chic Chicago Couple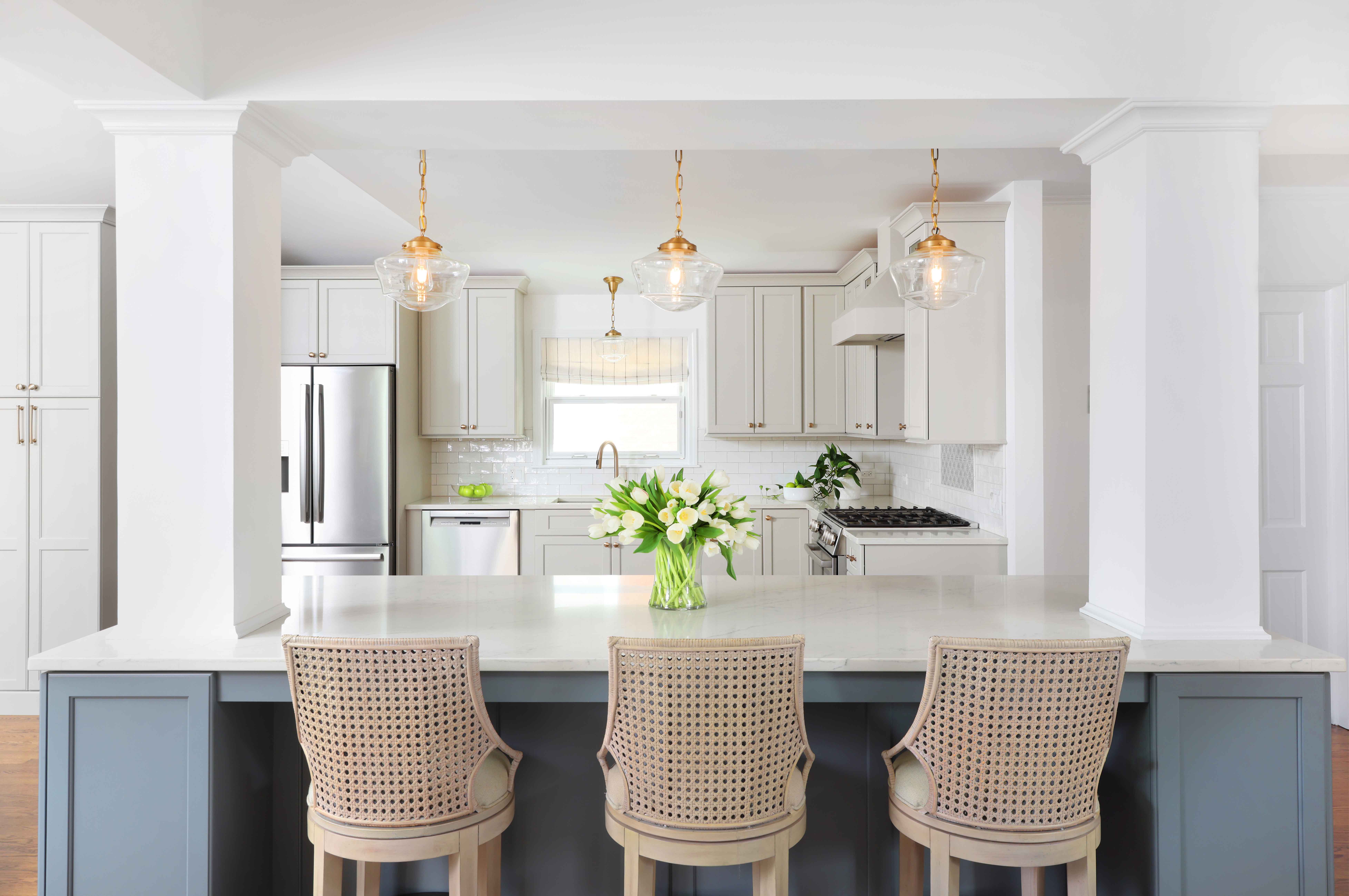 No man is an island and almost no man or woman wants a kitchen without one these days. Adding a big, beautiful kitchen island topped the remodeling wish list of this Chicago couple. Their other must-have was a modern farmhouse look with the emphasis slightly more on the modern than on farmhouse.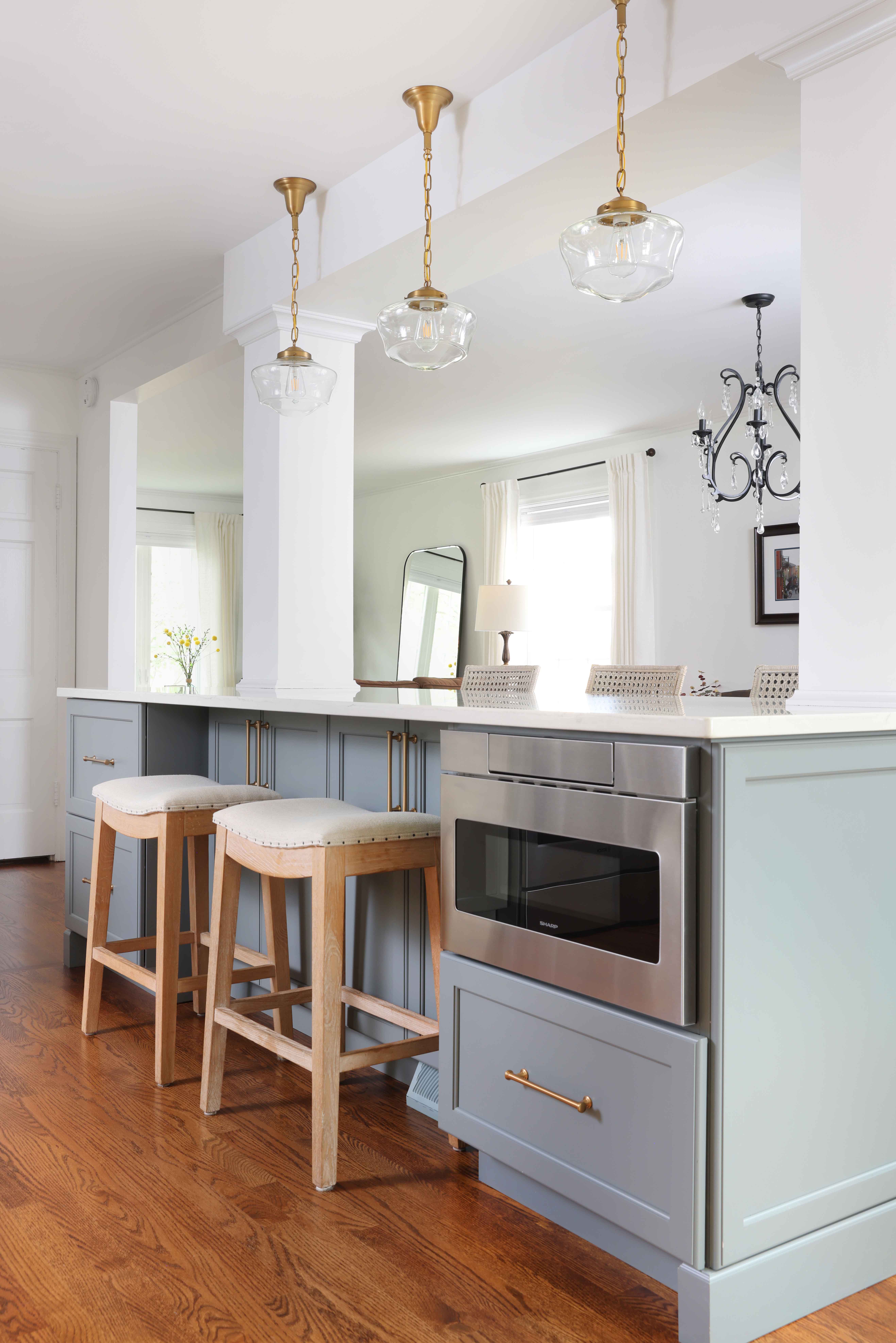 "It was important to touch on the modern farmhouse style without being too specific. We used a lot of timeless details that also feel of the moment," says Normandy Designer Abby Osborn.
Eileen came into the process with a strong sense of style, some of it inspired by her daughter-in-law. Mike was happy to let her take the lead. With this vision and a Pinterest board for reference, Abby enjoyed working with the couple in selecting sophisticated elements for the home. "She wanted something different than a classic white kitchen. We opted for a stone color perimeter and an island in a pretty bluish gray shade. These soft colors showcase the champagne brass hardware this design-savvy lady wanted to be sure to include," says Abby, who also layered this same finish in with the lighting.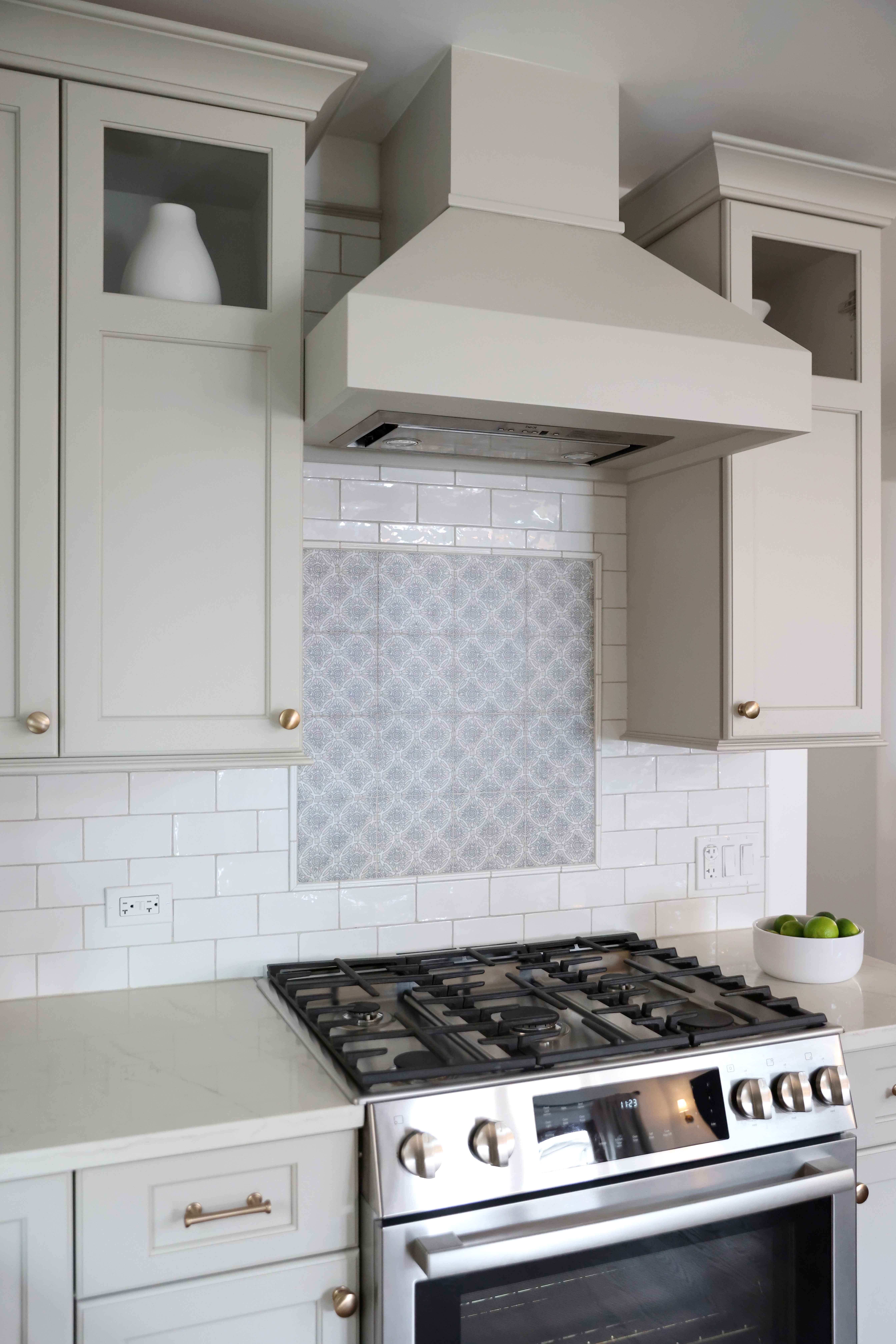 Beneath those glittering finishes are structural changes that allow for more function, more storage and more spaces for entertaining.
Abby explains, "The main piece they were looking for was as island. We knew removing the load bearing wall to create the open concept with an island would be a challenge since it included electrical and HVAC to the second floor. Our design gives them an island with one column for support and the other to carry mechanics to the second floor."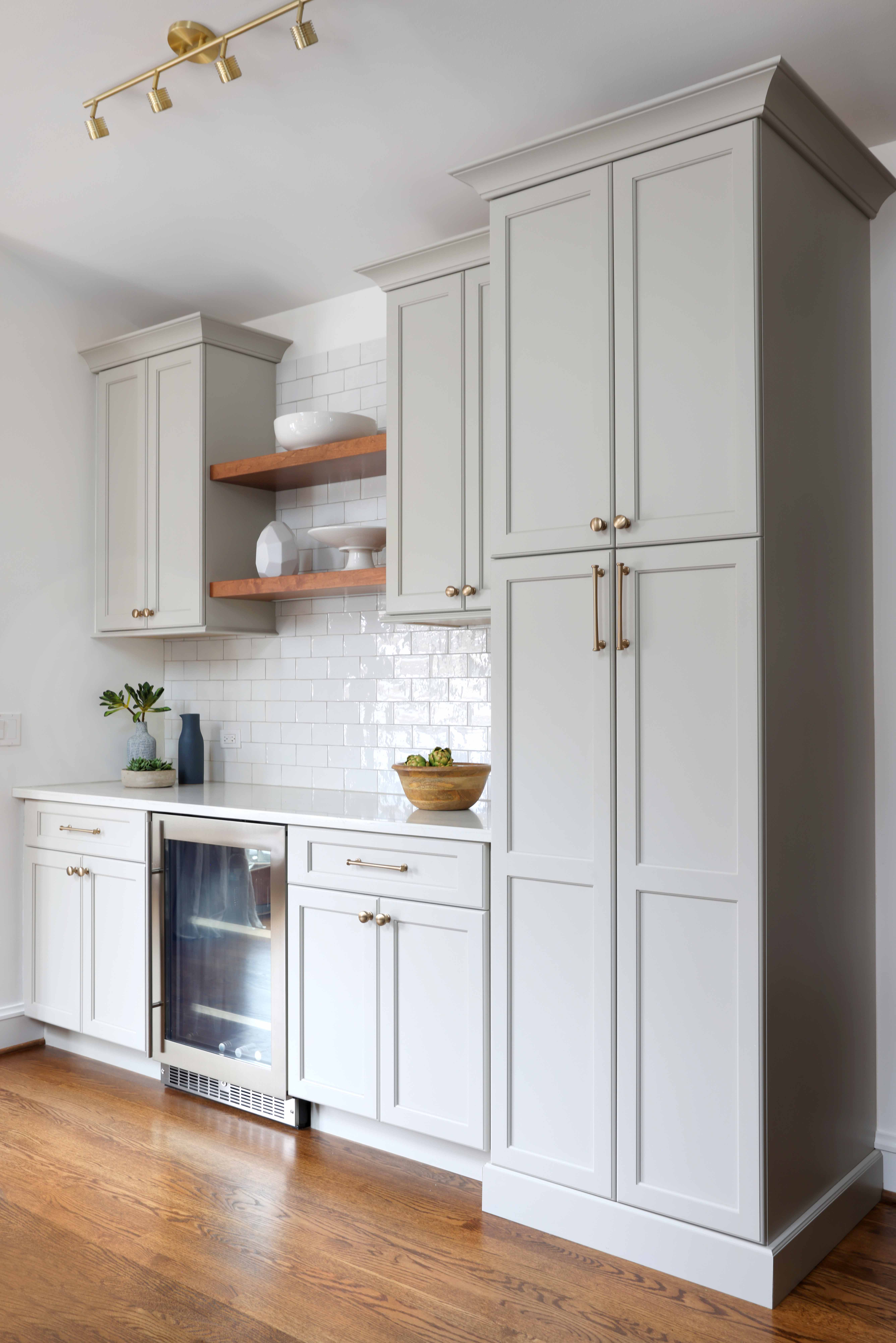 With seating on both sides, the island replaces the need for a kitchen dining table. It's also a great place for craft projects with the grandchildren. The area where the kitchen table formerly sat is now home to additional cabinetry and a dry bar/coffee bar with a beverage center. "It's a great add-on for entertaining," says Abby.
With retirement on their minds, this renovation is designed with an eye on the future. This meant turning the powder room into a three-piece bathroom. "It's a small space but they really wanted a shower on the first floor for aging in place," says Abby. She adds, "We had to select the smallest pedestal sink we could find in order to fit in the 30″ wide shower. It all fits together nicely."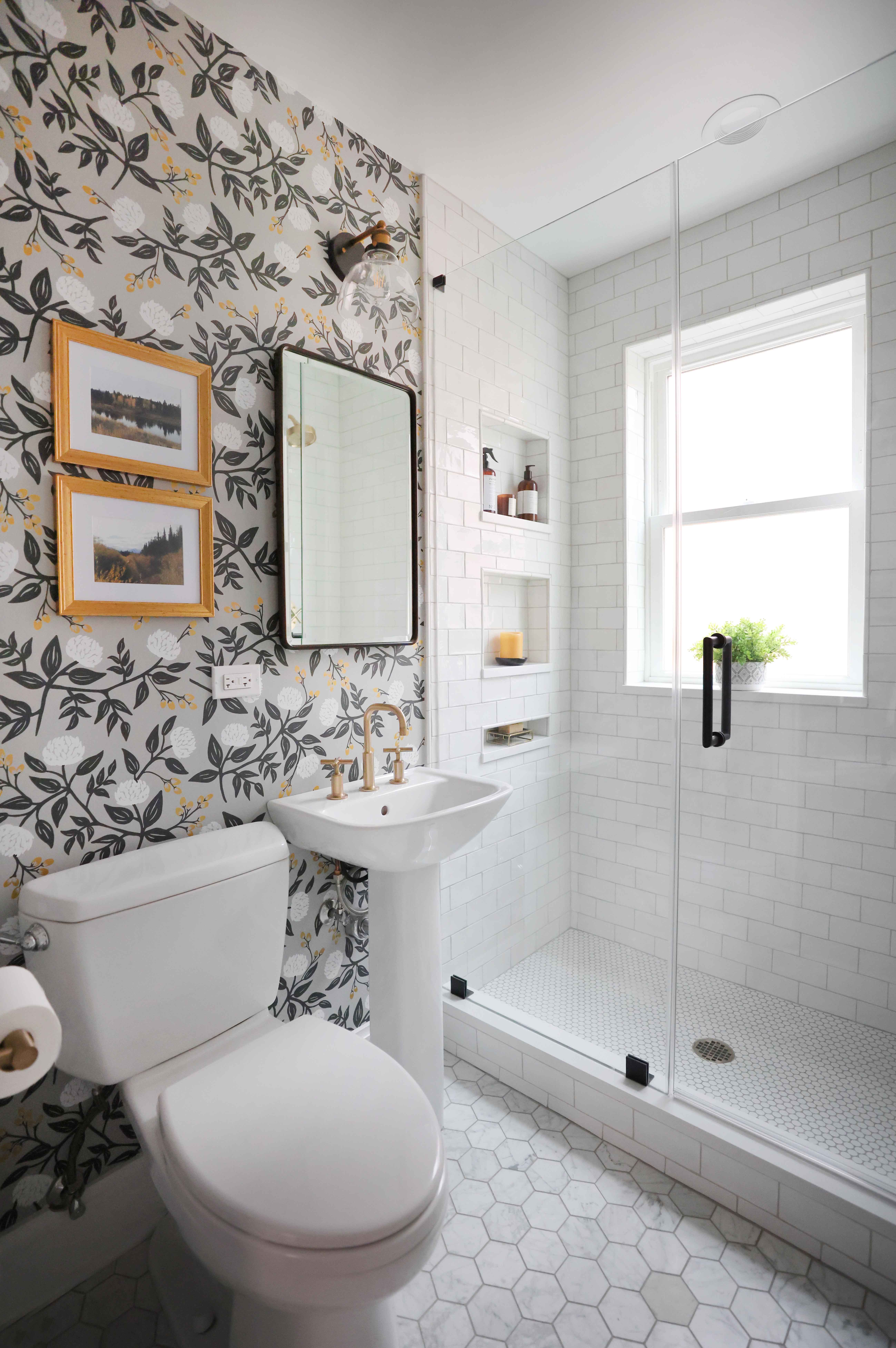 What this room is not small on is beauty. With 4" marble hexagon floor tile, classic penny tile on the shower floor, gold/bronze plumbing fixtures, and fun wall covering, it's as graceful a a bathroom twice the size.
The home suits their needs with ease and elegance now and they're well prepared for the years to come.
If your kitchen is feeling outdated, not meeting your needs or is simply lacking an island, you can arrange a time to talk to Abby about creating something special. There's inspiration to be found in the Normandy Remodeling photo galleries. Follow along with us on Instagram, Facebook and Pinterest for more projects and ideas.