Wet or Dry, Bars are Back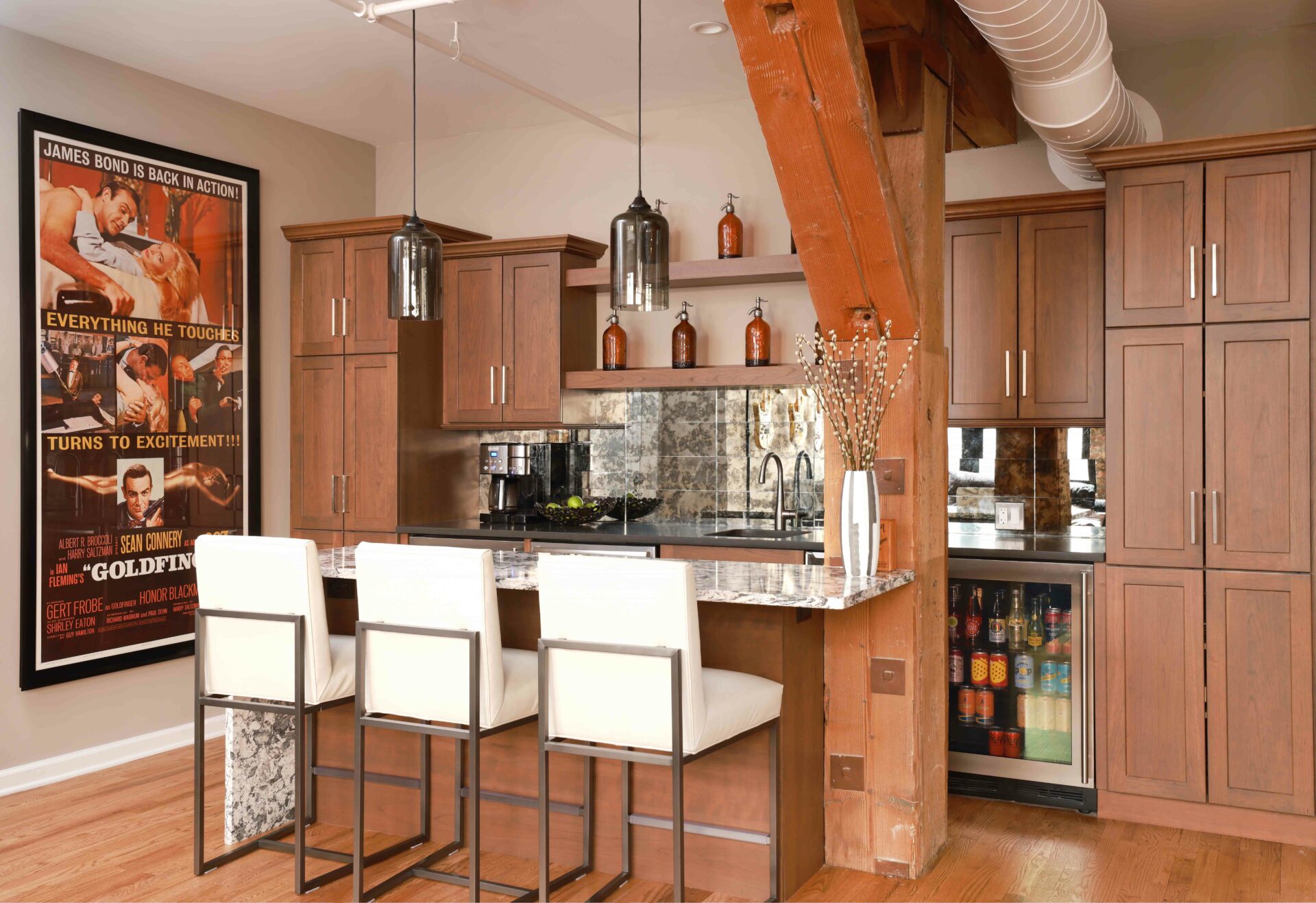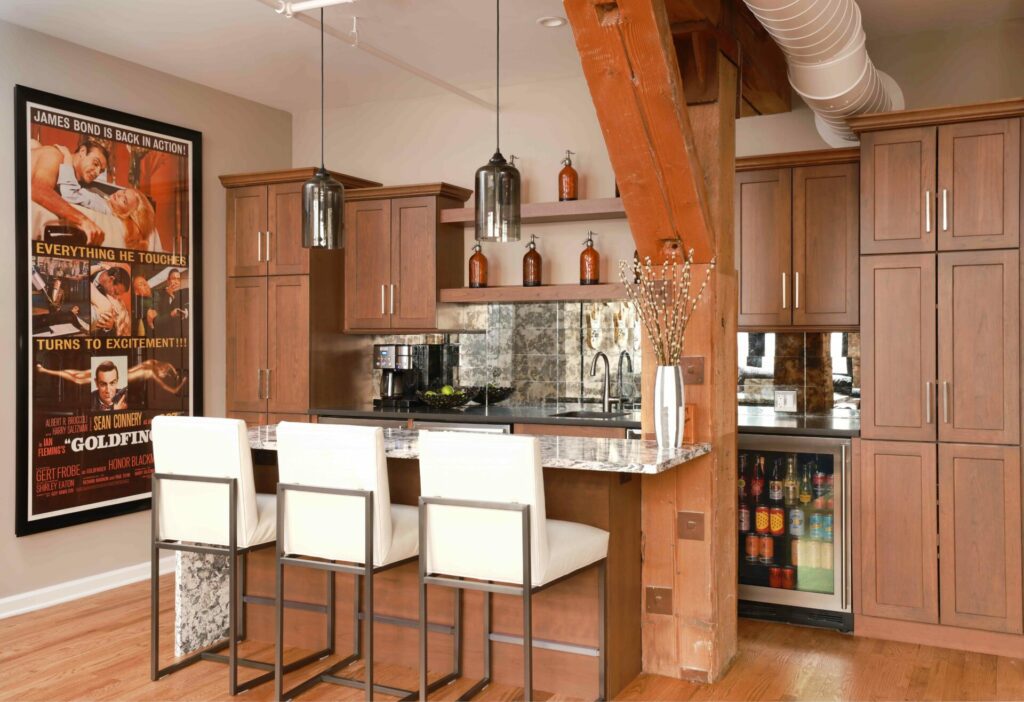 Bars are back, in a big and small way. Wet bar, dry bar, and everything in between, there are so many options available, it really comes down to preference and how you live and entertain at home. Bars are no longer used for the sole purpose of enjoying night caps and stogies, but are added to kitchens, basements, and mudrooms for the whole family to use and enjoy.
Wet Bars, Dry Bars, Coffee Bars, oh my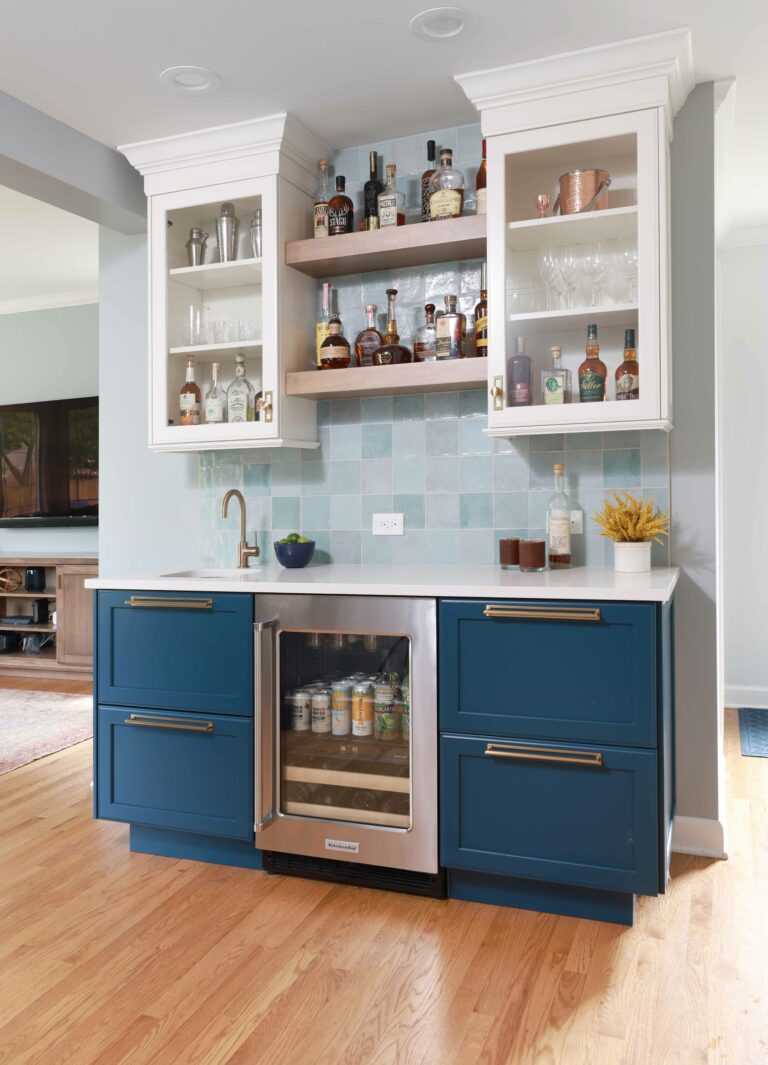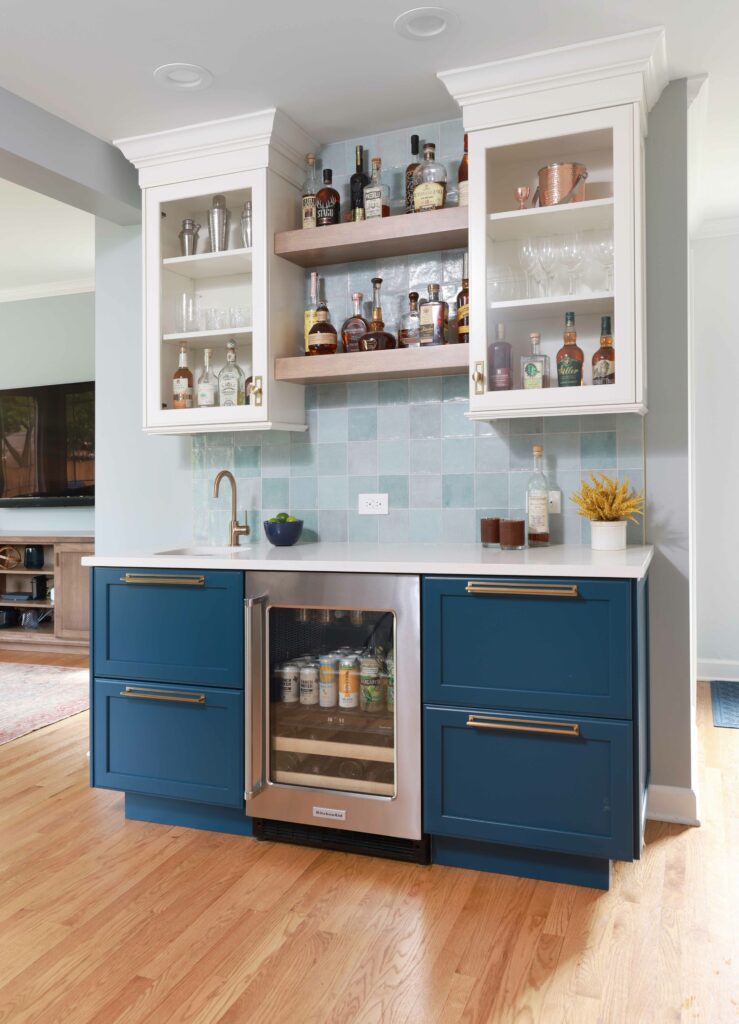 "A wet bar will always be equipped with a sink," says Normandy Designer Jackie Jensen. Most wet bars will also include a beverage center, which is a small refrigerator. "Wet bars are ideal for entertaining. They're great during the holidays or even just gathering with friends to watch the big game," Jackie says. Wet bars aren't just for guests, however, and many homes are adding them for personal use. Custom cabinets can store all of your entertaining essentials like small plates and utensils, as well as wine and cocktail glasses. Adding a wine chiller to your wet bar can really uplevel this area. You can have fun with dimensional backsplash and floating shelves within your wet bar. "They are often located in the basement or near the family room, but can be in kitchen adjacent areas, as well," says Jackie.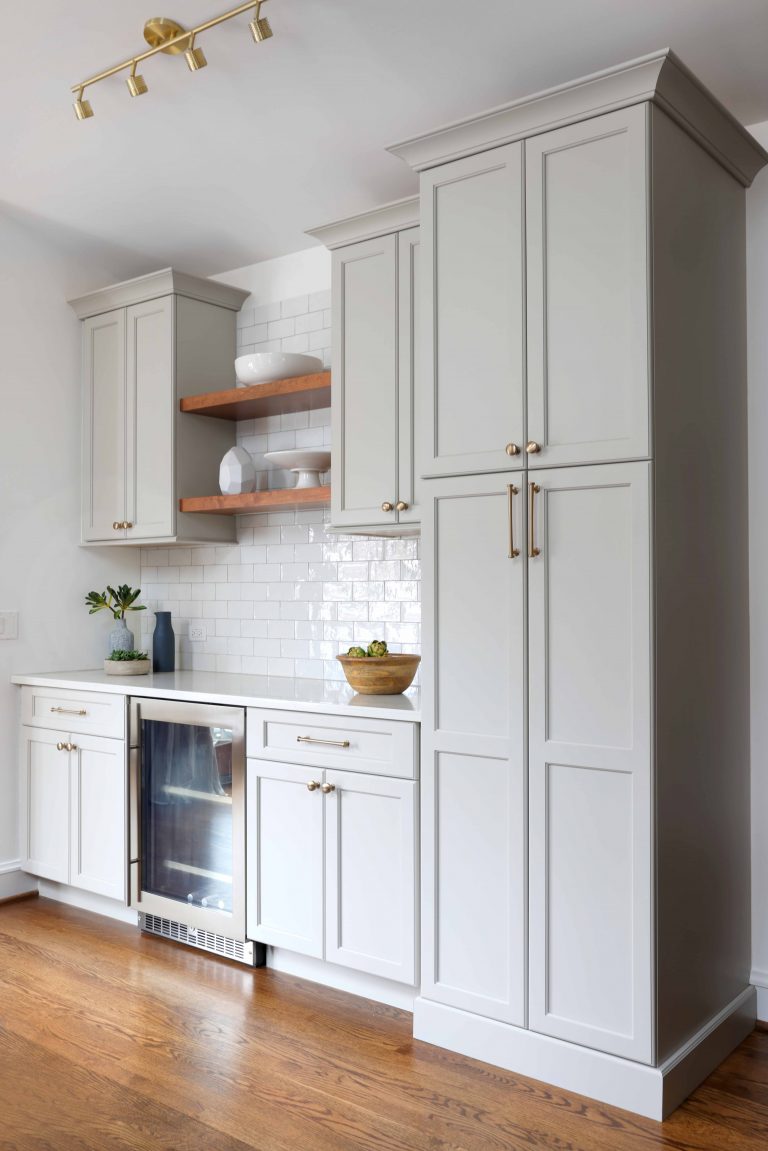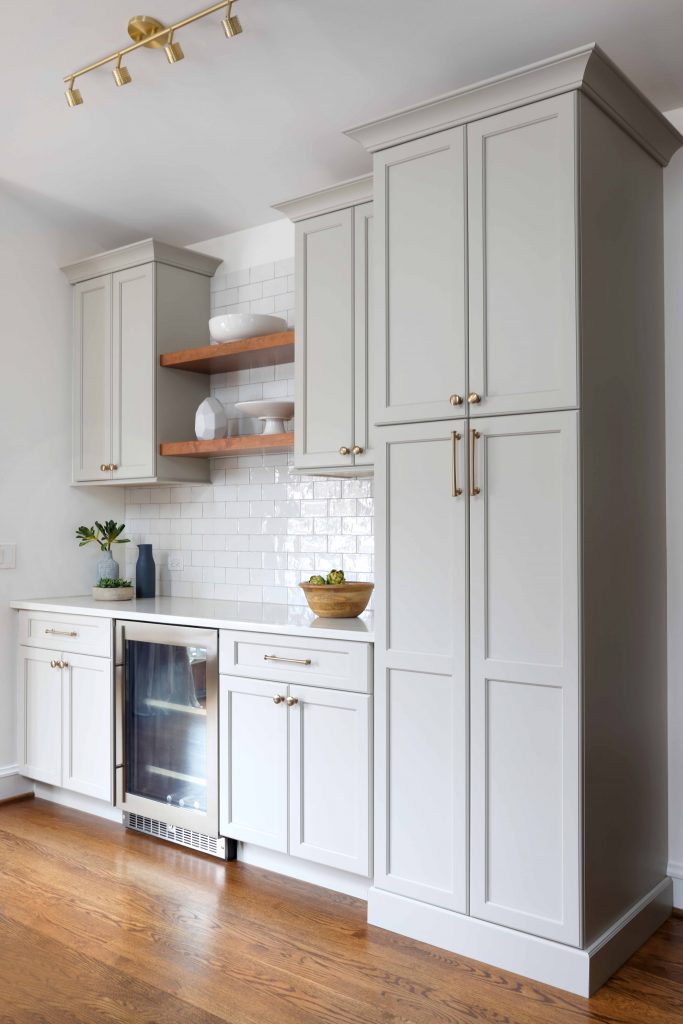 Dry bars offer everything but the sink. "Dry bars are more like the kid's station for quick snacks and drinks," Jackie says. They're often built with pull-out shelves for easy access to prepackaged snacks and shelf stable nibbles. Dry bars almost always include a beverage center which is ideal for keeping sports drinks and juice boxes handy. "Perfect for those grab and go days when you're trying to get the troops out the door," adds Jackie. Dry bars can be located near or just outside kitchen, in the basement, or tucked into the mudroom. "Often, I'm asked to incorporate a dry bar when the family wants to minimize foot traffic in the main kitchen," Jackie says. To really make this area a fully functioning snack station, consider installing a microwave for warming up mini-meals.
"Coffee bars are like the adult version of a dry bar," says Jackie. This perfect nook can be equipped with a smaller coffee appliance or espresso machine stationed on the countertop or built into the cabinet. "You don't necessarily need a beverage center or refrigerator drawer, but it's handy in keeping coffee grounds fresh, as well as your favorite creamers and flavored syrups," says Jackie. Closed or open shelving beautifully display fun or fancy coffee mugs. Coffee bars are usually located in or just outside the kitchen.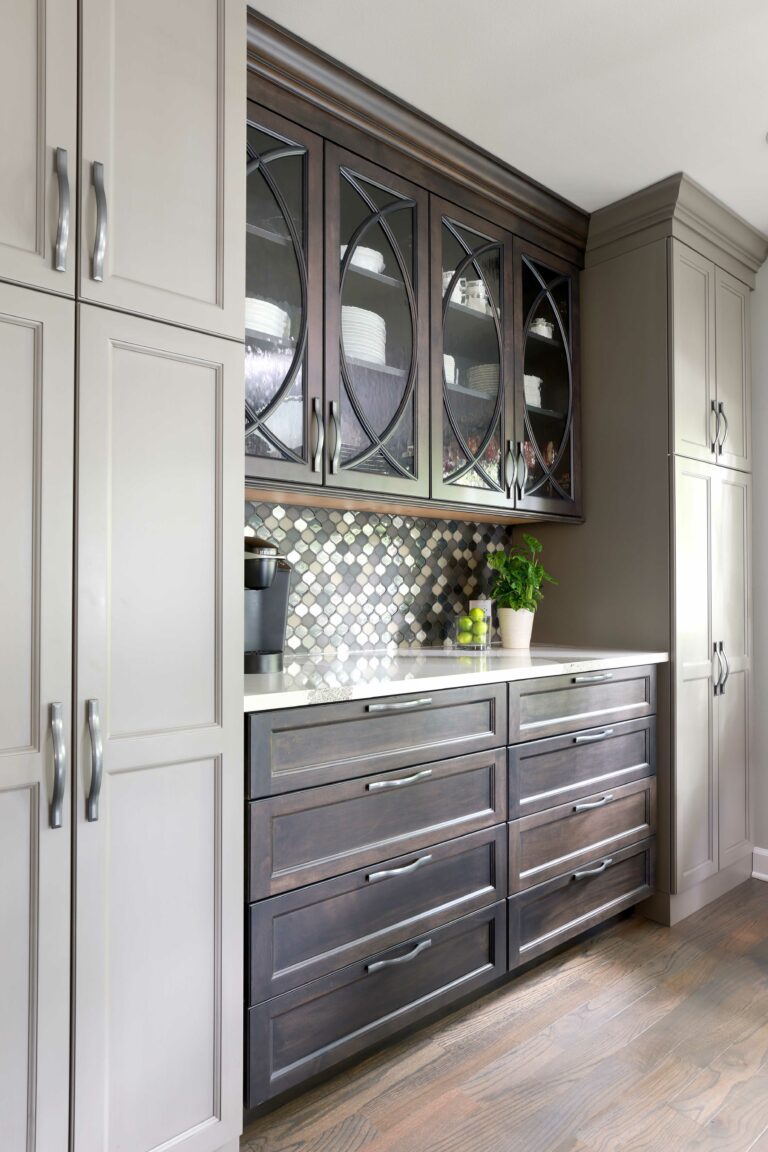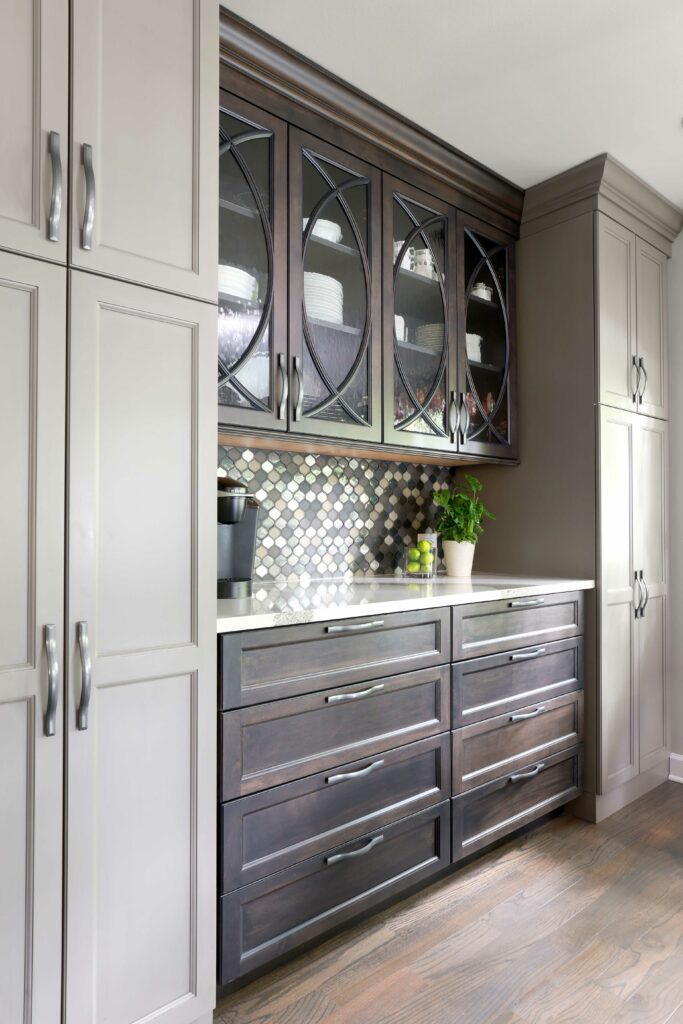 When you take away the sink and the beverage center, you're left with the bar's younger sibling, the buffet. They're traditionally located in the dining area or in the butler's pantry. A buffet is often used in homes where large gatherings are a regular affair, helping to display and serve food. The built-in hutch cabinetry often matches the dining or kitchen aesthetic but allows for the opportunity to add a designer touch, such as glass front cabinetry or mullion detailing.  Buffets are often used to store kitchen overflow items, or holiday pieces such as platters, tablecloths, and extra cutlery.
"No matter the style of bar you choose, these features are becoming more of a necessity than they have in years past," Jackie says. "As families do more entertaining and gathering at home, I predict bars will be here to stay."
Have you thought about adding a bar or buffet to your home? Set up a time to talk with Jackie, she can help you decide which option would work best for your lifestyle. For further inspiration, browse our Instagram and Facebook accounts where we share our favorite designs.